Missouri Baptist University's Student Government Association works diligently every semester to promote unity in the community and bring the student body, staff and faculty together as one by having open conversations and listening to various opinions and points of view across campus. Voting for SGA members who will serve next year, during the 2022-23 academic year, continue throughout this week, with the winners being announced Friday, March 11.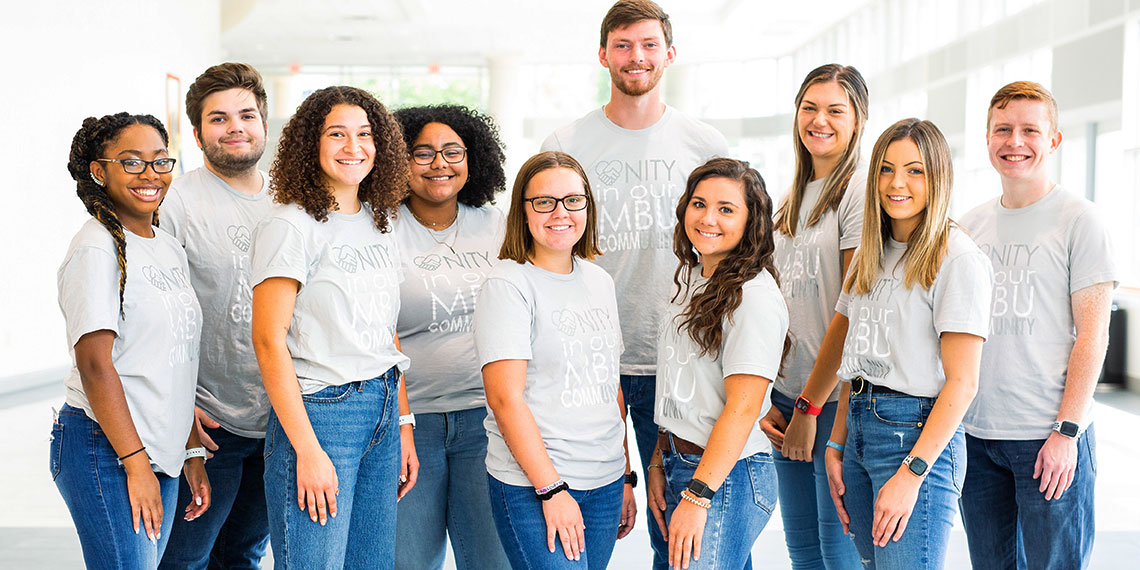 The Missouri Baptist University Student Government Association members include, left to right: Aaliyaha Gladney (president), David Gregory, Vanessa Waidman, Jada Jones, Mikayla Ware, Riley Cantrell (vice president), Elyse Lewis, Becca Pfaff, Lindsay Mills and Austin Hinson. Together the SGA members work to hear from students and initiate action based on their input.      Photo by Jenny Sinamon
Missouri Baptist University's Student Government Association, led by President Aaliyaha Gladney, has been working tirelessly this year to bring unity to the MBU community, including faculty, staff and students. 
SGA serves many purposes and was created to bring the student body and faculty together in a more cohesive manner.
"The purpose of SGA is to serve as a liaison between the students and university administration. As the liaison, SGA is able to elevate conversations on students' needs and advocate on their behalf," Dr. Benjamin Lion, the dean of students and vice president of student development at MBU, said in an email. "Additionally, as SGA contributes to the university's student experience, the student leaders are able to communicate back with students."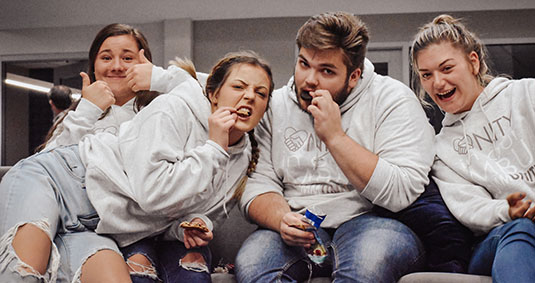 SGA and its staff have had many goals for this 2021-22 academic year, but one main goal for Gladney as president and Riley Cantrell as vice president was to run on a platform of, "You speak, we listen."
"I believe the president and vice president, along with the executive team and senators, did an excellent job fulfilling this platform promise," said Lion. "They have actively sought the perception and experiences of the student body and engaged university leaders in action-oriented projects to respond to experiences that could be improved." 
Gladney was elected president of SGA in spring 2019, alongside previous vice president Kolby Matsushima, and was re-elected for a second term in spring 2020. 
Gladney, a senior health science major from St. Louis, plans to continue her education in the summer of 2022 through a graduate program to earn her doctorate in occupational therapy.
Her goal and inspiration for SGA while in her position has been to create unity throughout MBU's campus and to make SGA more known.
"When I ran, not a lot of people knew about SGA and the only people that really knew about it were the supervisors, and I wanted to move away from that and be able to advocate for more students and make a connection between administration and the students, and I think that I definitely accomplished that," said Gladney.
Every SGA president has different goals, focuses and ideas, and Gladney is no different.
"I feel like people have an association with SGA with just my face because I'm the president, and I'm happy about that, but what my main goal for SGA was, was to boost up the morale and make SGA more known and let students know that the board and the vice president and president and everyone else are approachable and that we are here to help students and advocate for them," said Gladney. "So when I graduate I hope to graduate knowing that people can say, 'Aaliyaha was approachable and she made the most of her position.'"
Gladney, who ran for president in 2019 and has held that position ever since, said what made her decide to run was not the power, but the student body she has served.
"Honestly the people," said Gladney. "I ran for president because of the people, and that's probably the most exciting and fortunate part of the job, that I got to connect with and talk to so many people being president for two years."
As Gladney is graduating in the spring of 2022, she hopes to leave not a legacy, but an encouragement for the next president of SGA.
"SGA is my baby, so I am anxious and excited," Gladney said, reflecting on her time at MBU. "I don't know who the next president is going to be, but I hope they continue what I've started, advocating for students, and that they make a name for themselves."
Even though Gladney was blessed with two years as president of SGA, she was unable to fulfill all the goals she had placed before herself, and when asked if she accomplished everything she had hoped, she said, "Definitely not, I'm very much an achiever and I have all these ideas and plans, but I'm only one person and even though I have a whole board of people, I've learned in my two years as president that giving each person different jobs just created chaos. But if we all work together on one common goal, we can accomplish more. So I didn't accomplish everything I wanted to, but I'm happy with what I did."
As Gladney's term comes to an end, students look forward to where the next president will lead the student body.
Cantrell, vice president of SGA and a senior exercise science major, joined SGA in spring 2021.
"I joined SGA to become more social. I kind of stayed in my little box for the first two years so I wanted to get out there and meet new people," said Cantrell. 
He plans to graduate this spring and pursue a career in pharmaceutical or medical sales after graduation.
A running theme throughout the SGA board is meeting and interacting with the student body, faculty and staff at MBU, and this theme runs true for Cantrell as well.
"My favorite part about my position is who I get to meet. I've met so many wonderful people, including students and faculty. I've gotten to have conversations with people who also want to make a difference, which makes my job easier." 
People coming from any situation face the uncertainty of attending, transferring or traveling internationally to a university. SGA wants to eliminate that feeling and make MBU feel like home.
"My personal visions were that I wanted everyone to feel welcomed and safe. There are a lot of times where people go to college but it doesn't really feel like home to them. We have tons of international students on campus and I wanted them and everyone else to feel like this is their home," Cantrell said. "I also envisioned the community at MBU to be one, not multiple different groups." 
This was a common goal for everyone on staff in SGA this year, including Lindsay Mills, a senator of SGA and a sophomore biomedical major from Festus, Missouri. 
"I definitely went into the year with hopes of creating a more welcoming community and a community that makes the students feel at home and feel loved, and I think that was an overall SGA thing as well," said Mills.
–Graphic created by Jessica Kunkel