Every student who experiences Chapel hears the meticulous work created by one specific Missouri Baptist University graduate-turned-employee.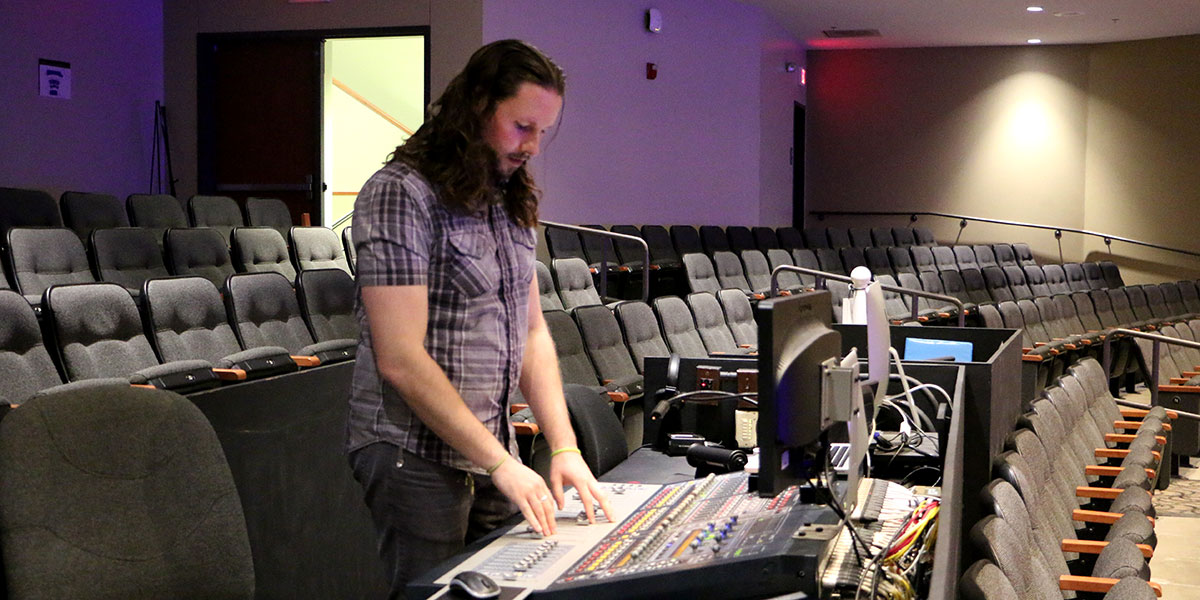 Photo by Josh DuBoise
__________________________________________________
A technical coordinator holds a position at MBU that most often remains behind the scenes, but his work can always be heard and seen.
Aaron Chastain has been full-time at MBU for more than four years specializing in audio-visual for the Pillsbury Chapel and Dale Williams Fine Arts Center, but it has not always been that way.
"I started doing AV in my Intro to AV class when I was a student at MoBap and that was in 2009," said Chastain, who graduated in 2011 and went to work for MBU part time that fall.
Chastain came to MBU in 2009 from Drury University: Hammons School of Architecture, in search for his passion.
"At that point I was looking for something that I enjoyed doing to do for a living because I had transferred out of architecture school because I had seen people who were passionate about it and who were really good at it," Chastain said. "I just didn't have the passion to be good at it."
He was in search of a communication studies degree to continue learning technology.
"I loved that degree because it was a build-your-own degree program basically," said Chastain, it was "nothing specifically technical."
While continuing his education he landed a part-time position helping with audio-visual in the Fine Arts Center.
"I've been here since Aug. 1 of 2011, and I know that date because it was the first time that I ever had to put the orchestra pit cover back on," said Chastain.
Chastain's position allows him to convey his message of hope with others.
"I think the greatest part of doing that in this environment is that you're doing Kingdom work by doing that because it has an eternal message that you're communicating to people, you're essentially sharing the Gospel," Chastain said.
He does this through Chapel and other events on campus, but he holds one event closer than any other.
"The Perk was definitely my favorite," said Chastain, who is directing the annual coffeehouse music event for the second year in a row. "I've always loved that event. I'm a musician and worship leader, and so I think 2009 was the first time I actually got up on a stage in front of people and played."
That year The Perk's host would later find her way into Chastain's life.
"The host at The Perk that year, I later married," said Chastain.
Chastain and his wife, Abbie, have two children, Rosemarie, who turns 3 in February, and Reuben, who will be 1 on Christmas.
Since his first Perk event, Chastain became the key producer of thePerk [11.06.15] in 2015 and is also producing thePerk [20], the 20th year of the event, scheduled for Homecoming weekend, Friday, Oct. 21, in Muncy Gym.
"It was really fun to be able to be the producer of an event like that, that I already had a history with and really loved and that I was kind of trying to revive," Chastain said, "and to be a part of seeing that become a success, was really really fun."