Missouri Baptist University houses many residents, but this resident brings students and faculty together in a way that makes campus feel more like home.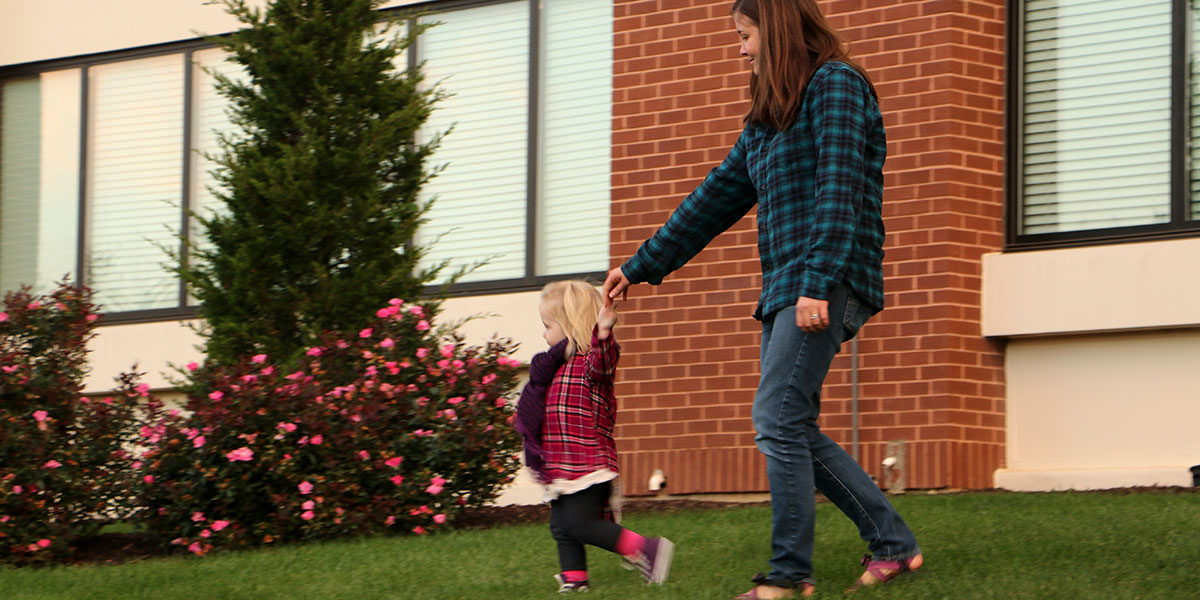 Photo by Josh DuBoise
__________________________________________________
North Hall accommodates Missouri Baptist University's youngest resident.
"She's like a little ray of sunshine," said Tanya Drochner, a resident assistant at North Hall majoring in middle school education.
Addison Knapp, one month shy of her second birthday, lives at North Hall with her parents Brian and Kayla Knapp.
Life for Addison Knapp is different from other kids since she constantly lives among college students, but Brian and Kayla see the positive effects of being on a college campus.
"People are always watching us, so I think it helps us be better parents," said Kayla Knapp, assistant director of Resident Life and resident director of North Hall.
Not only does it help them become better parents, but it allows Addison to interact with more people, which allows her to form better socially.
"Growing up in an environment where she's always interacting with different people, being watched by different people, being toted to this event and that event," said Brian Knapp, who is director of alumni relations at MBU. "We think that she has developed at a higher rate socially because of that."
Addison Knapp's development has started to show through the many words and names she knows.
"She easily knows over 30 students by name, because she knows all 20 RAs plus many others," Kayla Knapp said. "We just think that is pretty impressive for someone who isn't even 2."
The campus community gives Addison Knapp numerous ways to learn socially and verbally by meeting different people.
"She's pretty friendly and we think that's part of it, she's always around people," said Brian Knapp.
Addison Knapp continues to give students and staff members something to smile about.
"I think she just brings a lot of joy, something about seeing a baby and hearing her laugh in the cafeteria just makes everybody smile," said Drochner. "It makes everyone's day a little brighter when she looks at you and she says your name."
All of those who meet Addison Knapp cannot help but smile.
"Of course, joy, because she is so sweet and I'm always excited to see her," said Melanie Laurence, a junior from St. Louis studying Christian ministry.
Laurence gets excited about how the energetic toddler brings joy to campus.
"She brings, this is probably kinda cheesy, but hope, ya know, just thinking how Brian and Kayla raise her and the principles that they are trying to implement into her," said Laurence. "They are trying to raise her to know God and to fear God, and I think that is really beautiful. So I think she brings a lot of hope."
Addison Knapp brings hope and joy to students and staff alike.
"It's been fun to watch her bring joy to our staff members and other faculty and staff on campus," said Brian Knapp.
One of the staff members sees Addison Knapp as a friendly supporter of MBU.
Bryce Chapman, the associate vice president for university communications and marketing, calls Addison the "university's goodwill ambassador."
Through Addison Knapp a community is created like none other.
"Having Addison here makes campus feel more like a family," said Drochner.
The residents on campus are encouraged to share a community together, just like family.