Missouri Baptist University's Communications Department is always growing, keeping up with a media-driven culture. This year continues this trend with a new class designed for church public relations.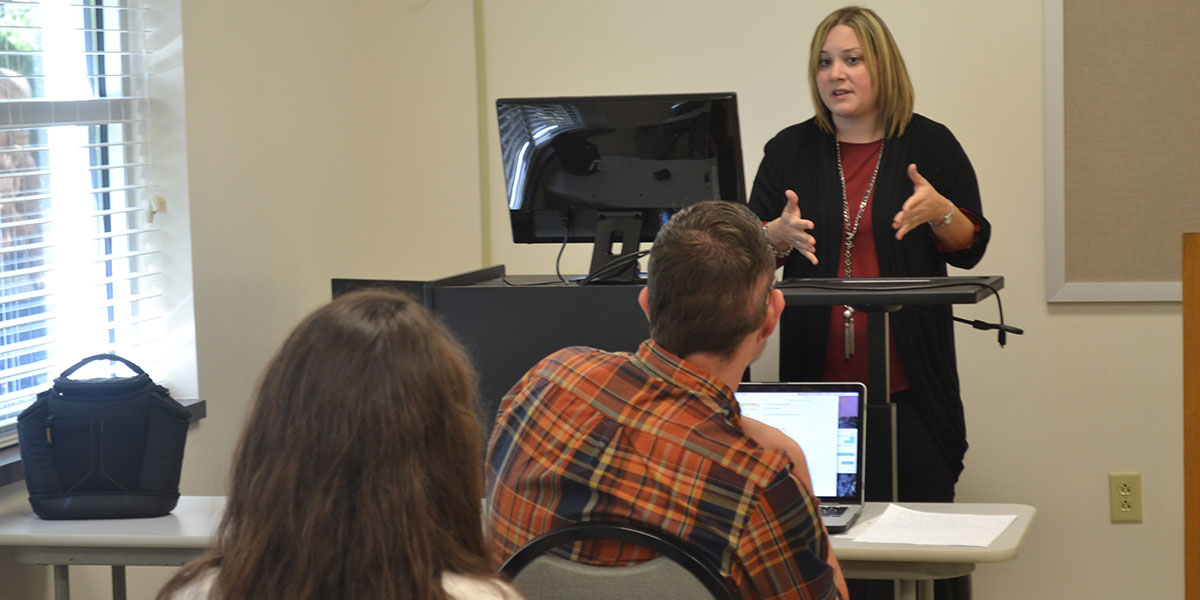 Photo by Michael Maasen
__________________________________________________
In an era defined by an explosion in communication methods, platforms and technologies, it seems logical this emphasis has moved into church communities, and MBU is meeting that expectation with a new course in the Communications Department.
Geared toward communication, fine arts and religion majors, Congregational Communications focuses on public relations in church and non-profit settings.
"It's an interesting experience because all my other classes have dealt with either a corporation or organization and now we're learning how to deal with a church and that's a completely different territory," said Christian Robinson, a senior public relations major. "So it's basically relearning how to do all of our PR strategies for a church."
Students are learning that when it comes to corporate settings, the end goal is always money.  However, for churches, the goal is spreading the good news of Christ.
"I can't just go do PR for a regular business and then come to a church, it doesn't work the same way," said Jill Burroughs, a junior public relations major at MBU. "It [this class] makes you think more about the technical things that go behind everything. When you work in a church, it's not just your job, but you're also spiritually involved with the people there. It can be draining, but also one of the most rewarding jobs."
One might ask, why does the Gospel need public relations? Shouldn't Christians not care about what the world thinks?
Taught by Amanda Staggenborg, the five-year assistant professor of public relations and communications at MBU, the class teaches students how to apply public relations to a church or non-profit organization.
"I think it's really important, probably the most vital thing to remember that when it comes to public relations, churches and Christian organizations get, I don't want to say overlooked, but kind of lost in the shuffle, and I think that for a student to understand public relations and faith and crafting a message, I think that's a really important part of the story, I really do," said Staggenborg.
"Knowing that this came from a simple idea two years ago and now seeing students excited and enthusiastic and ready to take on some pretty serious challenges like membership or a budgeting issue; all of those things which are very real issues, to see students now understanding that this is going to be the next phase of life for them, that's a very important part of the story."
That's where this class comes in, teaching MBU students how to apply what they have learned to their local churches.
The church needs PR, and PR needs people who know what they are doing.
"I do enjoy learning about the things that are intentional within a church and how we can use modern day technologies to bring about such an old story and an old idea," said Matt Williams, a sophomore communications major. "I think any time a Christian university can take the gospel and infuse it into one of their classes appropriately and beneficially, then it's a good thing for a Christian university."
Williams himself is the founder of the non-profit Matt's Hats, an organization that supplies hats for kids with cancer and has supplied over $14,000 to support pediatric cancer research.
"I really am excited about it, I really do like it. It's a lot of fun and Mrs. Staggenborg has a good mix of PR and religion background to benefit this and not only religious churches but any non-profit organization that claims to any form of ethical and moral standard apart from normalcy," said Williams.
Public relations is an often overlooked need in churches, and this class has been designed to teach students how to use modern day technology to accomplish their church's PR goals.
If you're a communications or public relations major or just interested in the topic, talk to your adviser about picking up the class. It's offered every other fall semester and, who knows, maybe you'll find your calling.