What is Oral Interpretation of Literature?
Oral Interpretation of Literature is a small class with big lessons to teach about communication and empathy.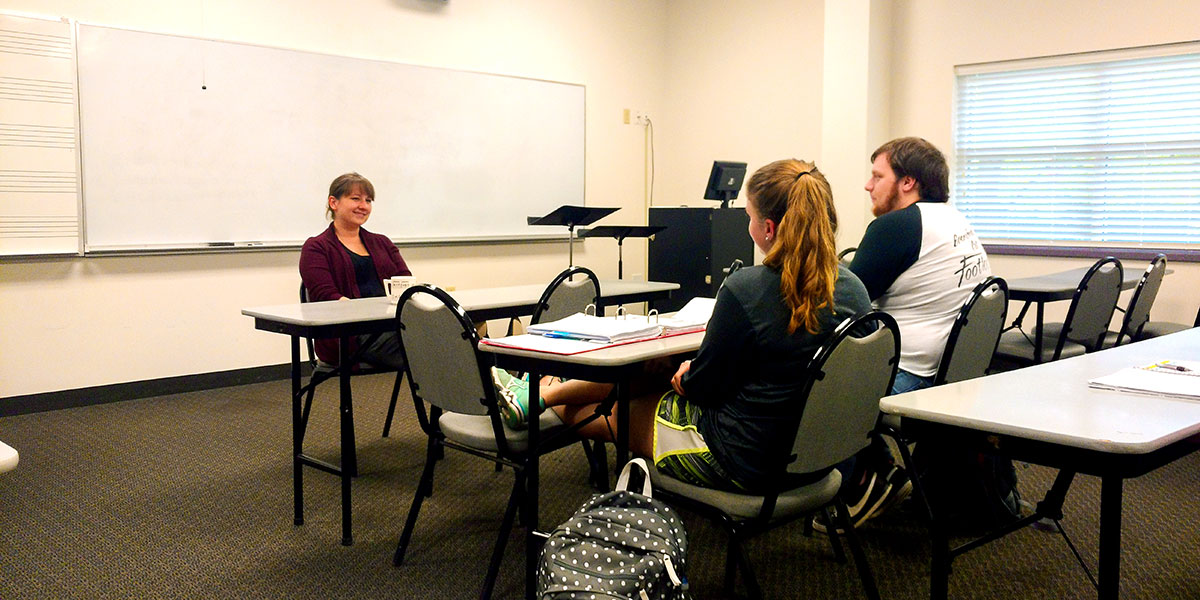 Photo by Julia Province
__________________________________________________
If you find yourself downstairs in the Fine Arts Center on a Tuesday or Thursday at one o'clock, you may notice a small class meeting in Room 104.
If you were to look inside, you would find six students being taught by Kasey Cox, instructor of communications and theatre in the Fine Arts Division.
Depending on the day, you might see a student at the front of the classroom reading aloud from a Dr. Seuss book with Cox offering up instructions on how to project one's voice better.
Or, you may see Cox, who is in her first year as a full-time faculty member at MBU, lecturing on synergism, kinesics or inflection.
This is a class titled Oral Interpretation of Literature.
An upper-level communications elective and requirement for some education and theatre majors, the class is about understanding the communicative intent of a text and presenting it aloud to an audience.
"Oral interpretation of literature is when you take a piece of written word, so a play, a book, a poem, and you perform it as a spoken word," said Cox, who completed her undergraduate degree at MBU in 2010 before moving on to Fontbonne University for a master's degree in art and theater in 2014.
Though it shares some facets with theatre, oral interpretation is its own unique discipline.
"It can be confused sometimes with acting and theater, but you'll take the piece up with you and you'll read it in such a way that people understand the message behind what you're reading," said Cox.
Unlike an actor, an oral interpretation performer doesn't have the luxury of costumes or stage direction to aid them as they tell their story.
Their message is communicated through a careful balance of speaking elements, such as the emphasis of certain words through inflection, volume and articulation, as well as physical elements such as posture and gestures, Cox explained.
The term oral interpretation of literature may sound unfamiliar to some, but the discipline encompasses multiple art forms that people are likely already familiar with.
For instance, an author reading at a bookstore or a spoken word poetry performance would both be kinds of oral interpretation of literature.
Oral interpretation of literature may even be a part of your Sunday morning church service.
"One of the biggest examples that we don't think about is when you're in church … and they read to you out of the Bible, that would be oral interpretation of literature," said Cox. "We tend to sort of skim over it as quickly as we can to get to what we feel like God has laid on our heart when really he's spoken and we're doing an injustice to scripture by not performing it in the way that it was meant to be performed."
Elements of oral interpretation also have everyday application beyond performance, and skills learned in the class can be used for all kinds of presenting and speaking.
When preparing a speech or presentation, "you can kind of identify what words might be important, how you want to say those words to create an argument that's as pleasing as possible," said Cox, "making sure that you're not reading in monotone, that you're reading in ways that conjure up images and stories for people."
But perhaps one of the most important characteristics of oral interpretation of literature is the human element.
"Research shows that if you read something out loud, you hear something out loud, that it creates greater empathy within you," said Cox. "And so to perform a piece of literature is really to understand a piece of literature."
Tags: Dr. Seuss, Fine Arts, Fontbonne University, Kasey Cox, MBU, MBUTimeline, Missouri Baptist University, Oral Interpretation of Literature

Julia Province
Julia Province is an editor for MBU Timeline. She is majoring in communications studies and minoring in psychology at Missouri Baptist University. She has a love for all things photography and Photoshop, but in her free time she can often be found participating in one of MBU's group yoga classes.