Some services at MBU may be hidden, but this helping aid needs to be discovered by anyone who is having trouble grasping the art of writing in any college subject.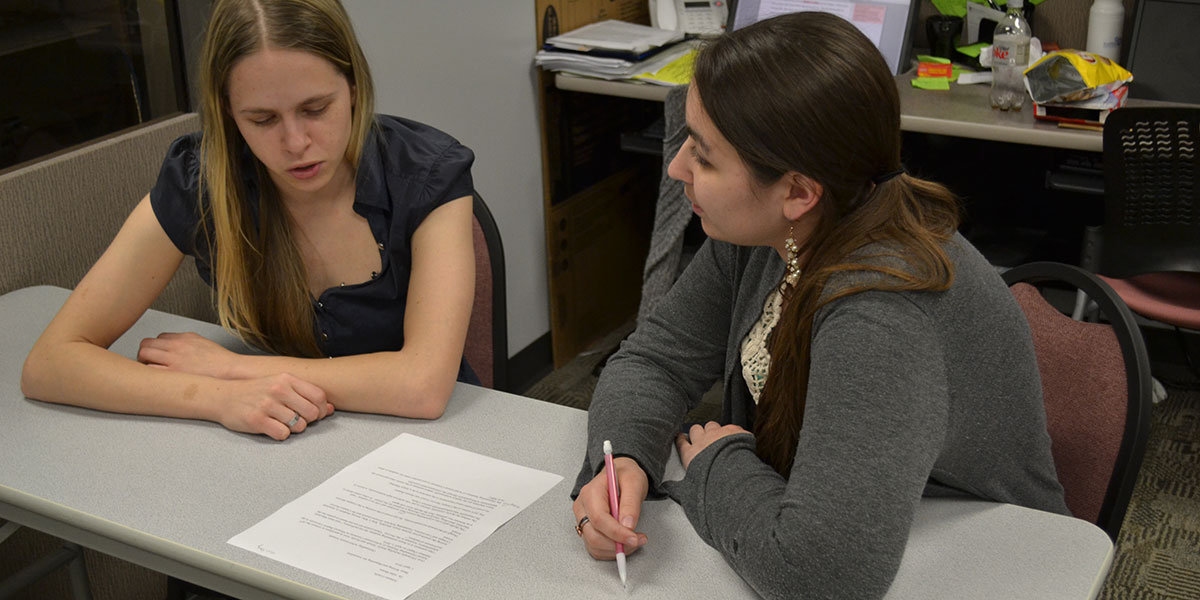 Photo by: Ryan Rerich
____________________________________________________
The MBU Writing Lab, located on the bottom floor of the Field Building, can be the answer to many grammatical issues in various classes.
Elizabeth Busekrus, the Writing Lab coordinator, has made dramatic increases in the number of students who visit the Writing Lab for help.
The O'Fallon, Ill. native attended MBU and graduated in 2012. She is now pursuing a master's degree in English with a specialization in the teaching of writing, which she is finishing this spring at Southern Illinois University-Edwardsville.
The process to sign up for a time is easy and the sessions are quick and constructive.
"The Writing Lab offers face-to-face tutoring appointments where we can work on a variety of things. The appointments usually last 30 minutes to an hour and we are positive with the student's work, and  try to make the session really meaningful," Busekrus said.
The Writing Lab's hours listed on MBU's website are as follows:
Monday: 9 a.m. to 3 p.m.

Tuesday: 9 a.m. to 2 p.m., 3-4 p.m.

Wednesday: 9-11 a.m., 1-2 p.m.

Wednesday PH Lobby: 6-9 p.m.

Thursday: 9 a.m. to 5 p.m.

Friday: 9 a.m. to 5 p.m.
A student may seek out the Writing Lab for one particular issue and leave with an understanding of a variety of topics concerning the art of writing.
"Students often come to us for help with grammar or formatting, and they walk away not only with a better knowledge in those two areas, but also with stronger ideas for the paper and possibly ways to re-organize the paper," Busekrus said.
Students attending the lab are also in agreement with Busekrus.
"The Writing Lab gets my mind going and helps me come up with better writing ideas for my writing," said Alexis Nunley Jr., a junior St. Louis native.
Debbie Williams, a junior Christian ministry major from Indianapolis, agrees with Nunley.
"It systematically organizes my thoughts, tense and overall structure of my college papers. I can truly say I have become a better writer," she said.
Many students may think the Writing Lab is only useful for English composition courses and other classes of that nature, but that is not true at all.
"The main subjects that students come to us for are English Composition I and II, but students can come to us for help with any writing assignment," Busekrus said. "I have had students come to me from the Exercise Science Division, Counseling and even for help on lesson plans."
This can be convenient for many students, and in addition the lab creates activities that are beneficial and add some fun to writing.
A recently launched resource that MBU students can now use is called the Writing Lab Hotline. It can be found on the MBU Writing Lab's WordPress account.
"The Writing Space is a fairly new service that we started last year. It's an online forum and it hasn't really received any traffic from students," Busekrus said. "But now the Writing Lab Hotline is a space where students can come and just ask questions, share ideas and just receive immediate feedback from us."
There is also another service called the "Art of Writing and …" workshops.
This gives students a chance to compare writing to a myriad of activities such as rock wall climbing, yoga and even massages.
Along with this, the lab has created enjoyable activities for the writing community such as Shakespeare grams on Valentine's Day, where students could have some Shakespeare read to their professors, friends or a significant other.
"We love to do creative things because we are a service that has tutoring, but we also want to form a writing community on campus," Busekrus said. "We want students to see writing in different ways."
The Writing Lab is growing each month, semester and year, and it only looks to keep up the good work.
"I do not a see a huge increase overnight. It's a work in progress, little steps. Once we get more coaches from different disciplines we will have the opportunity to form more connections with students," Busekrus said.
Engaging the student is always a challenge in college academics, and the Writing Lab is working to help in that area.
"All of our ideas are very experimental. We want to engage the student. That is our purpose: for students to engage with us and to engage with writing as well. Not just see it as something that they have to do, but something that they can enjoy," Busekrus said.
Williams was ecstatic about the Writing Lab and feels it is a service that should not be overlooked by MBU students.
"I am able to get the point and process what I want to say with great guidance. I have used it throughout my time at MoBap and will continue to do so," she said. "It is a welcoming environment and less intimidating than one thinks. I encourage all students to use it. Writing is a skill that remains throughout life."
Busekrus is doing all she can to promote the Writing Lab and to help students like Williams and Nunley walk the rigorous path through the MBU campus to gain a college degree.
"Our goal is to reach out to students and to be visible to them. A lot of students know about us, but they may not know exactly what we do. We want to strive to show students who we truly are."