When the spring semester begins winding down each academic year, students close their textbooks for the summer, but for some it's time to put their studies to the ultimate test.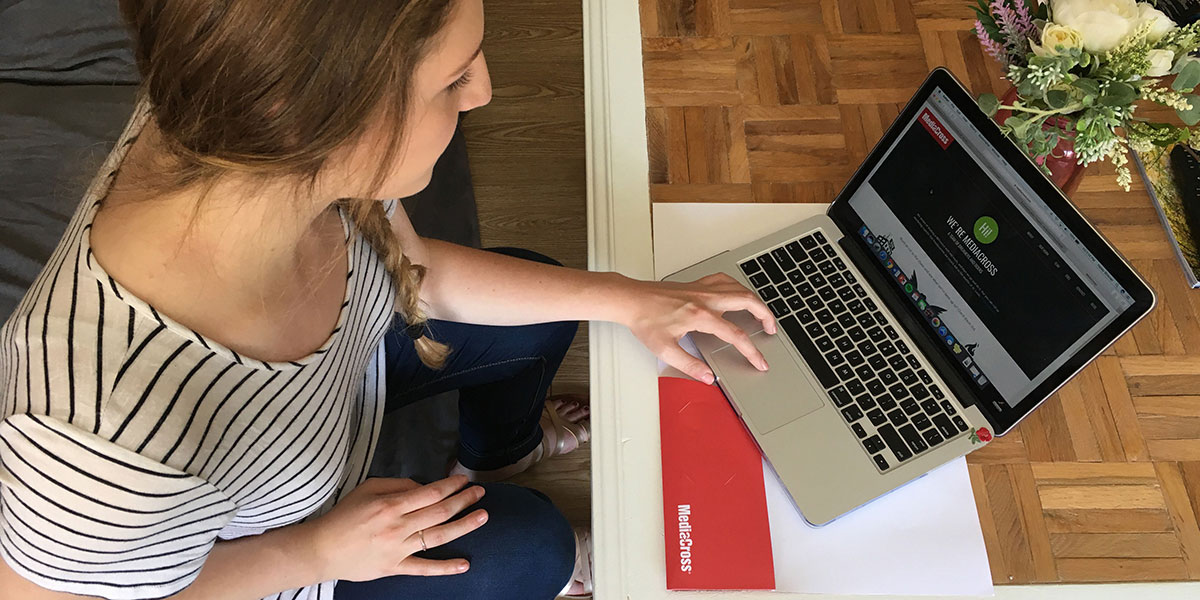 Photo by Abby Wickham
Public relations student Shelby Wannemuehler works on her latest project for her internship at MediaCross.
____________________________________________________
As students, we spend countless hours reading textbooks, writing papers and listening in class in order to become proficient in our field of study, but ultimately how do we really know if this is what we desire to do?
For MBU students, Shelby Wannemuehler, Haley Birkner and Alec Blackford, completing their summer internship gave them affirmation they had made the right decision.
Wannemuehler, a senior public relations major, landed an internship with the marketing and advertising company, MediaCross, where she works as the strategist intern.
During her time as an intern, she really discovered where her talents in the industry lay.
"I had originally really wanted to look in the PR field and that's what I really wanted to do. Through this internship I realized more advertising is what my skill set is best suited for and they've really helped me realize that," Wannemuehler said.
Without this opportunity, Wannemuehler may have never been exposed to the type of work she now loves most.
"It's completely changed my mindset in what industry I really want to go into."
Haley Birkner, a psychology major who plans to graduate in December 2017, also unlocked her passion through her internship with Preferred Family Healthcare, which employees nearly 3,000 people in its 86 Missouri locations.
Birkner's location specialized as a substance abuse outpatient facility for adolescents.
There she was able to work hands on with clients and build relationships with the patients.
"I was able to sit in on one-on-one sessions with the therapists, the drug counselors and the support specialists."
During her time as an intern Birkner grew in her knowledge and furthered her understanding of what the psychology field is like on a day-to-day basis.
"I learned more about substance abuse, and addiction and drug education, all in all, and now I have that knowledge with me — that experience — and now I feel like I can take that with me anywhere I go and that will be really helpful to me in the future."
As the summer came to a close, Birkner left with valuable experience but had to say goodbye to newfound relationships.
"The most challenging part about my internship was getting to build a relationship with these clients and getting to know their story and their struggles and then having to leave the internship not really knowing like what is happening to them now."
These real life experiences are what gives Birkner the motivation to continue her studies in order to go out and make an impact on young people's lives.
Alec Blackford, a sport management major scheduled to graduate in 2018, was trained under MBU's own Terri Adams and Lydia Wegener during his summer internship.
Adams works as the director of special events and Wegener is manager of the Sports and Recreation Complex.
Blackford hopes to pursue a career in sports finance and dreams of doing financial counseling for sports organizations or school athletic departments.
His internship primarily focused on facilitating athletic camps or the other various events that took place in the SRC.
"There was a bunch of different volleyball games over the summer and dance competitions, so I was in charge of doing all the books for money and making sure all the money was accounted for and put in the right accounts," Blackford said.  
During his time as an intern, Blackford was exposed to large scale athletic events and brought in on the smallest of details in order put into practice the things he had studied in class.
"It just seemed more like real world," said Blackford.
As each of these students reflected on their summers, they all saw great value in their time spent outside the classroom.
"I would encourage students to pursue an internship because you don't really know what you're getting yourself into in the industry until you go and do it," said Wannemuehler.
Receiving first-hand experience and a safe environment to practice their newly developed skills gave each of these students confidence in their career of choice.
So while the textbooks are important and class time is crucial, there truly is nothing quite like spending a summer gaining knowledge from those who have gone before us.