The Cardinals are in Florida preparing for this year's season. Opening Day is April 13 as the Cardinals take on the Brewers at Busch Stadium. It's been 133 years since St. Louis started its love affair with baseball but the passion has only grown.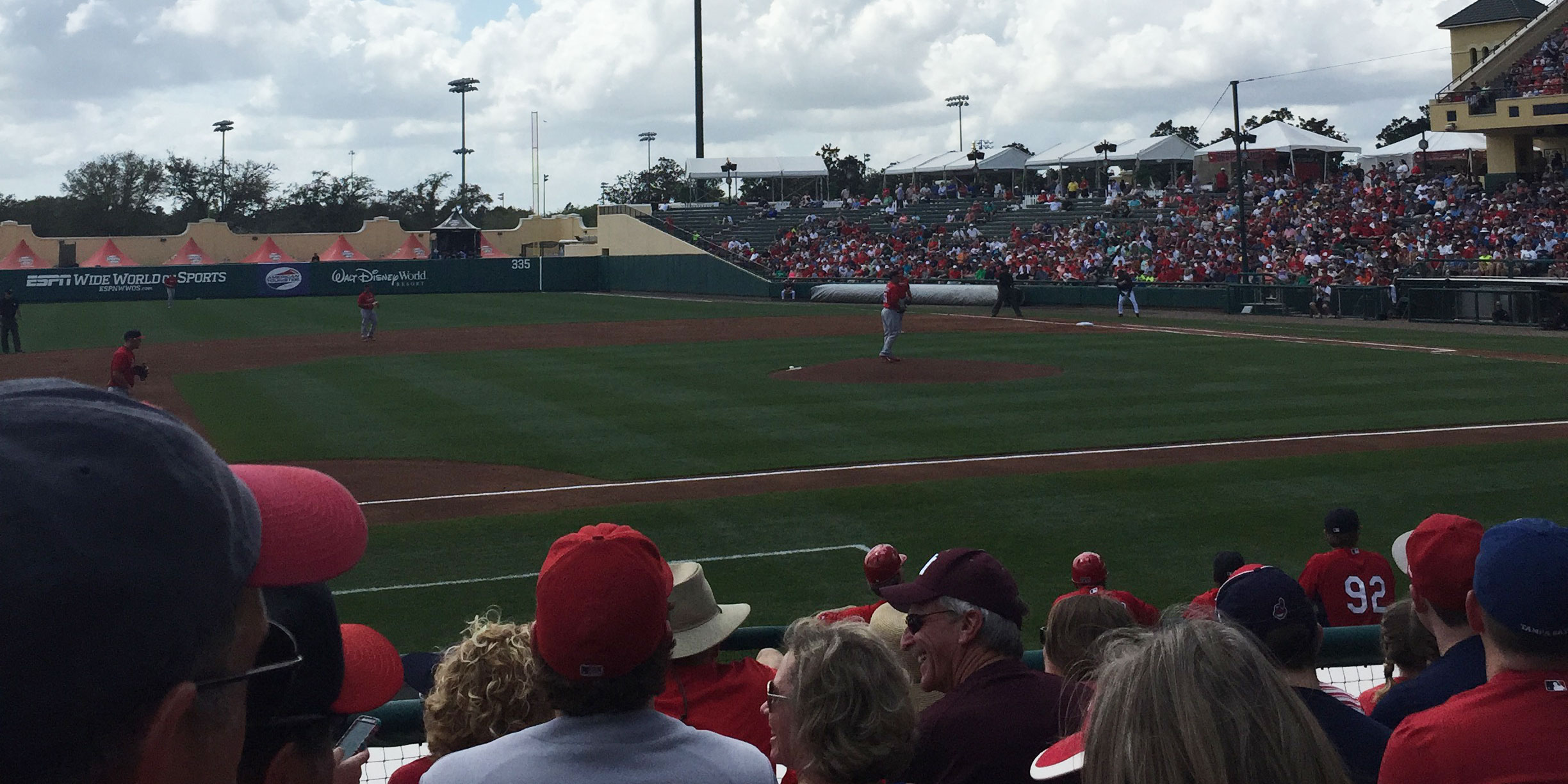 Photo by: Chelsie Bartley


__________________________________________________
An enthusiastic roar from the crowd, a sea of red shirts and hats and the smell of popcorn.
All trademarks of a typical Cardinal baseball game at Busch Stadium.
Only, this is just Spring Training.
The Cardinals are spending their Spring Training in Jupiter, Fla., this year preparing for the upcoming season.
While in Florida, the Cards haven't had any problem filling stadiums with eager fans.
At a recent game against the Atlanta Braves in Orlando, Fla., Cards fans were without a doubt the majority.
This was despite the fact that Orlando's Walt Disney World Resort is the Braves' Spring Training home field, about 150 miles north of the Cardinals' home camp in Southern Florida.
Even 1,000 miles away from home in St. Louis, the Cards aren't disappointed by a lack of support.
According to the MLB Cardinals website, "The Cardinals bring more than 3 million fans downtown each year, with more than a million coming from outside of the state of Missouri."
In fact, 90 percent of fans come from outside the City of St. Louis. Fans from all over the country travel to St. Louis to watch their beloved Cardinals at Busch Stadium.
So what is it about the Cardinals that makes their fans so wild about them?
Maybe it's the 9,300 games won, 11 World Series Championships, 18 National League Pennants, three National League Eastern Division Titles, and eight National League Central Division Titles.
In the past four years the Cardinals have won 365 games as opposed to only losing 283.
Or maybe it's just the spirit of the Midwest.
St. Louis has always had the reputation of having the best fans in baseball, so much so that other teams' fans don't even know why they dislike them.
Rany Jazayerli, co-founder and writer for Baseball Prospectus, put it this way, "Believe me, I get it. I understand why Cardinals fans have become as loathed as any supporters in baseball. I'm as tired as anyone of their golly-gee-whiz-we-just-can't-help-being-great-fans shtick, and I'm as exasperated as anyone that their shtick actually works."
It's undeniable that the Cardinals have something about them that makes fans go crazy.
Everywhere you look in St. Louis you will find someone in a Cards hat and the first topic of conversation will almost always be the previous night's game.
People talk about "Yadi" as if he was their uncle and talk about Grichuk's batting average like it's their own.
So, exactly how far does the Cardinal fan base span? Certainly coast to coast.
"I've met a few Cards fans out here. During the last postseason we got together to watch the games," said Adam Wilson, a 2012 MBU graduate who moved to Los Angeles upon graduating. "It was fun, and also safer. I was watching a game at a bar/restaurant and a guy was wanting to fight me after Matt Adams hit a three-run homer. Hasn't been the easiest being in LA when we beat the Dodgers in post every year."
Besides spanning from sea to sea, fans can also come from across the sea..
Connar Armstrong, a sophomore from Liverpool, England, has been a Cards fan for four years.
"It's like a hometown team. We're kind of unique in the way that we're united between the Cardinals, the Rams and the Blues," said Armstrong.
Some of the greatest things that Cards fans are known for are their winning attitudes and their Midwest manners.
When in the stands at Busch Stadium, something you will most likely never hear is the sound of "booing."
"I think that they are great fans. They're not just fair-weather fans. They really care about their team, the players and the team's success," said Casey Peterson, the minister of Students for Spiritual Formation and a 2012 graduate of MBU.
Cards fans are one of a kind, being from across the globe and rooting for a team with an unbeatable record.
"My brother-in-law took me to a Cardinals game and told me this was 'St. Louis religion,'" said Peterson. "So I converted."