Audiences were thrilled by MBU Theatre's production of "The Drowsy Chaperone."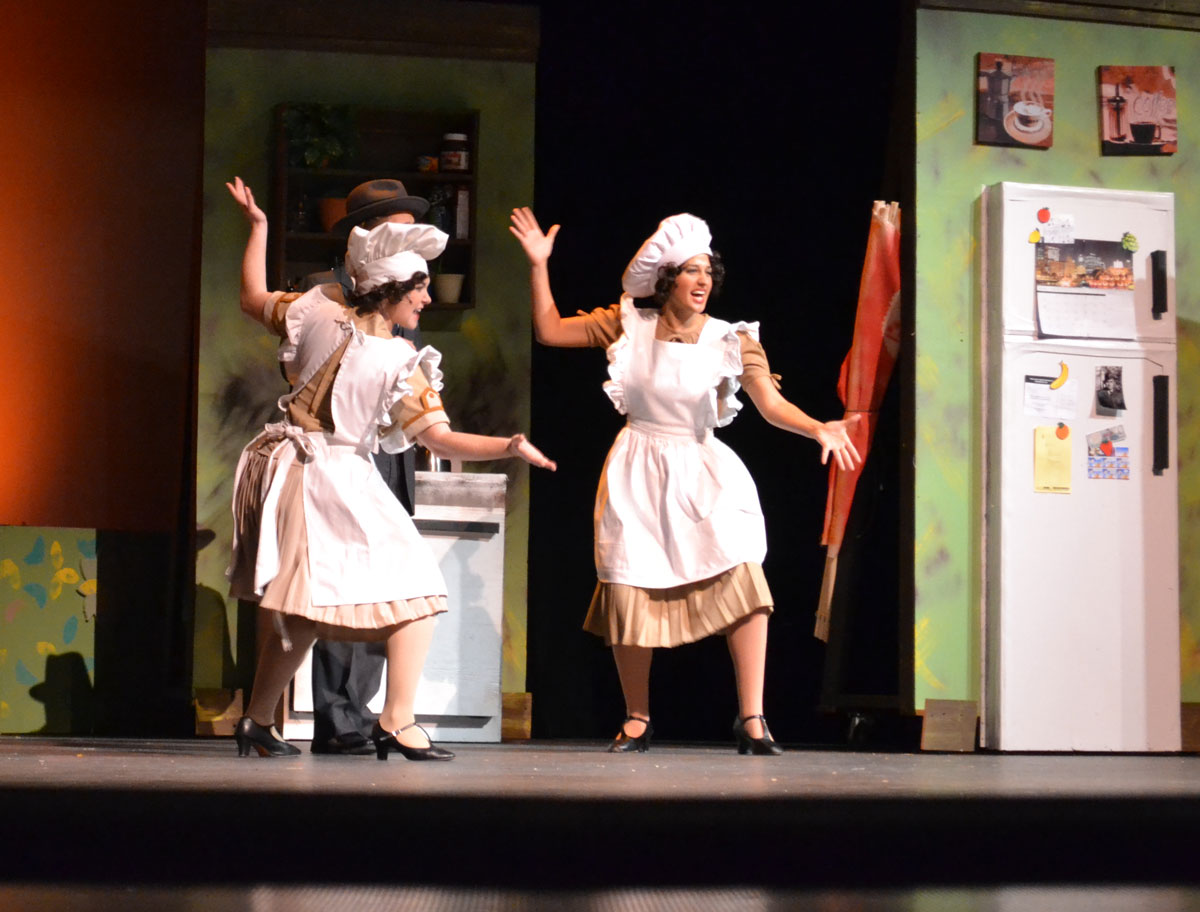 Photo Credit: Chelsea Gammon
______________________________________________________
MBU's annual Homecoming Theatre production performed last weekend and it did not disappoint as audience members entered the wonderful and hilarious world of "The Drowsy Chaperone."
Joy Powell, director of theatre in the Fine Arts Division, directed and produced the musical that played at Missouri Baptist University Nov. 7-10.
The musical, a parody of American Musical comedy of the 1920s, is written by Bob Martin, Don McKellar, Lisa Lambert and Greg Morrison.
The story starts out with the character Man in Chair played by a stellar Brad Behrmann.
Behrmann is a lonely musical theatre fan who decides to listen to his favorite musical record, "The Drowsy Chaperone." Behrmann narrates the entire musical and does a wonderful job.
Next, we are introduced to oil tycoon Robert Martin (played by Corey Fraine) and his wife-to-be Janet Van de Graaff (Leigha Stockton). Graff is a Broadway star who is giving up her career to marry Martin.
Those in attendance to the wedding include hostess Mrs. Tottendale (Lauren Jensen); her employee Underling (Allen Berryman); Robert's best man George (Andrew Johnson); Broadway producer Mr. Feldzieg (Joe Balassi); his ditzy flapper Kitty (Brittany Hastings); two gangsters disguised as chefs (Brittani O'Connell and Jessica Balassi); self-proclaimed famed Latin lover Aldolpho (Jeremy Pyle); Janet's alcoholic chaperone (Emily Rice); and Trix the Aviatrix (Kasey Cox).
Mr. Feldzieg is not happy that Janet is leaving Broadway and wants to stop the wedding. He picks Aldolpho to help him with his plan. Aldolpho, played brilliantly by Pyle, proclaims that he's a womanizer.
Aldolpho goes to take Janet away with him but ends up with her drunken chaperone, played by Rice. Rice's version of the chaperone is hilarious and she really gets into her character.
The musical turns into a roller coaster of hilarious events waiting to unfold.
The cast did a great job getting into their characters and bringing the audience into the musical.
"The Drowsy Chaperone" also had many catchy musical numbers: "Fancy Dress," "As We Stumble Along," "I Am Aldolpho," "Accident Waiting To Happen" and "Brides Lament."
Overall, "The Drowsy Chaperone" was light-hearted fun and brought you into the mix-ups and mayhem of the 1920s.