In the second of our 8-part series, Dr. Loftin Woodiel, assistant professor of criminal justice and dean of the Missouri Baptist University Lewis and Clark Regional Learning Center, and Whitney Nolan, coordinator of graduate retention, reflect on Sept. 11, 2001, remembering the 20-year anniversary of the infamous day.

The North Tower and South Tower of the World Trade Center in New York City collapsed during the terrorist attacks on Sept. 11, 2001. This photo was captured by MBU's Heather Goodin just two days before America was changed forever. Notice the date stamp in the bottom right corner as this photo was shot with film.     Photo by Heather Goodin
— Part 2 of an 8-Part Series —
This story was posted at 8:03 a.m. Central time
September 11, 2001 (all times Eastern Daylight Time)
8:46 a.m. – An airliner strikes the North Tower of the World Trade Center
9:03 a.m. – An airliner strikes the South Tower of the World Trade Center
9:37 a.m. – An airliner strikes the Pentagon in Washington, D.C.
9:59 a.m. – The South Tower collapses
10:07 a.m. – Flight 93 crashes in Shanksville, Pennsylvania
10:28 a.m. – The North Tower collapses
September 11, 2001, has a special place in the heart of every American. Many students at MBU were very young or not even born yet at the time of this infamous day. We can only learn about what happened during the terrorist attacks by hearing the stories of those who remember this time filled with fear, pain or even hope. MBU Timeline photojournalists asked our staff and faculty what they remember about Sept. 11, 2001, on its 20-year anniversary.
__________________________________________________
Dr. Loftin Woodiel
"When reports began to emerge, I was in my St. Louis office of a Fortune 10 subsidiary. The events were most significant to me as they called for calculated action on my part. I was the manager of security responsible for the protection of corporate domestic and foreign assets – human, electronic and other tangibles. We did not know what the full scope of the attack would entail. Fortune corporations went into immediate offensive and defensive security modes."
"My initial thought based on my military background, we are under attack. In coordination with the executive team, we suspended operations, closed and secured all facilities for several days. We allowed our employees to go home, love and account for their families. We went to work inspecting all of our facilities for potential explosives, our computer systems for electronic attacks, and accounting for all our staff and traveling employees…  It would be the early hours of Sept. 13 before I would make it home, before I knew the integrity of the company was safe."
"I remember praying throughout the day for quick answers to understand the scope of the full attack. Something that would let us know the attack was truly complete and not just a prelude."
"I remember the resounding echo in my head, 'We are going to war.' What did that mean for our country, our company, and our families? Having left the military not too long before the attack, I wondered if I would be recalled into service. My current service friends were moving in harm's way within hours."
"I remember coming home in the wee hours of Sept. 13.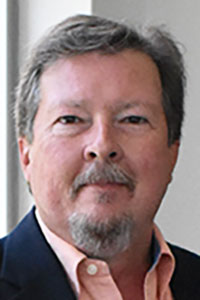 All were asleep, so I thought. I got into bed and my wife, who had seen me through foreign coup attempts deployments, downed aircraft responses and nuclear security incidents in my career, put her arm around me and asked, 'Is it going to be OK?' I answered, 'No.'"  
"Reflecting on the event 20 years later, my father's voice echoes in my ears. … He had taken a bus load of students from the college into town. When we returned to campus, the radios were sharing the early known horrors of the bombing of Pearl Harbor, Hawaii. It was clear given the events in the Pacific as well as those in Europe – The United States was going to war. As a member of ROTC, then known as the V-12 Navy College Training Program, he was soon in uniform, prepared to meet the call of our country."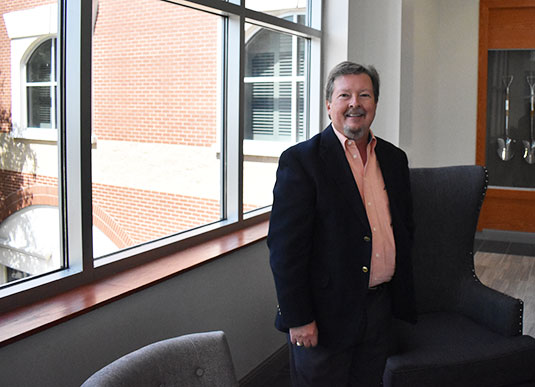 "Homeland Security now ties the communications of federal agencies together while paying special attention to our country's infrastructure. Coordination from the federal level to state and local enforcement agencies is still guarded, but operates in a more defined path than on 9/11.  One threat that does not seem to have been fully addressed is the openness of our southern border while terrorist encampments are present in Latin America."
"Most of the students we teach are too young to remember what it was like before the attacks. So for those nothing has changed; it has always been. Do they understand the price that was paid to ensure that no other such attacks have reached U.S. shores?" 
"For those of us who experienced the 9/11 attacks, do we appreciate our national security?  On 9/11, we saw America on its knees crying out for salvation. Has the sense of urgency left us today?" 
"Today, is our country solidified as one American Voice on matters of security? Or at the next attack, do we have the cohesiveness to defend ourselves?"
__________________________________________________
Whitney Nolan
"I was a senior in high school. I was in my first hour. It was a desktop publishing class and … the first bell rang five 'til 8. And then the second bell was just after 8. So, this is 8 o'clock Central Time. So we get into class and we were supposed to watch Channel 1 … and the girl that comes around to do the bulletins, she goes, 'We're not having Channel 1 today … a plane hit our tower so they can't have it. It's out. … They're talking about it in the office.' And so my teacher turned the TV on. And by this point it was 8:10, so both (towers) had been hit by that point. When we turned it on, it was on every channel. … We watched both fall in my first-hour class live on TV. And then we learned about the Pentagon and Pennsylvania right as we were leaving class. … Everyone was kinda panicking."
"I grew up near an Army base. So it was this, 'Are they going to shut the base down? What's happening here?' because a bunch of the kids, their parents worked on base. You could tell with everyone there was a little bit of apprehension. I remember leaving class and my mom taught at the school. I saw her in the hallway … and the look on her face was like she was worried about something. … This was scary to her. And then the rest of the day, that was all we did. Every class, we just watched it live. Every teacher was like, 'This is what we're doing today. We're not doing anything else. History is happening in front of you.' They just left it on." 
"I finally got to one of my classes later in the day. They didn't have a TV in that room, so we didn't watch it but we couldn't focus. Practice got canceled that night. We didn't do anything."
"Then I came home and it was still on, because it was the only thing on TV the whole time." 
"I remember driving home and there was a really long line to get gas. … People were worried that there would be a shortage on gas. … There was a line up the highway from the two gas stations in town. It felt so strange."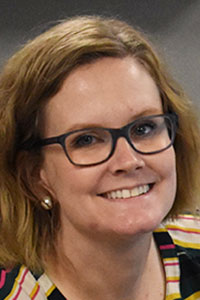 "Alan Jackson wrote that song about it, and he talked about 'I Love Lucy.' He wasn't kidding. Whenever the news finally stopped, that was the show that came on. … It's not something we would watch but we were all mentally and emotionally exhausted so we just sat in the living room and watched 'I Love Lucy' together."
"Growing up near an Army base, my life changed considerably. We were used to having access to post all the time. We went there all the time and immediately it was closed. There were things you couldn't access if you didn't have a military ID or your car would get searched."
"I think now, the hardest part is that there are little things that affect me. Michael, my husband who teaches here, and I were at a baseball game. And we had just moved to St. Louis …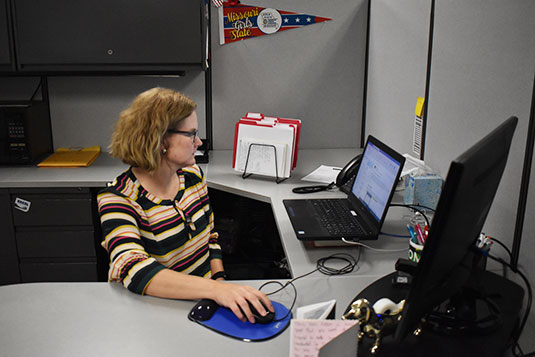 I always forget that St. Louis is so close to the airport. So it was a really pretty day and there was a plane flying over. And I caught my breath and I had to take a moment and he said, 'I know. It doesn't feel the same.' I was like, 'Did you see that?' He was like, 'Yeah, you had to collect yourself.' You don't see a plane in a blue sky the same. It changes your perspective of it because that's what you remember. And still … I have to remind myself, 'I live near the airport. It's flying low for a reason. It's OK.'"
"The hardest thing, I think, in 20 years, is people, college students now, or in high school, none of my delegates from now on know what that was. It's kinda hard because you talk about it and they don't get why it's emotional. You're connected to it. It's like my parents' view of the Challenger explosion. I wasn't alive for it. I don't get it as much as they do. Whereas this, can you imagine being a senior in high school and this changes your entire trajectory?"
"I'm never going to fly again without being searched before I go on the plane. I'm never going to get to go to the gate. … But it's hard. People are like, 'I don't want to learn about that' or 'I don't want to watch it happen.' You probably should. I remember I watched the movie 'Flight 93.' And it was hard, but every person needs to see this or hear about it. Me and Mike just finished the National Geographic documentary. There's people in there that they interviewed and I'm like, 'I've heard this story a million times.' I remember the day after when they were interviewing them, or even a few months later. … Certain police officers that you remember, they're still telling their story. It was eventful."
To learn more about Sept. 11, 2001, visit September 11, 2001: Attack on America | HISTORY Channel