From gooey butter cake to social justice, Switchfoot band members reveal who they are during their tour premiere at MBU.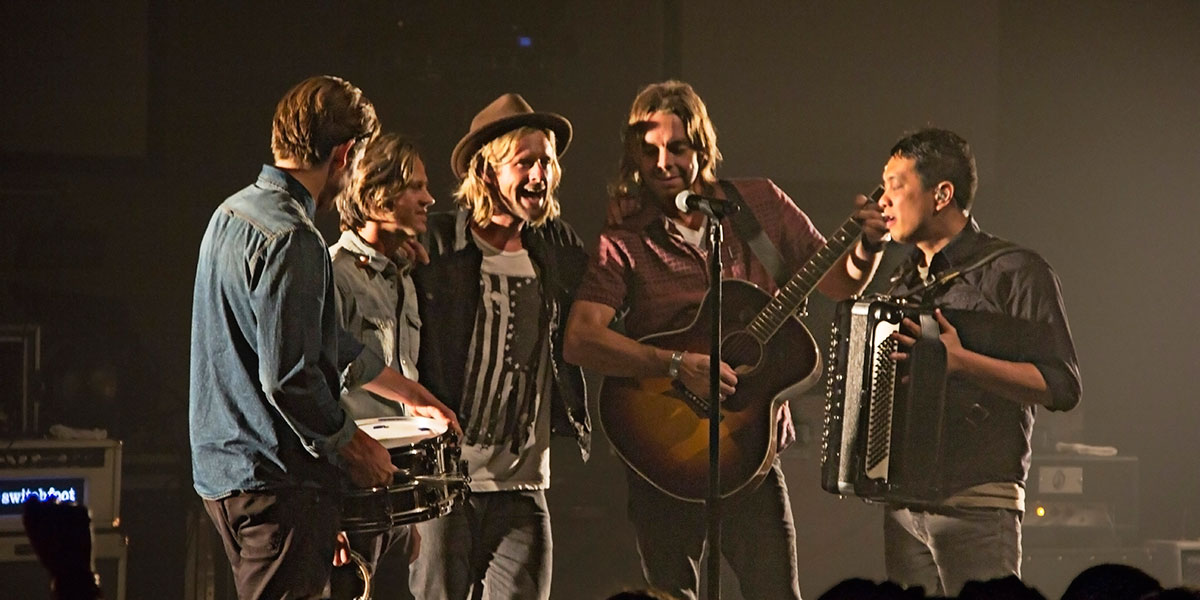 __________________________________________________
Switchfoot, a Grammy award-winning band from California, revealed its identity during the "Fading West" tour launch and the premiere of their new film, "Who We Are," at Missouri Baptist University Friday, Sept. 18.
The film, "Who We Are," begins as band members tearfully drive away as their families wave goodbye.
What makes these band members leave their families behind during their 2012 World Tour?
Commitment to spreading hope to others with music, as hope is granted to them.
"We wanted to be a song of hope for the people of the world," Jon Foreman, lead singer for Switchfoot, said in the new film.
Throughout their tour, the band visited Australia, New Zealand, Bali and South Africa.
While typical Switchfoot concerts are filled with fans, the popular band performed in venues with audience members unaware of the band or their reputation.
The mission? To capture the audiences' attention and spread Christ's hope to the unreached.
As the band travels, the film illustrates nature with camera pans and tilt-shifts of some of the most revered surfing locations in the world.
Surfing is an essential element to the San Diego-based band, and every band member is an avid surfer.
The name of the band also nods to their surfing passion.
Switchfoot means two things in the surfing world, as described in Switchfoot's blog, "Broken Hearts."
A surfing term used when you jump on your board and go the opposite direction.

To gain a different perspective.
Even though band members were greeted during concerts by roaring crowds of "fams" (Switchfoot's term for fans, short for family) and surfed monster waves, perhaps the greatest joy found was a visit with a children's choir from South Africa.
The choir and Switchfoot joined together to sing songs of hope.
The movie itself told a story of hope and was received well by the audience with a standing ovation.
After intermission, the band launched the concert with their new song, "Who We Are."
Other songs included, "I Dare You to Move," a song recognizable from the hit movie, "A Walk to Remember," and, "This is Home," played in the movie, "The Chronicles of Narnia: The Lion, the Witch and the Wardrobe."
The crowd was responsive to the band with cheers and voices singing along to songs such as, "The Shadow Proves the Sunshine."
MBU's auditorium allowed for a personal concert experience.
"Having an intimate setting feels like the audience is just right next to you," said Jerome Fontamillas, a Switchfoot band member.
Jon Foreman was impressed with St. Louis' enthusiasm and commented that the St. Louis concert would be hard to beat.
While the band is blessed with fame and awards, the members are still relatable and humble.
While Fontamillas spends much time playing the guitar and keyboard for Switchfoot, he often scouts out a good brew of coffee.
At MBU, Fontamillas was quickly pleased with the Ethiopian blend at the Perk Coffeehouse, drinking three cups before the concert started.
Fontamillas is fond of a sweet St. Louis dessert often paired with coffee — gooey butter cake.
"It is really good," said Fontamillas. "I tried it and was like, wow. That's St. Louis."
While touring offers things sweet such as gooey butter cake, the tour takes the band members' time away from  their families.
For Fontamillas, that is his wife, Kristi, and son, Parker Lennon.
Thankfully, the advance of technology has eased the burden over the years.
"We do spend a lot of time FaceTiming — that invention is pretty good," said Fontamillas. "They'll show us a book they have been reading and what they have been doing."
Like technology, the band continues to advance over the years.
Switchfoot was originally Chin Up, consisting of Jon Foreman, Tim Foreman (bass guitar, backing vocals) and Chad Butler (drums and percussion.) Fontamillas and Drew Shirley (guitar, backing vocals) later joined the newly named band, Switchfoot.
The rock band remains mainstream, but the Christian faith deeply affects the band with evidence in their lyrics.
Throughout the band's existence, Switchfoot continues to spread hope and serve as a voice for social justice.
"The fact that you are given a voice to say something — for us, we're given this platform to share what we believe in," said Fontamillas.
Fontamillas said that it is necessary to "share the things that we feel are important to us — a lot of the things like social justice. We do a benefit back home for homeless kids. Those things are important to us."
Fontamillas reassures college students that they can be a voice, even if they are not a band.
"Everyone is different. Everyone has their own path. It wouldn't be us to say this is what you need to be talking about, this is what you need to be doing. There is things that are important for everyone, whether it is combating racism, combating homelessness, being a politician or being in the medical field."
While college students have different callings, they still need to speak up for important matters.
"Everyone is different — but that is the great thing about it," said Fontamillas. "They will be given a voice. I think they need to express the things they believe as well."
St. Louis will remain special for Fontamillas. Not just for the coffee and gooey buttercake, but for a stunning performance under the St. Louis Arch on Independence Day in 2005.
"One of the biggest memories I have is playing here in St. Louis on July 4 underneath the Arch," said Fontamillas. "I'll always remember that — that was one of my favorite shows."
Switchfoot will release the, "Fading West," album Jan. 14, 2014, but the band is unsure if additional albums will be produced in the future.
Why? After each album the band dissolves. If the band members feel led to continue their musical journey as a band, they will produce another album.
The members of Switchfoot desire to use their gifts and opportunities to the fullest.
"We hope that the platform we've been given, we are able to use it the best way," said Fontamillas.  "One of the mantras we've stuck with is, 'Life is short. Live it well.'"
Fontamillas encourages others to do the same. "Each day, each breath that you have is a gift. Use the gifts to their fullest potential. Each day is a gift. Live it well."