Known for sentimental movies, dazzling costumes, brilliant grace and athleticism, figure skating combines both entertainment and athletics to produce an enchanting Olympic sport.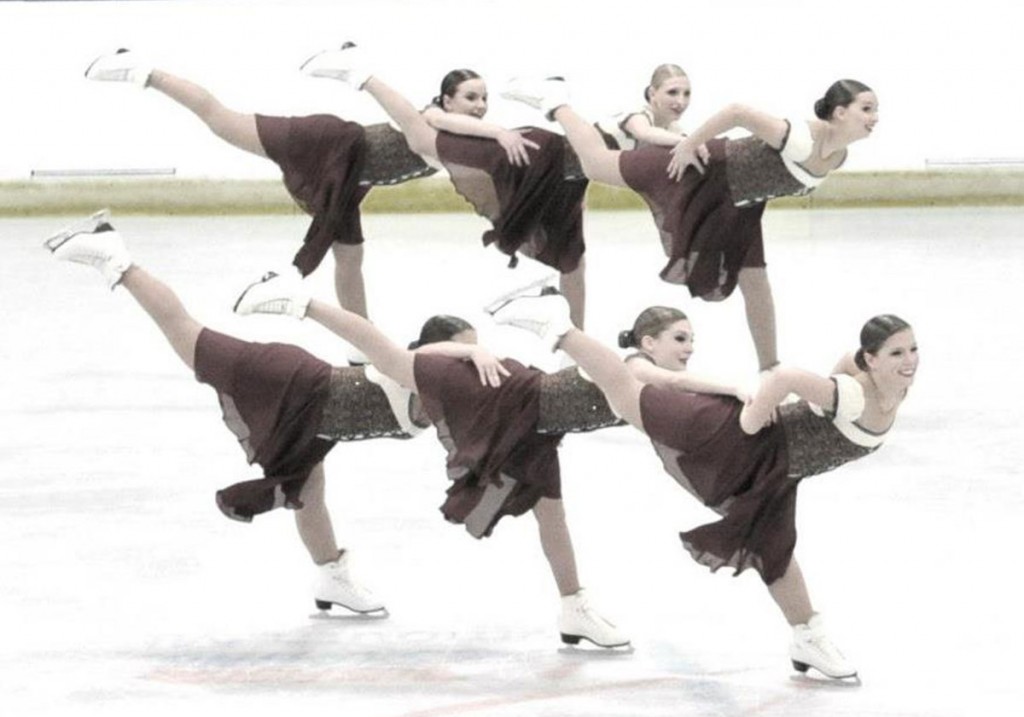 Kelsey White, top-right in the photo above, skates in a synchronized skating event.
__________________________________________________
Complete silence. Subtle chill. Blade slices ice. Sparkling costume. Gentle breeze. This is the setting for Olympic figure skating.
Kelsey White, a Missouri Baptist University sophomore double majoring in early childhood and elementary education, has earned over a decade of figure skating experience.
She carries a deep passion for the Olympics and especially the sport of figure skating.
"I've been skating for the last 14 years, 11 of which were competitive. I competed in a discipline called Synchronized Ice Skating where a team of 8-20 skaters are on the ice at the same time performing a routine," White said in an email.
"Through synchro, I've gotten to go to Nationals twice and placed third in the Intermediate Division and competed at the Junior Division in my final competitive season (last year) to qualify the team for this year's team USA international placement," she said.
White herself has experienced the grueling training necessary to compete at an extremely proficient level. She fully understands the details of Olympic training.
"A lot of the skaters who compete at the Olympics have made skating their full-time job for many years. There are a lot of these high-level skaters who did not/do not attend regular high school and instead do either home schooling or online schooling," White said in an email. "This allows them to have time to practice on the ice for several hours a day."
In addition to the several hours per day on the ice, there are plenty of hours spent in dry land training.
"In addition to on-ice training they do, many skaters do ballet training, strength training and endurance training off the ice so they're prepared for the physical demands of these programs," White said. "Many of the skaters at this level have very close relationships with their coaches and sometimes even live with them."
Having so much on-ice experience and competitive awareness affords White some very specific opinions regarding the various skating events at the Olympics.
"The figure skating events at the Olympics are my favorite events. The singles freestyle events are always fun to watch because of the sheer power and determination of these skaters," White said. "I always enjoy watching them fly through the air on these amazing triple and quadruple jumps. Pairs is similar to the singles event, but the skaters have to be able to work together while they're doing these incredible maneuvers."
Even though figure skating has been White's primary focus in her personal skating, she thoroughly enjoys alternate Olympic skating events such as ice dancing.
"In the past few years ice dancing has become one of my favorite skating events to watch. The skaters in this discipline have an incredible grace and flow to their skating that you don't see as much in the other disciplines," White said. "These skaters work together so well and make it look like it is the easiest thing to do. Meryl Davis and Charlie White are two of the U.S. ice dancers who have an incredible track record and are a great example of what ice dancing should look like."
White also contributes her perspective on another type of skating competition that she hopes will one day reach the Olympics.
"I'm a little biased, but I think that figure skating at the Olympics should also include synchronized ice skating. It is one of  the newest disciplines, but has still been around on an international level for almost two decades," White said. "Twenty two countries currently host synchronized teams and synchronized skating was recognized as a World Cup event in 1996 and a World Championship event in 2000."
In addition to her personal skating experience, White also coaches skating. That layer to her background gives her a refined focus when watching the Olympics.
"Coaching figure skating has made me very aware of the more subtle details. While I watch Olympic events I tend to critique the skaters when I see an edge that wasn't finished, a jump where the take-off was shaky or a bad turn and can usually figure out why the skater made the mistake that he/she did," White said. "Now I almost see the skating in more of a technical way than just watching a skater purely for the entertainment."
A haunting aspect of any Olympic sport is the possibility of injury. White has experienced serious injuries herself and she fully understands the process of recovery.
"I have had a few injuries on the ice but have been pretty lucky in that they are few and far between and not nearly as bad as many of my friends' injuries. I've gotten one or two concussions from skating when I would fall and smack my head on the ice," she said. "I would stop skating for the rest of the day and ice my head for those, and slowly start back up with the next few practices easing into my normal routine."
She described a specific time when a very serious group of injuries jeopardized her chances during a major competition.
"I did get an injury not directly from skating but it did affect my skating. On my way to Sectionals last year I was in a van with two other girls headed to the competition in Michigan," she said. "On our way up we were hit by a semi truck, I ended up with dislocated ribs and one of the other girls ended up with a broken arm."
White had a very specific course of action allowing her a successful recovery yet not detracting from her performance.
"That weekend we did skate, but during our practices we would run through the program once or twice and have one of the alternate skaters step in and practice our places so we didn't overwork ourselves," White said. "We scaled everything back that weekend leading up to our performance so that we would be able to skate in one of our last competitions.
"After that weekend at practices we sat out a lot and watched a lot while still skating some. If you're injured, you really don't want to take too much time off the ice. It can be difficult to get back into your routine when you haven't skated at all for an extended period of time."
Amidst all of White's personal training, grueling competition and coaching experience she fully understands the lasting impression Olympic figure skating carries to the next generation.
"Olympic figure skaters have a huge impact on younger skaters. The little girls watch the Olympics and see the ladies events where they're flying across the ice and the little girls want to be that person one day," she said.
White can even tell a marked difference in beginner skating classes due to the Olympics.
"During Olympic years learn-to-skate programs tend to get higher enrollment because all the children are watching the Olympic skaters and want to be able to do what the Olympians are doing," White said.
Whether you are a trained athlete, aspiring champion, beginning skater or entranced spectator, figure skating is a delightful sport to watch and appreciate.