He skied exactly like he lived — fast. But for this one-time star of downhill ski racing, the speed he raced did not translate well to the speed he lived his life. And the result was a crash from which he would never recover.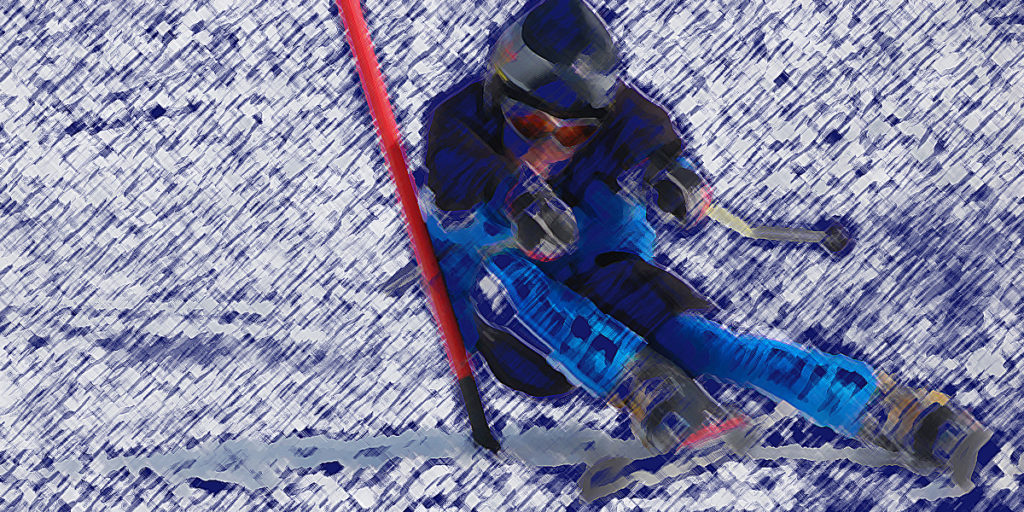 __________________________________________________
Thirty years ago Bill Johnson was wrapping up his Olympic experience with a gold medal in the men's downhill, the first gold medal won by an American in any alpine event. As the 2014 Winter Olympics close in Sochi, Russia, it's worth revisiting that amazing run for one of America's wildest personalities in competitive ski racing — and one of the sport's biggest crashes.
Johnson burst furiously onto the scene of ski racing, and today he is practically nowhere to be found as he sits in a wheelchair outside his hometown of Gresham, Ore., paralyzed from a stroke and unable to feed himself or speak more than slight sounds.
The year was 1984 when Johnson shocked the world and won his gold medal in Sarajevo, Yugoslavia, a feat that at one time seemed impossible. That was the pinnacle of his life, and Johnson would begin a devastating decline for the next 30 years.
Johnson was born in Los Angeles, Calif., On March 30, 1960, and by the time he was 17 years old he was getting in trouble with the law by stealing cars and burglarizing houses.
Johnson did not want any part of jail and his judge allowed him to participate in the Mission Ridge Ski Academy, in Wenatchee, Wash., instead of spending six months in jail.
Johnson's ski life was difficult, with little money to help along the way. Johnson's stepfather, Wallie Johnson, would take him from competition to competition in a station wagon, sometimes sleeping in the car in zero-degree weather.
"I take skiing very seriously, I was forced into it. It was either that or go to jail," Johnson said during an ABC broadcast in 1984.
While other ski racers trained year round, Johnson just pointed his skis downhill and went fast — very fast.
"I don't like to consider myself an athlete, I like to consider myself a ski racer, and that's it. An athlete is a guy that is orthodox and goes out and trains," Johnson said during the ABC news interview. "I am a guy that skis fast."
Johnson was just a misfit, rarely training at all, but generally just looking to have a good time.
Within five years Johnson became very good at downhill skiing, making his World Cup debut in February 1983 and finishing sixth in the downhill at St. Anton, Austria.
This led Johnson to later win the Europa Cup in September 1983, a circuit many considered to be more difficult than the World Cup, and this allowed Johnson to be recognized for the Olympic Ski Team for 1984.
Johnson knew he was the best and boldly predicted his Olympic victory, comparing himself to Joe Namath and Muhammad Ali, being the best there ever was.
Johnson won the gold medal at Sarajevo in a time of 1:45.59, edging out silver medalist Peter Muller of Switzerland by 0.27 seconds and proving to the world what he was bragging about all along, Johnson was the best.
After the Olympics Johnson proceeded to achieve two more World Cup downhill victories in Aspen and Whistler in March 1984.
Johnson was at the top of his sport. With four downhill wins in just two months, Johnson was an Olympic champion and finished third in the World Cup downhill season.
After the 1984 season concluded, Johnson's best results were two seventh-place finishes, one at Wengen in January 1985 and the other at Whistler in March 1986. He was learning the hard way that mere speed without training meant success would be fleeting.
Friends, coaches and ski team members said Johnson was generally arrogant and seemed to resist help from anyone.
This made Johnson unpopular with fans, fellow competitors and commercial sponsors. After winning Olympic gold in 1984 and being asked by reporters what the victory meant to him — expecting the answer might be related to dedication, patriotism or teamwork — Johnson famously answered: "Millions."
But those millions of dollars never came and even Wheaties, the classic cereal that featured sports champions on its boxes, took a pass on Johnson.
Johnson said later he could not get over the idea of feeling better than everyone else and it started to affect the way he approached skiing.
In May 1985 Johnson showed up three days late to training camp, so his financial support was withdrawn.
Injuries to Johnson's left knee and a back injury that required surgery in December 1986 made Johnson's ski results worsen. His life proceeded downhill as he failed to make the Olympic team for the 1988 Winter Olympics in Calgary. He would not be able to defend his gold medal.
A month after the Olympics Johnson was suspended from the Alpine Skiing World Cup team for 21 days due to a shouting match with the men's downhill coach, Gary Miller, where Johnson hit the coach on the shinbone with a ski pole. That suspension caused Johnson to miss the final events of the 1988 season.
"We warned Johnson in November that if there was one more code of conduct violation, we would have to take disciplinary action," the Board of Trustees said at the time.
This would lead to Johnson's retirement in March 1990 at the age of 30. It seemed that Johnson had become too big for everything, even the one thing he loved the most, skiing.
As the years went by Johnson's life continued to spiral downhill.
In 1992 Johnson's 17-month-old son drowned in a friend's hot tub when a door was accidentally left open.
In 1999, Johnson's wife left and also took their two sons with her. For Johnson, who 15 years earlier had stood at the pinnacle of his sport, life was now completely falling apart.
While teammates from the 1984 Olympic Ski Team had moved on to launch ski academies and equipment endorsements, carving out healthy livings for themselves, Johnson was broke, deeply in debt, living in a trailer and unwilling to go to work.
Johnson was alone and didn't know what to do. All Johnson had known was gone: ski racing, fame, a beautiful wife, two boys. All gone, except for one Olympic gold medal, which he carried around in the glove compartment of his car, even flashing it to a police officer who pulled him over for driving while intoxicated.
In 2000, at age 40 and well beyond any ski racer's prime, Johnson decided to make a comeback to hopefully participate in the 2002 Winter Olympics in Salt Lake City.
He thought winning another Olympic medal might mean a new financial windfall and winning back his ex-wife.
"He thought if he won again that she'd come back to him," Bill's mom, D.B. Johnson-Cooper, told John Clarry Davies in Powder magazine, "because it was very definitely finances that were interfering with their lives. She loved the limelight. Bill felt like if he won again he'd be in the limelight and make some money."
Johnson entered training with a renewed dedication, even having "Ski to Die" tattooed on his arm and placing respectably in the top 20 and top 30 of various World Cup races.
Unfortunately, Johnson's comeback came to a forever-ending halt on March 22, 2001, when he crashed horribly during a training run prior to the downhill race of the 2001 U.S. Alpine Championships, held at The Big Mountain near Whitefish, Mont.
Johnson caught an edge going 60 mph at a spot in the course called the corkscrew, tumbling head first into the snow and sliding into the safety nets.
Johnson was in a coma and doctors said he would probably not live. Johnson woke up from the coma three weeks later and relearned how to walk, talk and eat. The coma wiped out about a decade of memories and he had even forgotten he was divorced.
Eight months later Johnson was able to take a run on skis, against doctors' orders. But he would never be the same. The right side of Johnson's body was numb and speech and memory were slow.
Since then Johnson has only gotten worse. Also against doctors' orders Johnson continued abusing drugs and alcohol and, in 2010, he had major stroke that left him all but incapacitated.
Today Johnson's speech is a mixture of whispers, slurs and groans, sitting in a wheelchair and barely able to move his left hand.
"He just wants to go to sleep," his mother said in a recent interview with ESPN.
In June 2013 Johnson was diagnosed with an infection that attacks major organs. In July 2013 53-year-old Johnson decided to no longer use supplemental oxygen or take antibiotics to help deal with the life-threatening infection.
He manages to survive today but has made it clear that he does not want to be placed on life support if another infection attacks his body.
It is tragic that Johnson has ended up like this. Johnson's drive to always go all out has gotten the best of his life.
Johnson always wanted to be the best just by being himself and nothing else, and in the end that was his downfall. Johnson thought that getting the gold medal would get him the millions, but in reality it got him nothing.