Nominated and winning multiple Emmy and Golden Globes awards, "The Office" is a documentary-style television show following a small paper company in Scranton, Pennsylvania. Under the direction of a clueless boss, the show makes fun of everyday life in an office setting. From office parties gone awry to plot and character development, the show has a sense of humor that's offbeat and unique, which is why I loved it from the very start.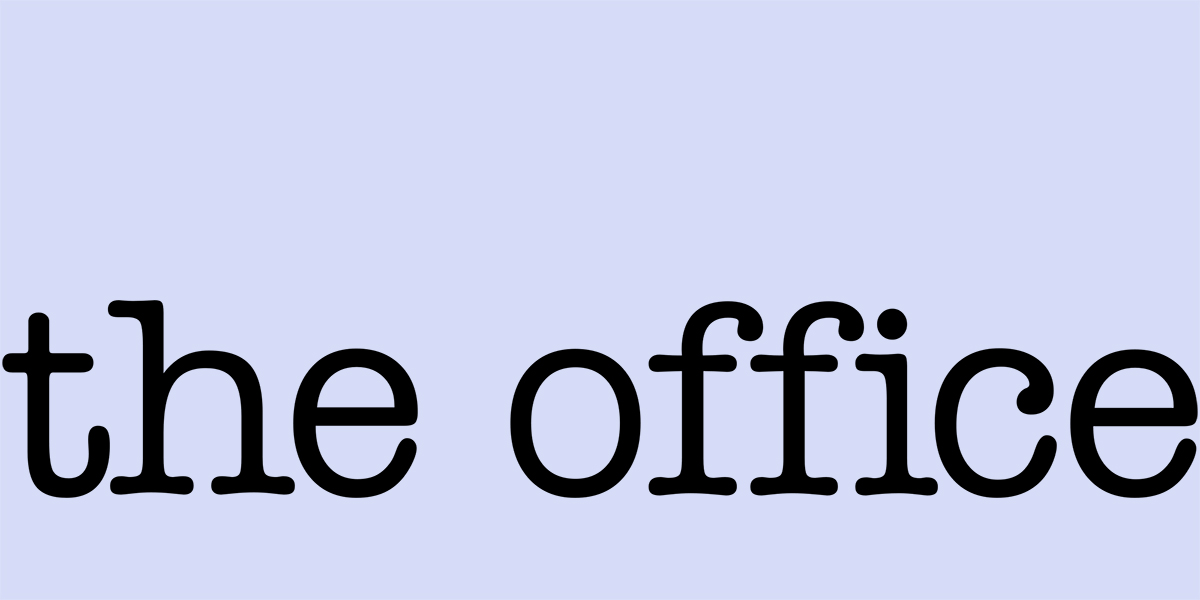 Logo from Google
__________________________________________________
OK, so you know the show is about the Dunder Mifflin paper company, but if you are anything like me you might be wondering how a show about a paper company in the non-descript town of Scranton could be so interesting or popular. Well to help with that, here are seven reasons why you need to go watch "The Office" now. Start from episode 1 and bing to the end. It lives on forever in Netflix.
7) It redeemed itself.
After failing to receive good reviews in Britain, the show was taken to the U.S. in 2005 in hopes of re-casting and giving it a chance to make it on NBC. I'm happy to say the show received outstanding ratings the first few seasons, pushing writers and cast to produce up to nine full seasons of episodes. Who doesn't like an underdog story?
6) It's relatable.
Ever had a job? Ever worked someplace where people didn't always get along? Yes, of course you have. "The Office" not only relates to viewers' everyday lives, but also picks out small conflicts that are common but often overlooked, making it quirky and humorous. Example: Michael, the main character of the show, hates his colleague, Toby (human resources professional), for absolutely no reason other than his existence. Some people click and some people don't. The writers of the show make it clear that Michael hates Toby from day one, even though Toby is so low key and non-threatening that he practically fades into the background.
5) Easily binge-able.
Now I know binge-able is not a word, but I am using it to describe watching an excessive amount of episodes of a television show, in this case "The Office." Each episode is only 20 minutes long on Netflix, since ads are eliminated, so viewers are never bored. It also makes it much easier to cruise through three seasons in one sitting.
4) You will laugh and cry, trust me.
While this show is known for its dry sense of humor and quick wit, don't let that fool you. If you are someone who enjoys romance, sit down, turn on Netflix and start streaming this show now. The love story that unravels between an engaged receptionist (Pam) and goofy sales rep (Jim) is more complicated and intriguing than I can
describe in a few short sentences. Not only will this show make you laugh but believe me you will cry at least a few times as well. The character development weaved in with humor create a dynamic series.
3) Realistic plot line.
I'm not sure if I'm alone in this but I really hate when shows depicting real life scenarios, like an office setting, have unrealistic plot lines. Not to worry though, the writers of "The Office" wrote the show to depict real life occurrences and consequences. Example: One person in the office annoys a co-worker … the person who was annoyed rolls their eyes and walks away. This scenario is realistic and I appreciated the efforts made to say less and act more. Showing the audience rather than telling. This show mastered that technique.
2) Documentary-style filming.
This show is set up on the premise that everyone in the office knows they are being filmed for anthropological research and they are all more than willing to have face-to-face interviews with the camera crew. This breaks down the fourth wall between the audience and the actors and allows us to delve deeper into each character's development throughout the show. This style of filming is what hooked me, the closeness to the actors gives the plotline a fourth dimension.
1) Michael Scott, also known as, Steve Carell.
Michael Scott is the idiot of the office, and also, perfectly, the boss. Single, kidless and clueless is the best way to describe him. As a quote from an accountant on the show, "If you have ever put sunscreen on the window to prevent sunburning, you may be Michael Scott." Nevertheless, his dumb humor and big heart tie all of the diverse characters together under the commonality of being annoyed by him. Not only was the Michael Scott character a big hit on the show among his casted co-workers, but in reality Steve Carell won multiple awards for his performance on the show. These included a Golden Globe Award for best actor, Primetime Emmy Award and Screen Actors Guild Award.
There are your seven reasons to go and watch one of the funniest shows in television history, so find it on Netflix and begin binging. "That's what she said." – Michael Scott