Mike Krone, who has been taking care of the grounds at the university for 22 years, the past 18 as director of grounds, has his hands full with everything from snow to weeds to artificial turf, and sometimes all at the same time.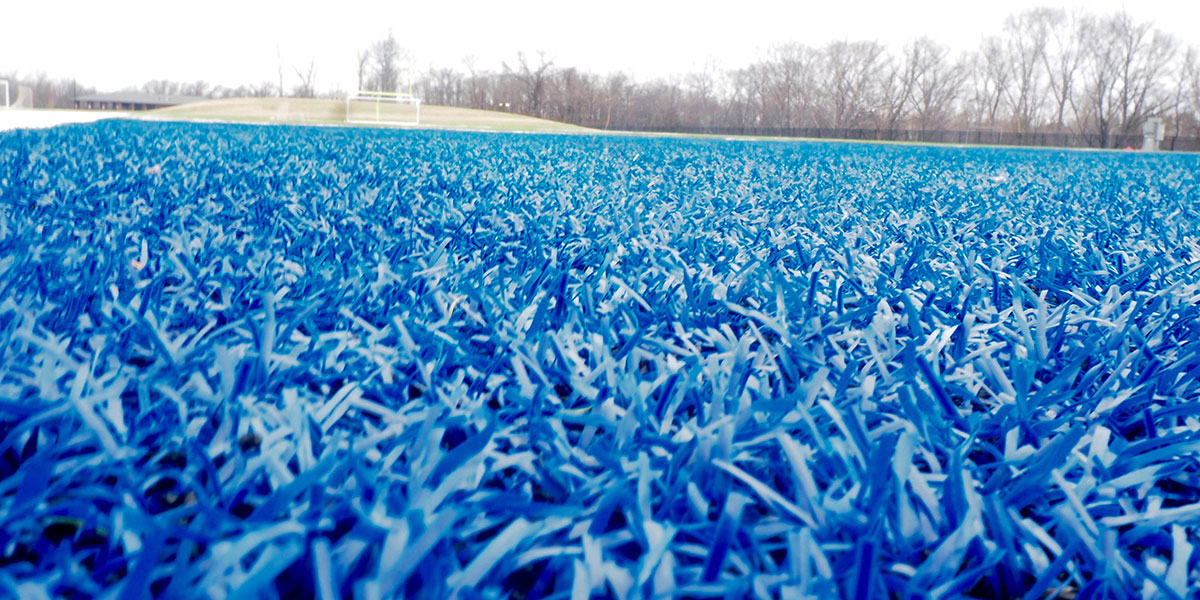 Photo by John Hough
__________________________________________________
Even though winter in the Midwest was milder than any in recent history, St. Louis saw its fair share of snow through the months of January and February.
Students treat snow as an ally if it means no school, but Missouri Baptist University never cancelled classes, and that meant grounds and parking lot crews were plenty busy.
The snow definitely was an enemy for Mike Krone, MBU's director of grounds for the past 18 years, who recently found himself having to repair the batting cages in parking lot C.
One snowfall damaged some netting on the batting cages.
"The cages were damaged when we received the snow," said Krone, who is in the middle of year No. 22 at MBU altogether. "The snow stuck to the netting and with the tremendous weight of that and the 40 mph winds, either the supports/cross-members or upright posts collapsed."
Thankfully Krone and his team did enough work on the batting cages right away that the baseball team was able to use half of the cage as they began spring practices, with four new posts quickly enroute to MBU. That includes multiple cross-members, which is a transverse structural piece that adds support to construction.
The winter season is perhaps the toughest part of the job for Krone because of the snow coming or not coming.
"During the winter snow season it is a very tense time for me when an event is coming in," Krone said. "I spend a lot of time watching my radar and hour-by-hour forecast on the computer. … I record and watch two to three television news forecasts just to compare what they are seeing."
That means Krone gets limited sleep because he is essentially working a night shift when a snow event is in the forecast.
"There have been several nights where I have been here the entire night and into the morning to make sure my people have a handle on it before I go home," he said. "If a storm is due overnight, I usually rely on our security people to call me when it arrives. They are very good at that."
Krone and the grounds crew are making the transition from winter to spring.
"We are hopefully finished with winter so that kicks our spring work into a higher gear," Krone said. And that means taking care of grass and plants.
"Most of what we do plant-wise is temperature-related. We do a great deal even before the grass starts growing where we need to cut/trim," Krone said. "Most plant-related things have a certain time window when it is optimum to do them."
The grounds crew soon could be dealing with storms, which is a natural occurrence in St. Louis beginning in early spring.
Krone has already prepared for inspections on the grounds crew's Rain Gardens.
With the emergence of the football complex, the crew has a new job of maintaining the artificial turf.
"The football complex is the only 'field' that requires our attention," Krone explained. "The artificial turf on the football field needs to be groomed (brushed and swept with special machines) about every three weeks to a month to keep it looking good and performing as it should."
He added, "All of the surrounding cutting/trimming of the complex is treated like the rest of our campus."
Every day offers different tasks for Krone to assign to his crew during the school year.
"I'll check the areas we need to attend to and assign tasks," he said. "Most of the maintenance tasks I delegate to my people, but on projects I am normally working with them."
And with a university on the grow like MBU, there are always plenty of projects ongoing.
"I spend a lot of time staying on top of projects that concern me with sub-contractors, making sure that we are getting what we're paying for," Krone said. "Our department takes great pride in providing a safe campus for our students, staff, faculty and visitors."