The Academic Success Center will be hosting the research event this week, featuring poster displays, oral presentations and a keynote panel.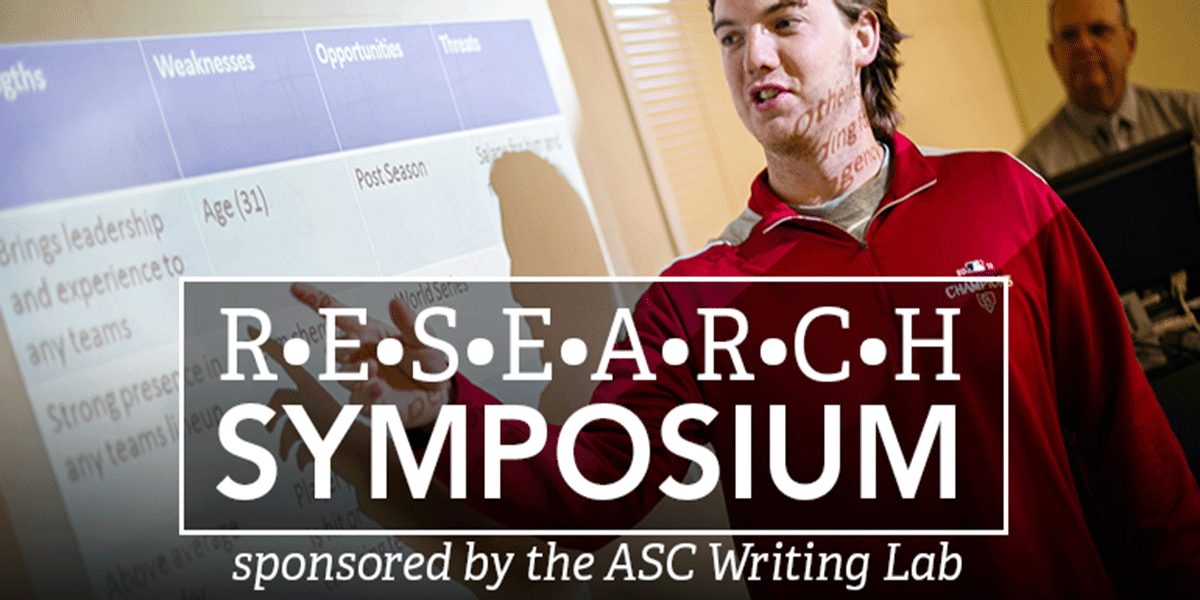 __________________________________________________
Students and faculty from various academic fields will be presenting their research on Thursday, March 31, at various sites across the Missouri Baptist University campus.
Students will be presenting their research either with a poster display or an oral presentation, while faculty members will be discussing their work during a keynote panel.
The poster presentations will be located in the Great Hall from 12-1:30 p.m., while the keynote panel discussion runs 1:30-2:30 p.m. in the Chapel.

The Research Symposium was introduced last year by Elizabeth Busekrus, Writing Lab coordinator, and implemented by the Academic Success Center.
"I want the Writing Lab and the Academic Success Center, really, to embody a place of higher learning. Not just a place for students who really need help, but also a place for creation and scholarship to happen, a place where really in-depth conversations can happen," said Busekrus, a 2012 MBU alum who went on to earn her master's degree. "So that's kind of how this symposium came about. I just wanted it to be a place and opportunity for students to really delve into their research projects, to show the campus what they've accomplished here."
The Research Symposium will be spread out across the Pillsbury Chapel Dale-Williams Fine Arts Center and the Field Building.  
The keynote panel features five professors from different disciplines across the university: Dr. Allin Means, associate professor of journalism; Dr. Shelton Smith, director of education leadership, Regional Learning Center dean, and professor; Dr. Julie Ooms, assistant professor of English; Mr. Guy Danhoff, assistant professor of health and sport sciences, and Dr. David Collum, assistant professor of natural sciences and data analyst.
Each professor will be presenting scholarly research they have conducted.
Ooms will be presenting an article on Sylvia Plath and Augustan.
"Plath is one of the articles I wrote my dissertation on, I do a lot of work with her. There is an archive of her work at Indiana University-Bloomington, it's an easy drive. I really enjoy working with that author," said Ooms.
Means will be presenting on what he refers to as "Links of Connectedness," part of his 10-year longitudinal study about newspaper websites.
"I wanted to see what newspaper websites were doing to connect with and engage with readers. And then I brought some of what I learned into things I do in class, like MBU Timeline, for instance," Means said, referring to the student news network, mbutimeline.mobap.edu, one of his primary teaching tools.  
This is an extension of what Means originally worked on for his dissertation.
One of the students who will be presenting at the symposium is junior Ashleigh Poteete.
Poteete's research study focuses on sex trafficking and what causes women to enter the trade, specifically women ages 13-18.
"So my study in theory, I would sit down women between those ages and I would ask them to tell me their story," said Poteete, who is double majoring in human services and psychology with a minor in sociology. "After that, I would get out the pieces of their story, so if their dad was an alcoholic, if they were sexually abused, or if they were thrown out and if that caused them to go out and live on the streets."
After this research was conducted, she would be able to figure out who or what was the deciding factor for the girl to enter sex trafficking.
This year the symposium will be featuring over seven different majors presenting research, including biology, exercise science, theatre and psychology.
As the Research Symposium develops over the coming years, Busekrus hopes that academic diversity will flourish.
"I guess kind of a five-year plan is to really keep moving towards diversity. We want representation from each department at this," said Busekrus.
Busekrus also hopes that more students will be encouraged to participate in the symposium and feel welcomed to present.
"I want instructors to be able to see the value in this so they can encourage their students to prepare projects for this."