Jerason Dean, MBU alumnus, is making waves in the music business. Recently discovered on Twitter by Ferguson Music, plans are being made for a record.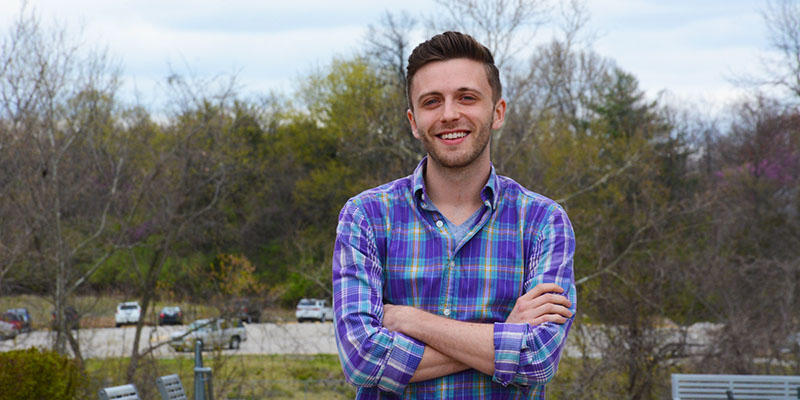 Photo by Rebekah Rutledge

__________________________________________________

Life comes at you fast, and sometimes out of nowhere. No one knows the truth in that more than Jerason Dean, MBU alumnus who, one minute was graduating from college, the next minute working at a cupcake bakery and freelancing in Chicago, and the next signing a contract to sing professionally in Nashville.

Dean, 24, has been singing for as long has he can remember. "I started singing in front of people in the fifth grade. I got my first solo in the school program and from then on I was like, I want to do this," said Dean.

Larry Ferguson of Ferguson Music discovered Dean when he posted a video of himself and a friend singing "Part of Your World" from Disney's "Little Mermaid" on Twitter.

"I had said something [on Twitter] before that had caught my now-manager's attention and then I posted the video and that is kind of what got the ball rolling," said Dean.

Ferguson discovered Dean through Twitter when they had both randomly followed each other's accounts. As Dean began posting videos of himself singing, Ferguson gained interest. 

"He posted a video of he and his friend singing a Disney song. I thought he's got a nice voice. He made some more videos after that and I thought if he likes music with lyrics and not just beats, he's young and dapper, he could be the next Buble',"  Ferguson said.


https://twitter.com/mrjerasondean/status/660819802169221120

While at MBU, Dean played on the men's volleyball team, but despite the school's large musical presence, did not participate in anything music-related.

Dean graduated from MBU in 2015 with a degree in public relations and after graduation, he moved to Chicago to pursue a career in public relations, while also working at a local cupcake bakery.

"I was working for a PR agency in Chicago and that's what I thought I was going to do … this just kind of fell into my lap. I didn't expect it, but I am more than happy to pursue it," said Dean.

Now labeled as a singer/songwriter, Dean is working on writing a few songs for his upcoming record, as well as finding cover songs that fit his style.

"I've written a handful [of songs] so far and I've gotten the go-ahead on two. We want to have a mix of covers and original works for the album," said Dean.

Ferguson Music plans to start recording Dean's first album in the next three to six months, but in the meantime are working to define his style and following.

As his life begins to change, Dean has a humble outlook on his potential fame.

"It's funny, throughout this whole thing I've never thought I am going to be famous out of it," said Dean. "It is a slow process and I am not expecting for everyone to know my name by tomorrow, but really for me it's more that I hope it is successful, as opposed to being famous. I would hate to live out this fantasy that I never thought I would get and it be a big flop."

Ferguson Music is known for its work with a variety of country and gospel singers, such as Dottie Rambo, Carol Channing and Lulu Roman. But Dean, rather than focusing on a particular genre, is going to have his music mirror his heart.

Dean grew up in small-town America, in Metropolis, Ill., and plans to have his music reflect on what he has learned and lived in his life.

"I don't really have a gospel focus or a Christian focus or a secular focus as far as the album goes, it really more comes from a soulful place. I'm not really playing into a certain genre," said Dean.

Overall, Dean is looking forward to this opportunity he has to share his voice. "It's a dream. It always has been a dream."

__________________________________________________

Follow Dean through his "fantasy" journey on his Facebook page, Twitter or on Instagram @MrJerasonDean.