The production, a farce by Neil Simon, opens on Thursday, Feb. 4, and runs until Sunday, Feb. 7. For ticket information, go to the Box Office website. Showtimes are 7:30 p.m. each evening, with a 2 p.m. Sunday matinee.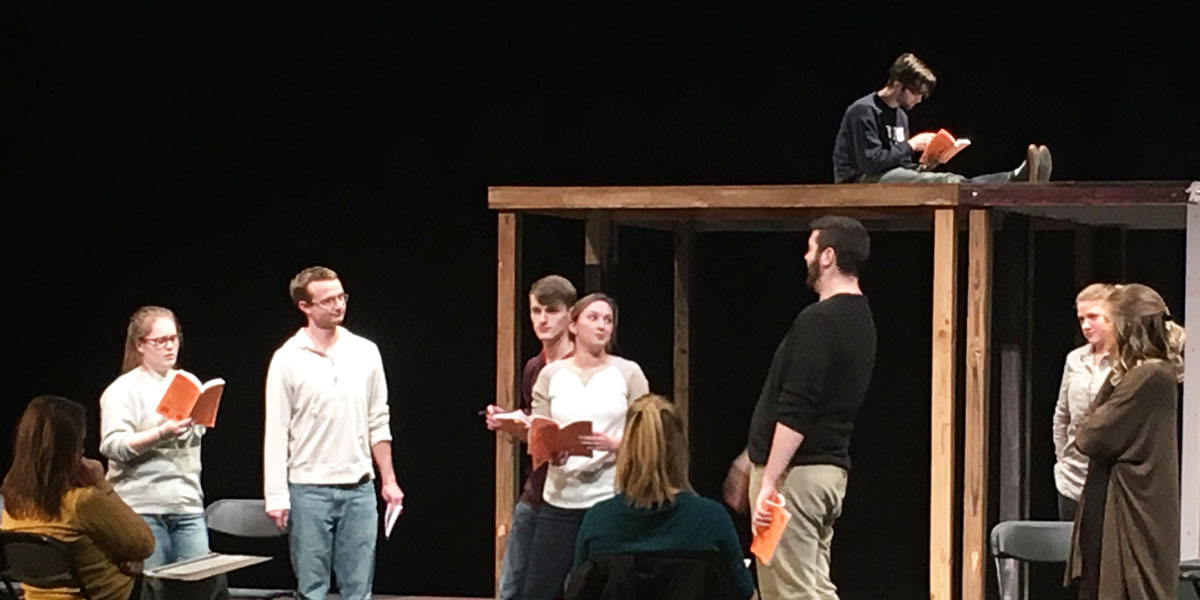 Photo by Christian Robinson
__________________________________________________
Rehearsing lines and sharing laughs while sitting in the hallway of the communications wing of the Fine Arts Building, it is obvious there is something different about the cast of "Rumors" and MBU Theatre.
"Rumors," directed by Kasey Cox, opens at Pillsbury Chapel and Dale Williams Fine Arts Center on Thursday, Feb. 4, and runs through Sunday, Feb. 7.
Theatre is a different type of atmosphere at Missouri Baptist University than at most universities.
"MBU theatre is very unique in that it creates a community of people that really loves each other. I did a community show this summer and was aghast at the fact that wasn't the environment everywhere," said Andrea Mossman, a senior. "So here at MBU, especially, we not only cultivate our skills and our talents, but we're also cultivating each other and creating a community."
Cox, an MBU faculty member, said the Theatre Department, under the direction of MBU professor Dr. Joy Powell, works to help create a community atmosphere within the department.
"It is something that we have cultivated. Dr. Powell, who is the head of the Theatre Department, makes it very clear that we're looking to cultivate entire people, not just actors," said Cox, an MBU alum. "What she (Powell) says is, 'How you end up getting there is just as important in what you end up doing, so the process is just as important.' I think that is a very wise thing, developing who you are as a human being, it informs your art."
"Rumors" is about a dinner party, celebrating the 10th anniversary of Charlie and Myra Brock (who interestingly never make an appearance in the show), which takes an amusing, and at times exaggerated, turn of events.
Chris Gorman, a lawyer, is one of the guests at this ridiculous dinner party who elevates the insanity of events taking place as she continues to intoxicate herself throughout the night.
Mossman, a theatre and psychology major, who plays Chris, said the continued intoxication of her character is her favorite aspect.
"She (Chris Gorman) gets progressively more intoxicated as the night progresses, so that's really fun. It's a really great physical piece to acting and that's really great," Mossman said. "It's challenging and I appreciate that."
MBU alum Philip Parrish echoes the community aspect of MBU Theatre.
"I really enjoy working with MoBap because of the communal or family-like atmosphere, the cast really becomes a family. So even though I'm an alum, it still feels like home," said Parrish.
Parrish's character, Ernie Cusack, a 50-year-old analyst, tries to keep the party afloat when all the insanity ensues.
"He is good nature and takes everything in stride," Parrish said about his character.
The cast has been rehearsing since the first week of spring semester.
After a car accident draws police to the dinner party, MBU alum and The Perk manager, Emily Crain, enters the scene as Officer Welch.
"The hard thing with farces is that they're comical and because people know they're comical sometimes we have a tendency to try and play up the comedy when we just need to read our lines," said Crain, who has previously performed in 12 shows at MBU. "The comedy is all written there for us as long as we read it appropriately."
The work the Theatre Department has done to cultivate a community atmosphere has not gone unnoticed by industry professionals.
"One of the things that has been very nice when we've gone to places like New York and worked with professionals, when we're leaving they'll come up to me or to Dr. Powell and say, 'I want to work with these people. I've never seen college students act this way towards one another,' because they're usually very cut-throat and our students are crying because they're so happy for so-and-so because they did this thing they've been working so hard for," said Cox, who has previously directed seven shows at MBU.
"I think that's what makes our program so different is that we don't want to cultivate a spirit of … kind of competition amongst each other, but maybe a competition amongst yourself to be better than the last time," Cox said. "We're working together to be the best that we can be as a group. It's a team event."
The MBU theatre community isn't exclusive to just theatre majors, which helps add to the unique feel of the department. "Most of the time we have a very wide range of people in the show," said Cox.
"Rumors" is chock full of hilarity and outrageous incidents. Parrish, who originally comes from Norman, Okla., said his favorite part of the show is the humor.
"All of the language is really, really funny, I don't always have the funny line so it's hard for me sometimes to hear someone say a line which is funny and not laugh at it," he said.