A tribute to the late Robin Williams, a man who brought so much joy and laughter to others during his lifetime.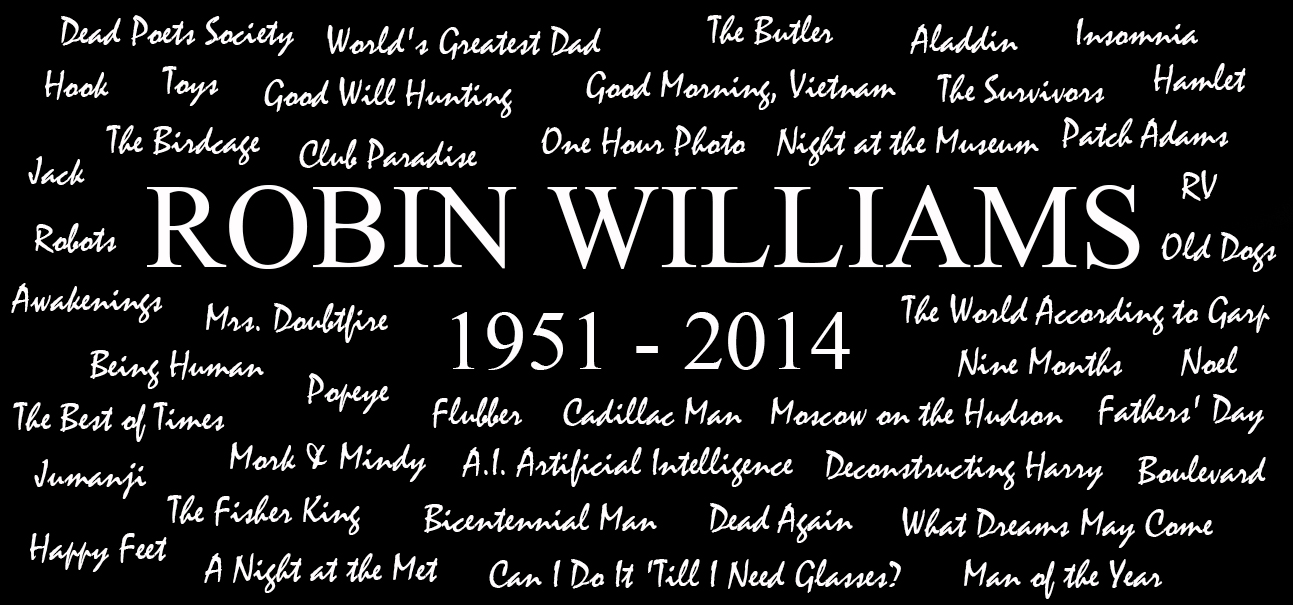 Graphic by: Ryan Arnold
 __________________________________________________
Actor, comedian, film producer, screenwriter, but most importantly a friend. Robin Williams did it all and for many years, on and off the screen, he brought enormous amounts of joy and laughter to people.
Sadly, Williams' life was cut short due to an apparent suicide by hanging on Sunday, Aug. 11, he was 63.
Now, this tribute will not look at the reasonings behind Williams ending his life, instead he will reflect on the man who brought uncontrollable laughter and charisma to our households.
You know him as Mrs. Doubtfire, Popeye, Dr. Malcolm Sayer, Dr. Sean Maguire, Parry, Alan Parrish, Peter Pan, The Genie, Armand Goldman, John Keating and Theodore Roosevelt. And of course, Mork from Ork, where it all began for Williams in 1978 as the hilariously quirky alien who landed in Colorado on the "Mork & Mindy" show.
These are all characters that Williams transformed into throughout his years of acting. Williams' characters were always full of heart, while he put delegate time and effect into each of them.
Williams was also the master class at improv and ad-lib on and off the screen. In Disney's "Aladdin" Williams improvised so much that Disney had 16 hours of raw material.
The Oscars also turned down "Aladdin" for Best Adapted Screenplay because Williams ad-libbed so many of his lines.
Who could forget one of Williams' most famous lines in "Good Will Hunting," "Son of a bitch. He stole my line." Not many people realize that this line was ad-libbed by Williams at the end of the film.
Mr. Williams not only had a skill in improv, he was also very gifted with humor. From stand-up comedy to film Williams always found a way to make the audience laugh until their sides hurt.
In the '70s, Williams first started out with stand-up comedy and after he gained a lot of attention he was cast as Mork for two episodes in the hit TV series "Happy Days."
Williams' character, Mork, became so popular with viewers that it led to a spin-off hit television sitcom, "Mork & Mindy," which ran four seasons.
After "Mork & Mindy," Williams' career took off from stand-up comedy with HBO ("Off The Wall," "An Evening with Robin Williams," and "Robin Williams: Live at the Met") to hosting the 58th Academy Awards show to making multiple guest appearances on the Johnny Carson show.
These of course were all done through Williams' skill in improv and his heart of humor.
Williams not only invested his career in stand-up and television, but in film as well. He first started out in low budget films like "Can I Do It 'Til I Need Glasses?" and "Popeye."
In 1987, Williams finally got his breakout role in "Good Morning, Vietnam." He played  Adrian Cronauer, a radio "shock jock," who keeps the troops entertained with comedy and sarcasm.
Williams was allowed to play the role without a script, improvising most of his lines. This earned him his first Academy Award nomination for Best Actor.
During the film Williams created voice impressions of people including Walter Cronkite, Gomer Pyle, Elvis Presley, Mr. Ed and Richard Nixon.
"We just let the cameras roll and Williams managed to create something new for every single take," said producer Mark Johnson ("Dr. Zhivago" and "Good Morning, Vietnam").
His film career really took off in the 1990s by being in films like "Dead Poets Society," "Awakenings," "The Fisher King," "Hook," "Aladdin," "Mrs. Doubtfire," "Jumanji," "Hamlet," "The Birdcage" and "Good Will Hunting."
Here he showed his viewers that he could not only play comedic roles, but serious roles as well. In my opinion, "Good Will Hunting" and "Dead Poets Society" are Williams' best performances on screen.
In "Good Will Hunting," Williams plays therapist Dr. Sean Maguire, a man trying to help Will Hunting (Matt Damon) who has a deeply disturbed past.
Williams put delegate effect into this role by showing us a man who has faced many trials in his lifetime, but who has also remained solemn. Williams received his first Oscar win as Best Supporting Actor for this film.
"You'll have bad times, but it'll always wake you up to the good stuff you weren't paying attention to," Williams said in "Good Will Hunting."
In all, he had 59 wins and another 70 nominations. Williams proved that he could not only make you laugh but cry. His skill in stand-up, television and filmmaking made an impact on this world.
Mr. Williams did it all, from the one-man show, to "One Hour Photo," to founding Comic Relief USA.
Sadly in the end, Mr. Williams took his own life. Now, with his absence the world will be a little darker and dealing with a little less laughter.
Thank you Mr. Williams for bringing so many smiles to our faces and tears to our eyes from your outstanding and wholesome performances over the years on film.
We will miss you Mr. Williams, your charisma and humor is and will be cherished in years to follow.