When 25-year neurosurgeon Dr. Eben Alexander contracted a deadly disease that took him to the brink of death, he emerged from the other side with a life-changing story to tell. His journey is inspiring and reaffirming that Heaven does exist.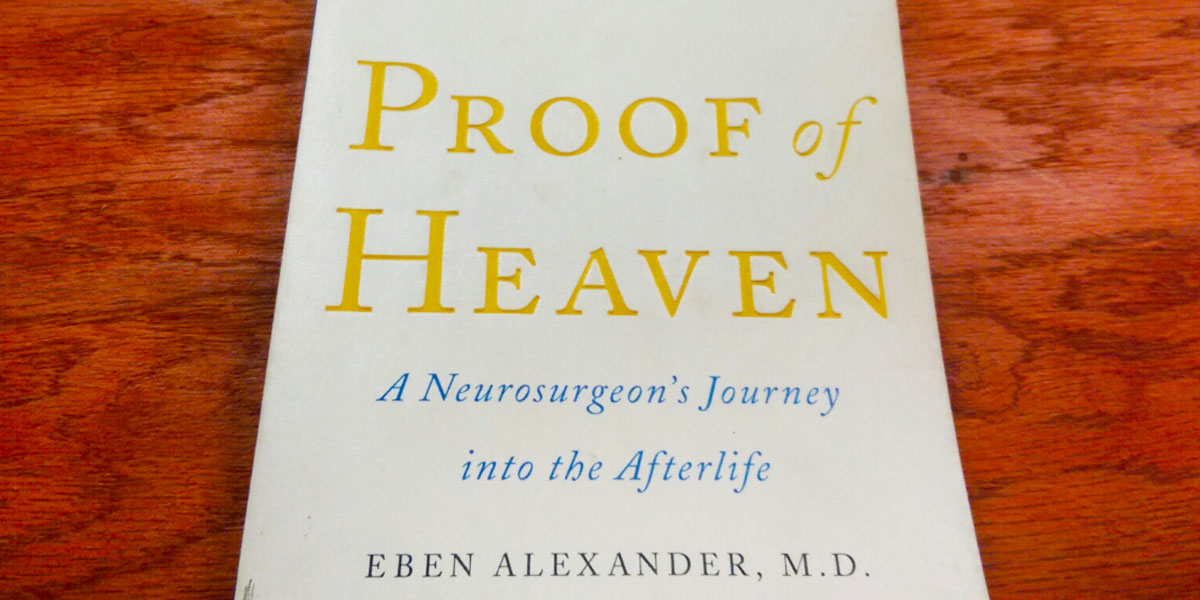 Photo by: Colby Duncan
__________________________________________________
Eben Alexander, a 25-year neurosurgeon, devoted his career to science until a near-death experience changed his life.
Alexander is the author of the best-selling novel, "Proof of Heaven: a Neurosurgeon's Journey into the Afterlife."
Alexander's novel describes his near-death experience and how it allowed him to prove that Heaven really does exist.
Alexander enlists a scientific approach to the extraordinary journey he took after being in a coma for seven days after being diagnosed with E.Coli meningitis.
Alexander went through a different world, what he claims to be Heaven.
At one point Alexander's body was non-existent, almost like his soul was a pile of muck.
This muck of Alexander was, as he claims, in "the pitch black, what seemed to me be the underworld."
Alexander's soul embarks on unimaginable occurrences, a journey through the gates of Heaven, even seeing the entity of God. 
"On the wings of a butterfly to an immense void," Alexander said in the book, "brimming with light, coming from an orb."
Alexander describes the interpretation of what was to him the all-loving God.
Alexander attended Phillips Exeter Academy, graduated in 1972, then the University of North Carolina at Chapel Hill, graduating in 1975, and then Duke University School of Medicine, graduating as a medical doctor in 1980.
Alexander was an intern in general surgery at Duke University Medical Center, and also a research fellow at Massachusetts General Hospital and he is certified by the American Board of Neurological Surgery and the American College of Surgeons.
Fifteen years of Alexander's 25-year practice were at Brigham Women's and Children's Hospitals and Harvard Medical School in Boston.
Alexander taught at Duke University Medical Center, University of Massachusetts Medical School and the University of Virginia Medical School.
Alexander has always been a man who questioned religion but after his experience into what he describes as another world he now believes he was born for a reason, to prove that there really is a God and He really does exist.
Alexander was diagnosed with a very rare case of E.Coli meningitis, the E.Coli was extracted from a very rare case of the Bacterial strain harboring DNA for a gene coding for Klebsiella Pneumoniae Carbapenemase (KPC). 
"My entire neocortex, the outer surface of the brain, the part that makes us human, was entirely shut down, inoperative," Alexander said.
KPC is an enzyme that conferred antibiotic resistance on its host bacterium.
KPC was founded at Sourasky Medical Center in Tel Aviv, Israel, around the same time that Alexander was there to do some medical work.
"Our spirit is not dependent on the brain or body," he said. "It is eternal, and no one has one sentence worth of hard evidence that it isn't."
E.Coli meningitis is contracted in fewer than one in 10 million adults spontaneously each year, and there is only a 20 percent survival rate.
And, 90 percent of that 20 percent end up not recovering at all, meaning that recovery, if any, is minimal and the patient usually ends up much like a vegetable.
If the KPC strand of DNA within E.Coli got into the general population, it could rival the Black Plague that killed half of Europe in the fourth century.
Alexander was in a coma for seven days with his mind, including his cortex, being totally shut down. 
"During my coma my brain wasn't working improperly," Alexander writes in his book. "It wasn't working at all."
The last thing Alexander yelled out in agonizing pain on the hospital bed before entering a coma was, "God help me!!!"
On the seventh day of Alexander's coma and just hours before doctors would pull the plug on him, he miraculously opened his eyes.
After a short period of time he had a full recovery and was walking out of the hospital with more than just his life back, but also with a story to tell about his journey to another world, a journey to Alexander's "Proof of Heaven."
Alexander's experience drove him to try to make a change in the world to spread his story and to enlighten people that God is real.
"I intend to spend the rest of my life investigating the true nature of consciousness and making the fact that we are more, much more, than our physical brains as clear as I can, both to my fellow scientists and to people at large," said Alexander. 
Growing up I have become very curious and, to say the least, I have had doubts about my faith of there being an afterlife, or Heaven, but Alexander's novel helps me give faith to what God has to offer.
I am not a person who is devoted to the church and was not brought up in that environment where religion was a main consideration, and I think the same goes for a lot of young people like me.
If that's the case then give this novel a read, it is a different take on looking at what God has to offer and how God makes miracles to prove his existence.
"Proof of Heaven" is written by a neurosurgeon so the novel is not tenaciously biblical, it focuses on the subject through science's eyes.
Alexander tells his story with as much scientific explanation as he can on his journey.
He also offers explanations that can only be done by a higher power, since things of that nature are humanly impossible.