Missouri Baptist University's North Hall begins the fall semester with a new resident director, and she may be a familiar face to many students and faculty members at MBU. Meredith Linn, a former North Hall resident and 2019 MBU graduate, is excited to again be a part of the MBU community and connect with the building of young women she has been called to lead.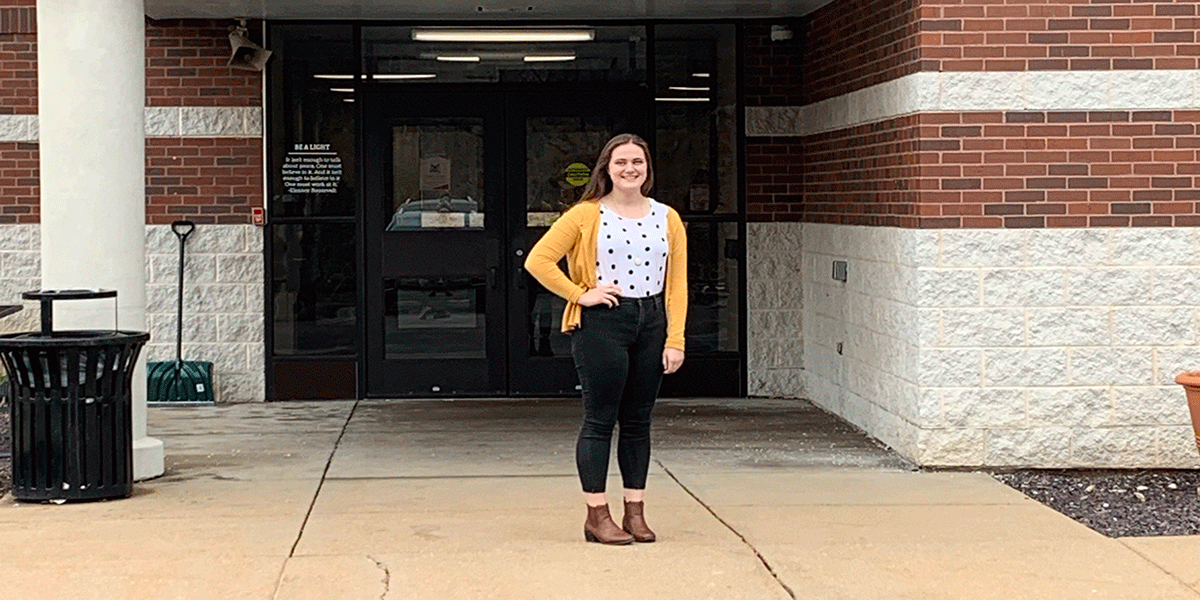 Meredith Linn stands in front of the North Hall dormitory as the resident director. Linn takes over the responsibilities previously fulfilled by Kayla Knapp, who served as North Hall's resident director from 2013-19.     Photo by Hannah Chaney
__________________________________________________
Missouri Baptist University's women's residence dorm, North Hall, begins the 2020-21 academic year with a new resident director, Meredith Linn, who earned the title after working in an interim capacity last spring, and she's has been savoring her time at North since returning to campus back in January. 
"Getting to be back on campus is very sweet," said Linn, 22, who graduated from MBU just a year ago. "MoBap is home."
Taira Schertz, MBU's director of residence life of 15 years, is thankful that Linn is "home" too and said late last spring the MBU grad was filling the position effectively.
"Meredith is a servant leader and has been a great fit within the Residence Life program," Schertz said.
Although she is new to the position, Linn is no stranger to MBU, graduating in the spring of 2019 with a Bachelor of Science degree in Social Sciences, after being involved in many extra-curricular activities throughout her four years of college, such as a student representative for MBU Honors, a defensive player for women's lacrosse and a huddle leader for FCA.
Linn said she is thankful to be continuing her college experience by earning her Master of Arts in Teaching for Middle and Secondary Social Sciences Education, and she is also excited to be working as the MBU Intramural sports coordinator, which she began a year ago. 
"It had been on my heart that I wanted to be back on campus, but I couldn't as a grad student," Linn said. "I don't want to sound cheesy, but God had a plan and made a way."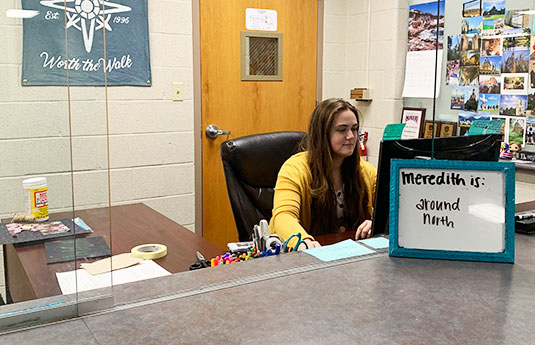 More than just the MBU campus, Linn is especially drawn to North Hall and its special perks like resident life events, which facilitate community and grow relationships. Even as the school year begins amid the COVID-19 pandemic, MBU resident halls have plenty of community-building ideas planned, with correct social distancing of course.
"North has the greatest community on campus," Linn said. "I love their events such as the Roommate Game, Avoid the Wheel, UP All Night, and North Hall Prom."
Living at North her freshman and senior years, Linn has many fond memories of the dorm, which she intends to continue as its director.
"One of my favorite memories of North are long talks in my old suite because they've created lasting friendships," Linn said. "North Hall Prom was another great memory because it started with an idea at the cafeteria dinner and became a full-fledged event that night. We made decorations, had a selfie station and a dance floor with the disco ball on YouTube. It's a tradition we plan to continue."
Along with creating memorable moments, Linn also works hard to ensure the well-being of resident assistants and residents alike. 
"I live at North, I make sure the resident assistants are doing well, and I aid with Resident Life activities," Linn said. "I have already worked on trying to learn girls' names, getting outside of my shell, and also have the easy reminder to pray for my residents and have those deep conversations about everything."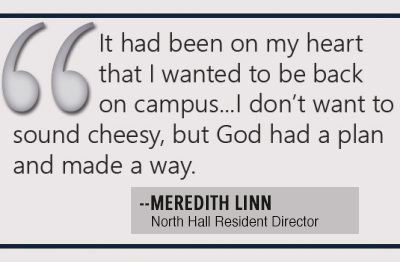 One of Linn's residents last semester, Ally Dishner, 20, a junior majoring in behavioral sciences, has lived at North Hall for three years and is enthusiastic about the new change.
"I'm just excited that she's back at North and we can further our friendship here," Dishner said.
Another one of Linn's North Hall residents, Geena Novelly, 20, a junior majoring in business administration, has lived at North for three years like Dishner and is also enjoying the personality Linn brings to North. 
"Whenever we cross paths, she always gives me a wave and acknowledges me. She seems to care about everybody and tries to make things fun for everyone," Novelly said. "She always seems to have a smile on her face. Whenever I'm talking to her, even if I don't say something funny, she's always laughing, which puts a smile on my face."
Not only do Linn's residents appreciate her friendly and composed personality, but her resident assistants, such as junior Libby Scanio, a Christian ministry major and biblical counseling minor, also enjoys her presence at North.
"She's very talkative and very open," Scanio said. "She's calm in tough situations and she's organized."
The new position can be hard to balance, though, and presents Linn with many challenges.
"It feels like you can't quite serve everyone and coming in at second semester is hard," Linn said back in the spring when she took over as interim. "I would say it's unique trying to find the balance of authority, but love. Also, trying to find healthy boundaries for myself and my residents. Mostly, people are just surprised at my age, rather than negative about my role."
Another resident director in a similar spot, Ethan Metzler, 25, who graduated with Linn in 2019 with a Bachelor of Science in physical education, has been Pillsbury Huff's RD since August of 2019 and understands the need for balance.
"I would say that there are definitely moments where it's tricky and challenging because there are previous relationships with friends," Metzler said. "It takes rethinking your approach and how you interact with students because you are in a different role and your responsibilities change. The way that you interact with your students in some ways has to change as well to be appropriate for the capacity that you are serving in. I would say respecting students and just doing your job well go a long way in how they view you."
Though Metzler understands the position can be troublesome at times, he is confident in Linn's ability to perform in her role.
"I got to serve with Meredith as co-leaders of Fellowship of Christian Athletes," Metzler said. "She loves the Lord, she loves people well. She's level-headed and doesn't freak out when things go wrong. She's good at problem-solving and this is a good season of life for her to be in this position."
Linn agrees with Metzler that this is a memorable time in her life and is greatly encouraged by it. 
"I feel really supported here with encouragement to my spiritual walk, but I also feel like I can pour into others. It's a special spot to be at in life."