To kick off Writing Week, which takes place Oct. 23-27, something brand new to Missouri Baptist University is brewing this year on campus, and everybody is encouraged to take part.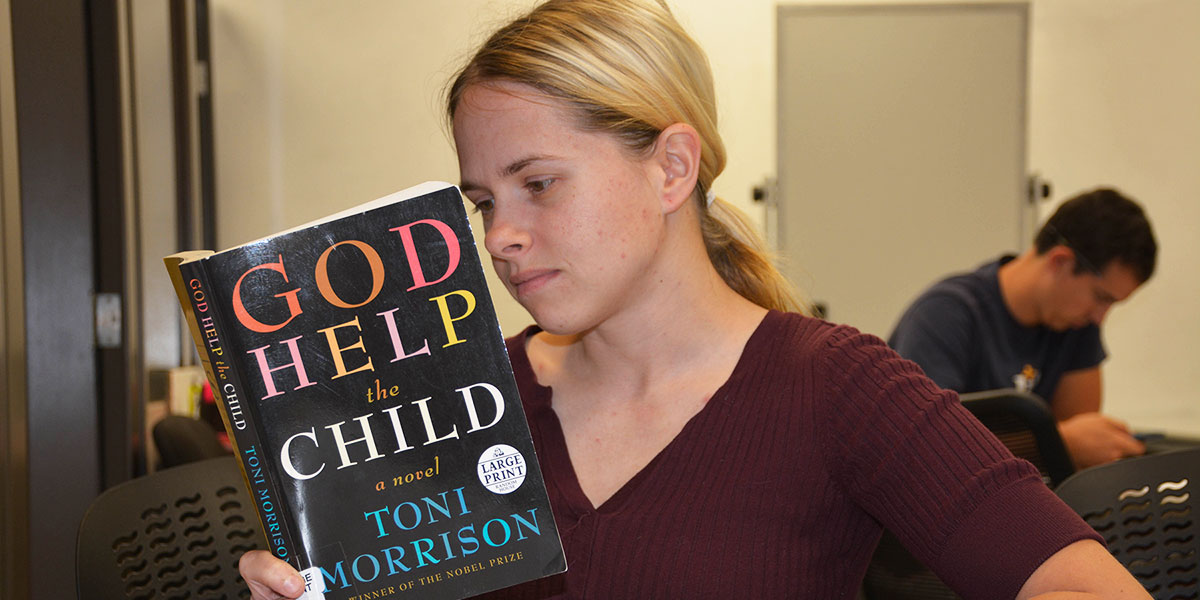 Photo by Jessica Danielle Moore
Elizabeth Busekrus, Writing Lab coordinator, reads the first book the new MBU Book Club will be discussing.
__________________________________________________
For the very first time, there will be an MBU Book Club. Everybody and anybody who enjoys generating group discussion about books or simply has a love for reading is encouraged to join.
Recently, the Writing Lab and library have been doing a lot of collaborative partnerships including workshops on teaching the databases and a poetry slam event which took place last year.
"So this year, we're doing a lot of other partnerships with the library and one of them is this book club," said Elizabeth Busekrus, Writing Lab coordinator at MBU who is also hosting the book club.
The first book has already been chosen, "God Help the Child," by Pulitzer Prize-winner Toni Morrison, who also wrote, "The Bluest Eye," published in 1970.
The featured book, "God Help the Child," focuses on main character, Bride, who faces racial discrimination and cruel treatment within her own family, and how that has shaped her as an individual.
"It's really focused on Bride and her mother, and how she was treated as a child," said Busekrus.
When the book club meetings will take place depends primarily on each member's availability.
Once a finalized group of interested students is established, there will be an agreed-upon day and time that works best for all members.
"I know we will be meeting once a month, at least at first, and as we continue generating more interest, we might have more frequent meetings," Busekrus said. "We might do more books per semester. Right now, we're just gonna focus on reading one book."
"Each of the meetings are gonna center around some discussion questions but it's gonna be pretty informal," she said. "So what we'll do as a group is decide how much we're gonna read, you know, before the meeting, and then at the meeting, the facilitators of the book club will have several discussion questions that orient around the subject matter of the book to facilitate discussion."
Those interested in joining the MBU book club should contact Busekrus of the Academic Success Center via email: elizabeth.busekrus@mobap.edu.
"Our hope is that the participants will also come with questions or points that they wanna discuss," said Busekrus.
If you are hesitant to join, Busekrus has one final thought to leave you with.
"Reading is such a crucial part of a college's curriculum," she said.
Despite all of the various types of reading many courses will require in college, it is rare that students will really enjoy the context of what they're reading simply because it is class-related and more than likely not a desired choice.
Busekrus has created the book club solely for this purpose.
"I thought that the book club would be a good opportunity for students to read something fun and just to continue spreading that love for reading."