If you are walking in the halls on the first floor of the Fine Arts Center and hear music emanating from Room 102, most likely it is a SpiritWing rehearsal. For a quarter century the group has been praising God through songs that reflect current and historical culture.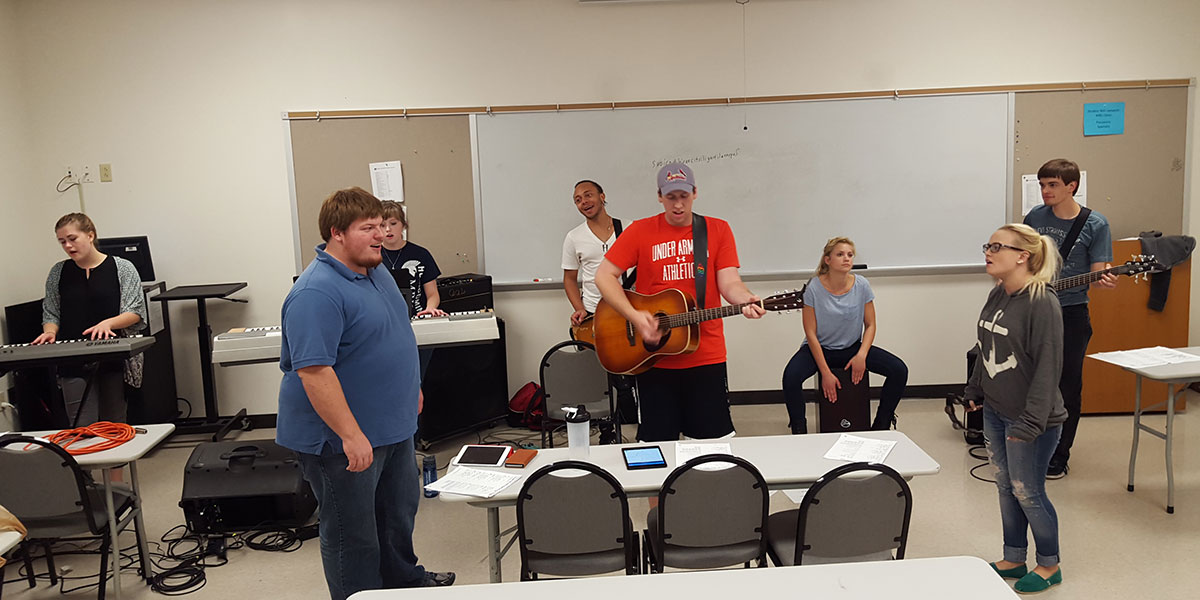 Photo by Michael Maasen
SpiritWing rehearses recently in an FAC classroom. Left to right are Kathryn Hinrichs, Matthew Marshall, Jenalyn Hampton, Austin Johnson, Garrett Grasshoff, Faith Reynolds, Emily Rice and Kenton Park.
__________________________________________________
By MICHAEL MAASEN
For over 25 years, Missouri Baptist University has been investing in students who wish to glorify God through worship ministries.
One way MBU does this is by supporting the student group/band called "SpiritWing."
There are several different music ministry groups supported by MBU, and each one is unique.
According to Josh DuBoise, one of the sound technicians for the band, the sound of the band "is mainly contemporary worship which includes some modern hymns."
DuBoise  said that some of the songs the band plays may be well known while some may not.
"We've sometimes led Sunday evening concerts," said DuBoise, "but generally in the morning at churches we are leading worship. Some may be specials, but it depends on the context that the churches would want."
One example of a concert that SpiritWing and the other ministry groups will be putting on is a Christmas concert Thursday evening, Dec. 3.
Garrett Grasshoff, a vocalist and guitarist in the band, described the genre of music the band plays as "not really a specific genre, it's just worship."
The band's focus seems to be on realistic worship, not just playing music for the sake of music.
"SpiritWing isn't just a worship group," Grasshoff said, "it's a group of people who come together to play music and that's how we glorify God. It's a group of people who want to glorify God and it's an overflowing of what's in our hearts."
Not only does SpiritWing create excellent opportunities for the glory of God, but it also provides a way to teach the next generation who may lead congregations in worship someday.
Grasshoff, for instance, has been leading worship for about five years in SpiritWing as well as at his church.
"I would like to lead worship in the future, so it is good to know how to do it and be able to look at the meaning of songs," he said.
Jordan Cox, the SpiritWing director and a former member of the band, said "As a former member of Spirit Wing, it is an honor and privilege to help continue the legacy of worship leadership and education on and off the campus of MBU."
Cox is also responsible for the spiritual development and the planning of gigs for the band.
Not only do the instrumentalists get a taste of what real-world worship experience will be like for them in the future, but the audio technicians get the same experience.
"I am one of two audio technicians for SpiritWing," said DuBoise, who is joined by myself as an audio tech, "which means that when the group leads worship at a church or various places, I run the sound for the group and possibly the video slides."
This is what sets MBU's ministry education apart. At MBU, students not only learn practical knowledge for how to lead in ministry, but they also get the chance to practice what they have been learning throughout the semesters.
Who knows, maybe you will see members of SpiritWing at your church leading worship or on staff someday soon.