If you're looking for a great book to get into this season, check out some students' go-to favorites.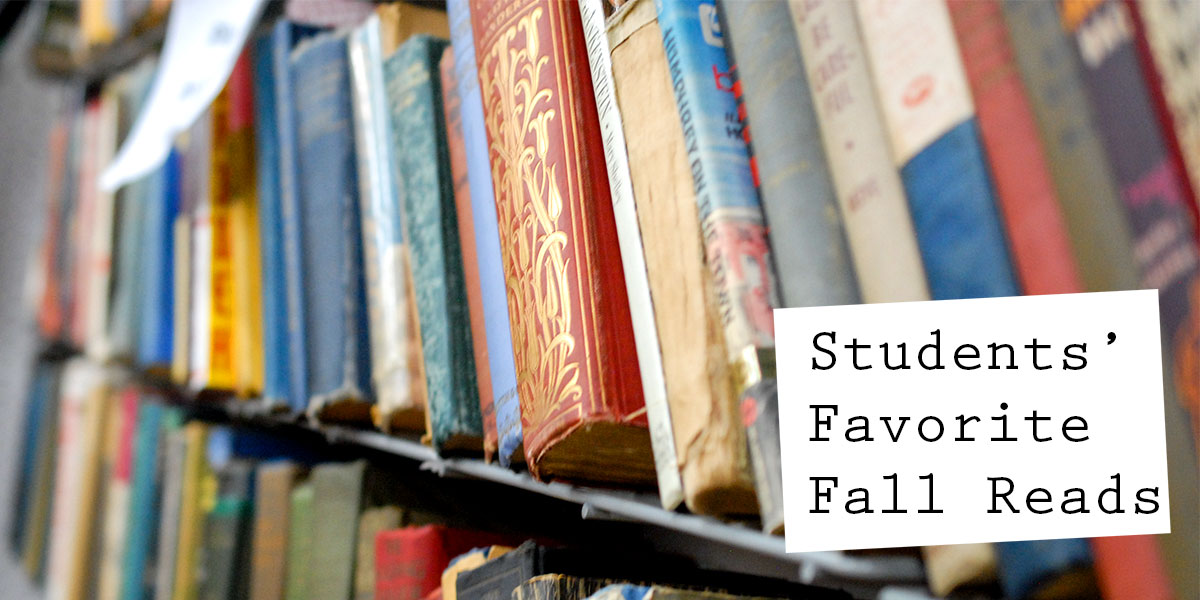 Photo by Julia Province
__________________________________________________
As summer turns to fall and the air starts to acquire its autumn chill, a cozy place to curl up with a good book sounds more enticing than ever.
Every bookworm loves a cold day spent inside with a cup of coffee and an excellent story to get lost in.
MBU students recently shared some of their favorite reads for the fall season, ranging from politically relevant historical analysis to poignant biblical commentary.
Senior information technology major Brian Thompson recommended some Orwellian reads to give students a new perspective on politics this election year.
"During the political season we're in, people pretend to hate talking politics, but I think they secretly love it," said Thompson, whose first pick was George Orwell's, "Animal Farm."
Published in 1945, the story is an allegorical satire addressing themes of Stalinism, dictatorship and overreaching government.
"It follows a group of animals who revolt against their farmer and decide to govern themselves," Thompson explained. "On the surface it may seem childish, but it has a great point to make."
Being a novella, "Animal Farm" is a great choice for students looking for a quick but meaningful read.
"It's really short, so even if reading time is hard to come by, this is a good option," said Thompson, who also suggested Orwell's well-known dystopian classic, "1984."
With similar underlying themes to "Animal Farm," "1984" follows main character Winston Smith through his world of oppressive government, perpetual warfare and the omnipotent figure known as Big Brother.
After reading it, "you'll understand the references the news makes almost daily about Big Brother," said Thompson.
Another critically acclaimed novel offered by senior health sciences major Holly Pinson was, "To Kill a Mockingbird," by Harper Lee.
The novel's lead character, Scout Finch, tells a story from her perspective about her father, Atticus, who hopelessly strives to prove the innocence of a black man unjustly accused of rape, explained Pinson.
Addressing issues of racism, prejudice and false first impressions, "To Kill a Mockingbird" is filled with wise insights.
"I love this book because it teaches you about values you should have … that you should not see color and that even the most unlikely people can be the best of friends. It's a timeless classic," said Pinson.
For an inspiring faith-based narrative, Ashleigh Poteete, senior psychology major, encouraged students to read "Redeeming Love" by Francine Rivers, a novel inspired by the story of Hosea and Gomer in the Bible.
The book features main characters Michael and Angel as they work their way through a similarly tumultuous relationship.
"This book resembles that in a neat little fictional package," said Poteete. "Angel wants nothing to do with the Lord and yet the Lord calls Michael to marry her."
"Redeeming Love" reminds readers that God has a plan even when it's hard to see or understand.
"I think in life we forget to trust God, and this book is interesting because you can watch the characters struggle and yet learn to trust," Poteete said. "At the same time, you learn to trust the Lord as well."
For those looking for a more in-depth examination of concepts of sin and redemption, senior chemistry major Benjamin Marchant recommended, "The Confessions of St. Augustine."
"'Confessions' is perfect for the introspective Christian who wrestles with the conflict between their sin nature and love for God," said Marchant.
Written circa 400 AD, the collection is an autobiographical work covering Augustine's regrets from his life as a young man and his conversion to Christianity.
"Augustine eloquently articulates those 'soul-feelings' … yet with a down-to-earth sense," Marchant said.
Amanda Aragona, a graduate student studying library media and education, recommended the best-selling trilogy, "The Hunger Games," by Suzanne Collins.
"It offers up a little bit of everything. It has adventure, romance, suspense and drama. I also love the characters and the relationships they have with each other," said Aragona.
The renowned young-adult epic provides a contemporary perspective of a futuristic dystopia, and the human struggles that go along with it.
"Sacrifice, the importance of family, finding your place in the world and standing up for what is truly important to you," said Aragona.
If you're in need of a break from your textbooks this fall, take a minute to pick up one of these great reads.
No matter what kind of story you're looking for, you can't go wrong by taking a page from one of these MBU students.