Everyone has a story to tell, stories in which individual chapters end but the whole story never does, and each story must be told. Demonte Davis, who works for housekeeping at MBU, has one of those stories to tell.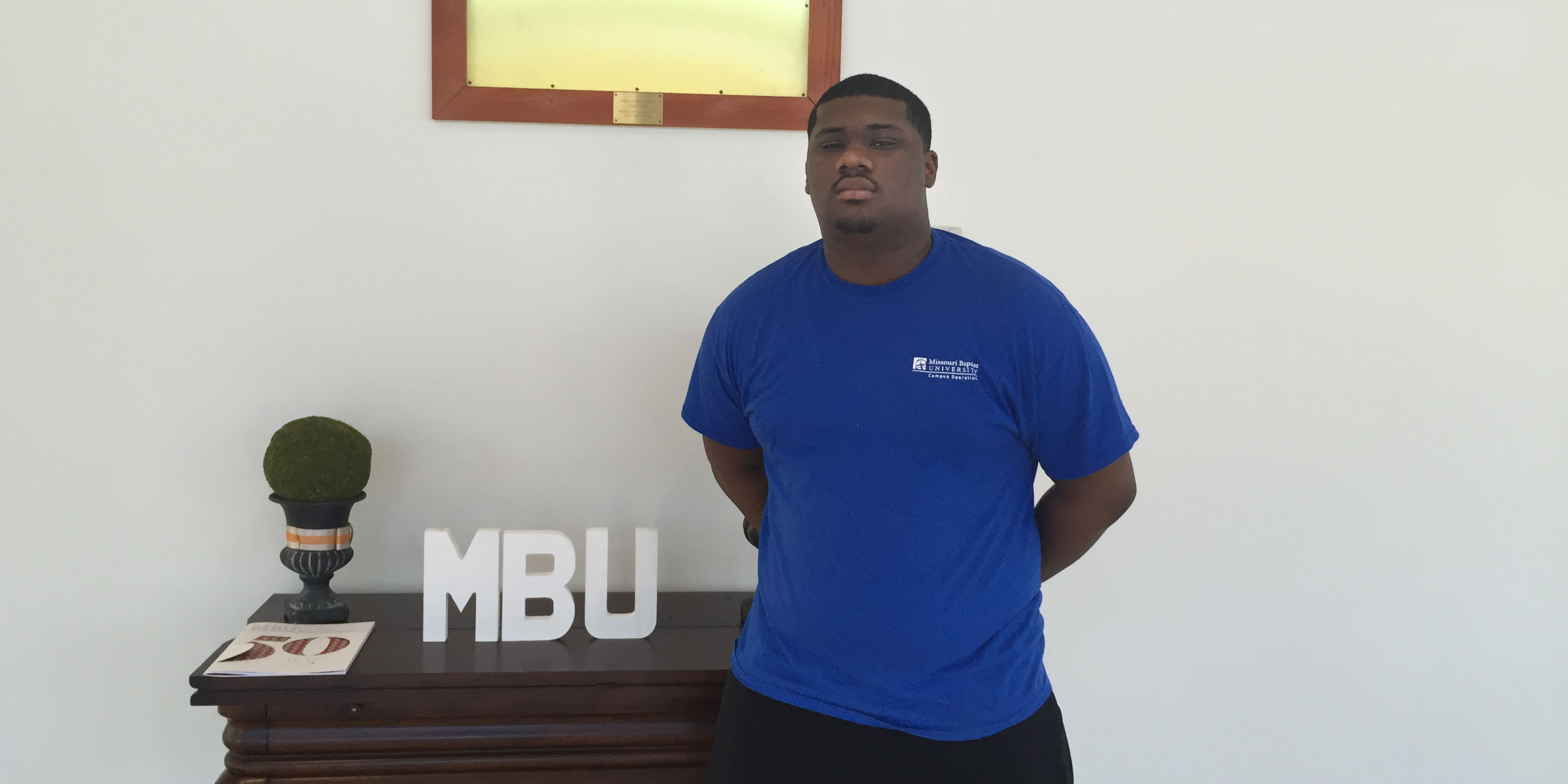 Photo by: Cassie Nesbit
__________________________________________________
"I've got a really dull life," Demonte Davis, who works for Missouri Baptist University in housekeeping, said right after he told a story most people would find nothing but interesting.
"First met my father when I was 10 years old and it was like a regular day," said Davis. "I was getting my hair cut at this place where I always get my hair cut at and I get out the chair and my momma was sitting next to somebody. She was like, 'this yo father,' and it was weird to me because I really didn't need him."
When asked if he ever questioned his mother, Danielle Davis, why she told him there and then, he said he didn't.
"Never question Moms," said Davis, 22. "Everything Mamma does, she does it for a reason."
Davis claimed he was grown up as the man-of-the house by age 10.
He didn't grow up all alone.
He had a father figure, and his name was Grandpa.
"Yeah," said Davis. "I love this man to death."
Grandpa, Billy Davis, married for 40 years, taught Davis just about everything, "from being a man, to standing up for what you believe in and all kinds of stuff," said Davis. "So anything you can think of your father supposed to be doing, that's what my grandpa do."
Grandpa also taught Davis basketball.
"You see," said Davis, "basketball was like a ticket for me. It let me experience a lot of stuff. I got to go out of town, see some places you've never seen before."
Florida was Davis' favorite place, where he first visited for basketball.
He started playing at age 7, which turned more serious when he played for the St. Louis Blazers in an AAA, Amateur Athletic Union, a nationally ranked team.
Basketball allowed him to meet famous players like Derek Fisher and Rick Patino, while playing at the Florida AAU National Tournament at the World Wide Disney Sports Complex.
"Basketball is a confidence boost," said Davis, who played at MBU as a student athlete, from fall 2012 to spring 2013.
However, singing never was as important as basketball.
Davis began singing during church, at Mount Gideon Baptist Church in University City, in the Sunday's choir.
Most people liked hearing Davis sing, especially the church's elderly women.
"When I was little, they used to bribe me to sing," said Davis.
He was so talented that the church would give him money to sing because he never wanted to, according to Davis.
When asked if singing was anything like basketball for him, he always ranked basketball first.
"Basketball is a stress reliever," said Davis. "I think I'm better than anybody. I'm probably not, but that's the mindset I've got in basketball."
Singing was different.
"Because you've always got that person who says, 'Oh, I can sing better than you: let's have a sing off,' and that's not what you really do and that's what they do and you don't want to step on anyone's toes," said Davis. "But basketball is what I do. When it comes to basketball, I know everything."
Finally, Davis ended this interview one way.
"I appreciate you," said Davis. "You made me feel real special when you asked to interview me."
Everybody has a story.
Some are just waiting to be told. The story never ends, it's just the chapters that do.