Born without hands or feet, Samuel Tyler exemplifies what it means to be a true athlete as the 10-year-old adoptee from Vietnam participates in wrestling, football and basketball.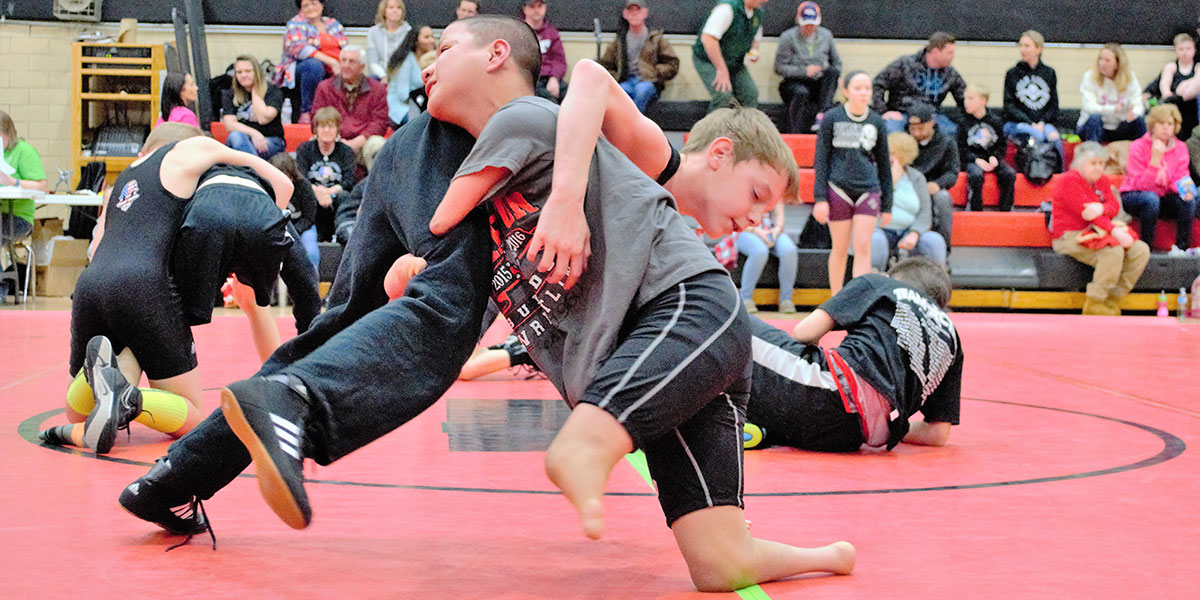 Photo by Lynn Tyler
__________________________________________________
By LYNN TYLER
Concentration face on, sweating bullets, crowd roaring, and the wrestlers are in their stance ready for the dual. Samuel Tyler, a 10-year-old wrestler from Sikeston, Mo., strives to be an excellent athlete and has a story unlike any other.
Adopted by Edward and Rebecca Tyler in 2008, Samuel Tyler was born in Vietnam in 2004 without hands or feet, and conquers any obstacle placed in front of him.
"When you look at a person in Samuel's condition doing something like that without a chip on his shoulder, 'not playing the victim,' is a witness that validates Philippians 4:13," Tyler's dad, Edward, said in referring to the verse that reads: "I can do all things through Him who gives me strength."
Samuel Tyler is a wrestler for Sikeston Heartland Wrestling program, as well as a basketball and flag football player for Upwards at Miner Baptist Church in Miner, Mo.
Through Upwards flag football and basketball, Tyler is able to participate in sports for the glory of God, win or lose.
Being involved in so many sports in general can be hard, but Tyler shows he can do all things through Christ despite his unique circumstance as an athlete.
"Samuel is an inspiration to all by the simple fact that he doesn't care that he has no hands or feet," said Zach Moore, Tyler's football coach. "He is going to try as hard if not harder than most of the kids that I coach."
Tyler's enthusiasm is inspiring in its simplicity.
"I'm just happy for what I can do and I'll never quit," Tyler said.
Tyler is in his third year in flag football and was positioned as quarterback for part of the football season, making several passes that ended in touchdowns.
Because of Tyler's circumstances, throwing a forward pass without hands demands slight adaptations. He holds the ball between his elbows and throws with his upper arm and shoulders.
"I remember asking him on one play if he wants to throw a pass as quarterback," Moore said in an email. "He didn't say no, he didn't say I can't, he didn't say but coach what if … and fill in the blank. He told me, 'I will try coach!' So on that play he said hike and it looked like it was natural for him, he passed the ball to the wide receiver and he went all the way to the end zone for a touchdown!"
Tyler's other football coach and family friend, David Terrell, suggested that Tyler become involved in wrestling.
"I had my first privilege of coaching Samuel in flag football. He constantly improved in his skills and was very determined," said Terrell. "Our son began wrestling and my wife Michelle and I talked about Samuel's determination. She spoke to the coach and Samuel's parents. The rest is history."
Tyler joined Heartland Wrestling Club of Sikeston and competes locally in Dexter, Mo.
"Everyone involved in the Heartland Wrestling program becomes one big family," said Jennifer Slipis, whose son also wrestles on Tyler's team.
Tyler's inspiration for wrestling quickly became Dustin Carter, a quadruple amputee from Goshen, Ohio, who finished third in his division.
Tyler instantly became intrigued by wrestling, thinking it would be the only sport he could compete individually.
Weekly wrestling practices and competitions in Dexter, which is 45 minutes away from Sikeston, quickly added up and before long, Tyler began making long strides in wrestling.
"Samuel has gained a lot of strength and confidence throughout wrestling this year," said Adam Slipis. "He has taken several matches into the last round; some even going into overtime or sudden death."
Tyler has won sudden death matches by being the first to score a point during a tie.
His hard work ethic only drives him closer toward success and in his three years of wrestling, Tyler has won at least five matches, with even more ending in a tie or sudden death.
He doesn't get discouraged for not having as many wins as the other athletes have.
Tyler may have a few disadvantages, but in wrestling, he has the surprising upper hand.
Because of Tyler's lack of limbs, he uses his core strength to walk on his prosthetic legs and scoot on the floor.
His impeccable core strength makes it a challenge for those paired to wrestle against him.
Though some of his teammates and opponents may be skeptical about wrestling Tyler due to his circumstances, he continues to prove himself a strong and talented athlete.
"Samuel is very tough. While wrestling with him it is very hard to turn him over and pin him. He never gives up either," said Tyler's teammate, Mason Slipis, age 10. "He gives it his all no matter what. He definitely does not let his disability slow him down."
During each match, Tyler inspires the fans by his determination.
"You can't help but feel the electricity from the fans," said Coach Bill Chounard.
"If someone has never seen Samuel wrestle, they are skeptical at first, but then after they watch him they can see how good he is, and what a drive he has despite not having arms and legs," said fan Jennifer Slipis, mother of Mason Slipis. "People who have seen Samuel wrestle before watch with anticipation and cheer him on."
Tyler's can-do attitude allows him to have a completely different outlook on life than the average athlete.
"When I first started seeing him I found myself trying to adapt activities for him. I quickly found out that he has a way of adapting himself to activities and he doesn't let anything slow him down," said Misty Tillman, Tyler's speech therapist at KRCC. "Samuel doesn't see himself as any different than anyone else and doesn't feel that he has been given anything less than other people. Over the years, he has taught me way more than I could ever teach him."
Because of Tyler's love for the sport, Coach Chounard has enjoyed having him on his team.
"No matter what, he always has a smile on his face, win or lose," said Coach Chounard.