Seven college students are preparing for a month-long mission trip to Northeast England, and are excited to use their talents to advance the Kingdom of God. From making lattes to making disciples, the team is gearing up for the trip of a lifetime.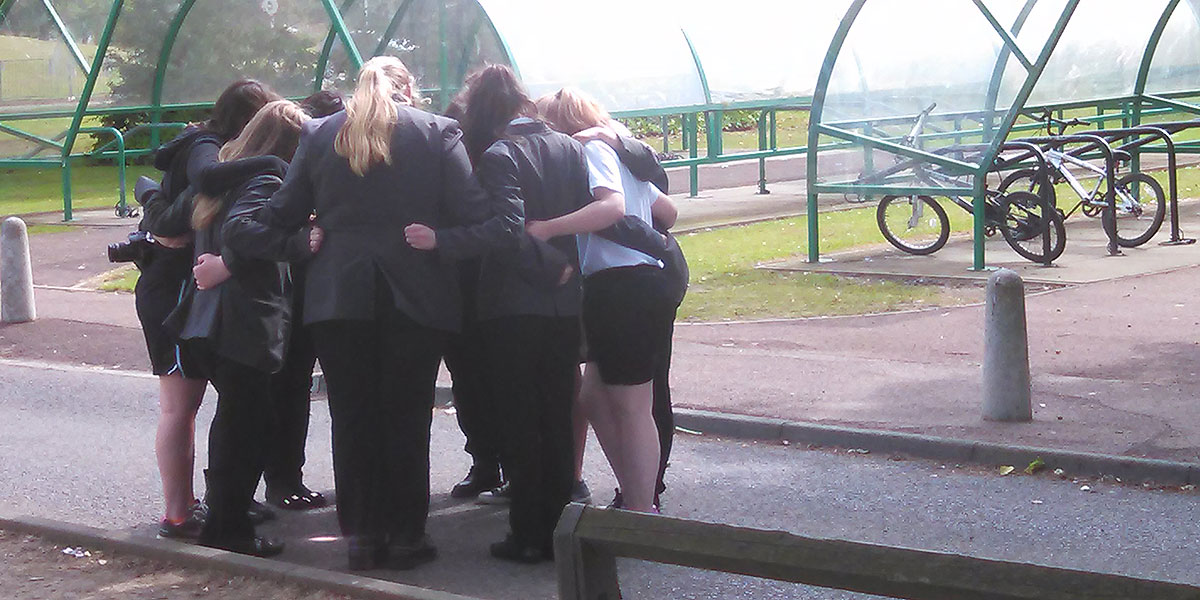 Photo by: Abigail Crain
English students huddle together with American university students to pray after hearing their testimonies last summer during MBU's mission trip to Darlington, England.

__________________________________________________
By ABIGAIL CRAIN
"Jesus, England and coffee — what more do you need?"
This comment from Esther Gilliam, a junior communications major from Farmington, sums up the experience that a team of Missouri Baptist University students and friends will have in summer 2015.
A team of seven young adults will be visiting the town of Darlington in Northeast England for the month of July, and continue mission work that was started on the MBU trips in June 2013 and 2014.
The team consists of Abby Crain, Gilliam, Kayla Glyshaw, Mira Roberts, Rickie Ross, Leah White and Max Wingate.
For information on how to contribute to the mission trip, or to a specific team member, please contact Campus Minister Jonathan White at whitej@mobap.edu.
Checks are tax deductible, and can be made out to Missouri Baptist University with "month-long mission trip" in the memo line. If the money is for a specific team member, simply put his or her name in the memo line instead.
In previous years, teams would go for 10 days and do community outreach work in schools and the Darlington town center.
In 2015, the month-long trip will be a major addition to MBU's missional outreach.
"When MoBap visited Darlington [the] last two years, the team had a massive impact — not just with outreach or connecting people from schools to the church but on the church itself," Ian Willson, pastor of Mosaic Church in Darlington, said in a Facebook message. "The energy, love and passion that the team had for both the lost and the church helped to spark belief in the church and encourage them to focus on reaching out to the lost."
Because England claims to be about 2 percent evangelical Christian, the population is in desperate need of hearing the gospel, and that is the crux of MBU's purpose in going for an entire month.
"I think that above everything else, England is in dire need for people who will love on them with the same love that Christ shows us," Glyshaw, a sophomore communications major from Des Peres, said in a Facebook message. "They have never truly experienced God's grace before and I'm excited to be someone who gets to show them how great our God is."
Mosaic Church, which is partnering with MBU, will have a newly renovated coffee shop in which the month-long team will help make espresso drinks and hold church services for members of the community.
"We're gonna be able to have more involvement and more interaction and time to spend with people, and the coffee shop will be open, so that'll be a good magnet to bring the community in and be able to see if we can unify the church," said Gilliam.
The mission team will also be able to help kickstart Bible studies and discipleship groups for people of all ages in the community.
"I believe that the teams coming from the USA are part of God's plan to reignite and encourage the church here in Darlington," Willson said in his message. "The spiritual impact the team had last year, and I believe this year, will help to fan a dying flame into life for the glory of Jesus."
Many of the team members who have been to Darlington before are excited to return and share the gospel in new ways.
"I am beyond ecstatic to return to Darlo for the month of July," said Crain, a 19-year-old junior English major from Troy, "and I hope that God will work through us in ways beyond our imaginations."
White, 19, a senior who will be returning for her third trip, said she is most looking forward to the coffee shop, called the Gathering Grounds.
"I'm a barista, so it should be fun to use that skill on the mission field," White said.
Glyshaw is also ready to go back, because she does ministry in her home church and loves to interact with young teens.
"I personally love to disciple youth students, so getting to do what I do in the States overseas will be something new for me. It will teach me a lot about how a ministry works and how to evangelize in different ways," she said in her message.
Gilliam explained her excitement for the trip as well.
"I'm really excited to get back into the country and … start telling [the schoolchildren] more about the gospel," she said.
The two team members who have never been to Darlington are also happy to be going on a new adventure to share Christ with the locals.
"I am beyond excited to be building relationships with the youth, and because of that be able to share the gospel with them and hopefully gain some new brothers and sisters in Christ," Roberts, a nursing major at St. Louis Community College-Meramec, said in a Facebook message. "I know this trip is going to be so incredible. I pray God will be able to do incredible things in the lives of people over there."
Wingate, a 21-year-old junior at MBU, has done other mission work before but is especially happy to go to England because it has been on his heart since hearing Ross speak about it in a fall 2014 Chapel service.
"I'm really excited because I get to go to a new country and basically learn about a different culture and be able to spread the gospel there," he said.
From coffee shop churches to sharing Christ with schoolchildren, the team members are prepared to do what it takes while in England for a month to ensure the trip is successful in advancing God's kingdom.