Born and raised in Europe, Jeremy Dubois brings his experience to the soccer field.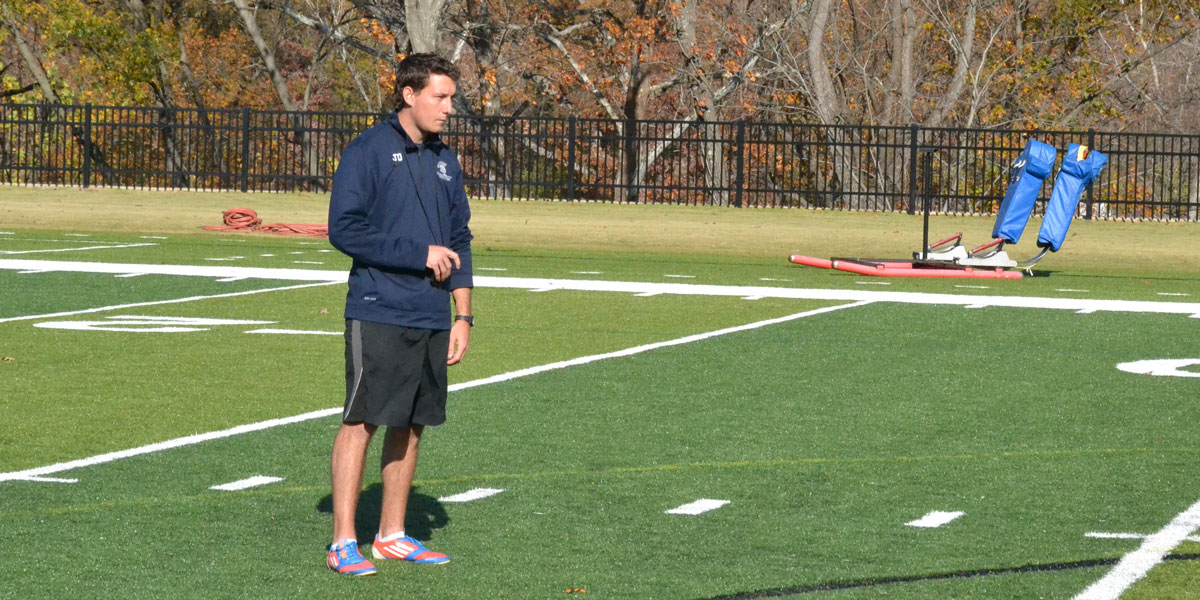 Photo by Vladymi Joseph
__________________________________________________
New Missouri Baptist University men's assistant soccer coach Jeremy Dubois has enjoyed coaching so far at his new school.
"I really enjoy coaching at MBU. Everyone is really nice, from the players to the athletic staff and director," he said.
Dubois, who came to MBU this fall from coaching a local youth soccer club in Wentzville, Mo., also had good things to say about the team.
"I believe the team is full of great players and that we can achieve great things this year and the upcoming sessions," said Dubois, who was born in Cannes, France, and raised in Tahiti, French Polynesia.
"I grew up in Paris before moving to Tahiti when I was 6," said Dubois. "I moved back to Cannes when I was 12 until I was 16. My parents and I moved back to Tahiti and moved to the U.S. when I was 23."
Dubois played semi-professional soccer in Tahiti and also played for the Tahiti National Soccer Team and Tahiti Beach Soccer National Team.
"I played forward and attacking midfield most of the time," Dubois recalled. "I played defensive midfield for a few games as well as goalie."
Dubois brings three years of coaching experience to MBU and this is his first at the collegiate level.
The Frenchman is a former coach of a local soccer club in Wentzville where he coached youth players for three years.
"During the tryouts period, Coach (Jacob) Alvernia's kids showed up to try out for the club and I was in charge of the session," said Dubois, referring to the MBU soccer team's head coach. "I guess he liked what he saw. He came to talk to me after to offer me the position for graduate assistant,"
As a rookie coach Dubois hopes to help the team in any way he possibly can.  
"My main goal as an assistant coach is to learn from the head coach and gather some experience," he said. "Share my knowledge with the players and help them become better players."
Alvernia had good things to say about Dubois.
"Jim is good with the guys and does a good job in training sessions."
Alvernia was impressed with Dubois the first time he saw his coaching skills.
"I hired Jim after seeing him train at the club level," he said. "Although it was with kids, I could get a sense of his progressions during training sessions and his knowledge and information he passed on was very good."
Since Dubois is new to the collegiate level he hopes to gain more knowledge as an assistant coach.
"This is the first year so it is a learning process," said Dubois.
With an exciting journey ahead of him Dubois has a lot he would like to accomplish in the coaching field.
"I hope to become a head coach someday," said Dubois.