The thrill of a group to victory is not restricted to NAIA athletes at Missouri Baptist University, but intramural sports as well.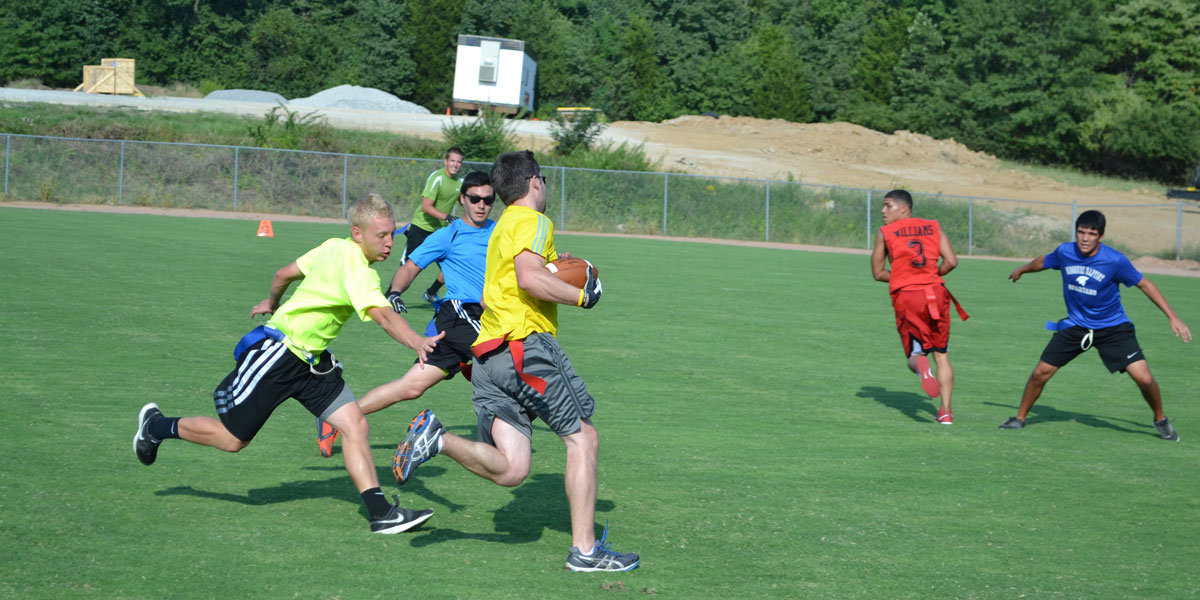 Photo by Jan-Henry Jordaan
__________________________________________________________________________________
Intramural sports take place throughout the school year and sporting seasons.
The first chance for students to participate this year was Aug. 24 in the kickball tournament.
MBU students played in the scorching summer heat, fighting for every run scored on offense and for every out recorded on defense.
Several teams participated and the champion team, the One-Kick Wonders, was crowned after a long day of competitive action.
Many students had a wonderful time, including freshman Justin Crain, an undecided major from St. Louis.
"I had tons of fun and enjoyed spending the day with my friends," Crain said.
After the conclusion of kickball, male students awaited the opening day of the annual flag football season — Sept. 11.
The competition was intense on opening day and the play was outstanding for the intramural setting.
"MBU intramurals are incredibly competitive and that makes them fun. Sometimes they can get pretty intense, but it is all part of the fun," said Matt Behr, a sophomore elementary education major from O'Fallon, Mo.
Along with the competition aspect of the games, intramural sports are also a way to get some exercise.
"The football games are right after my practices for wrestling, so it is a good way of getting the lactic acids out of my body," said Aaron Hane, a sophomore business major from Piedmont, Okla.
Not only is intramural football a good way to work out a college body, but there are also other sports to be played that offer a fair amount of exercise in the MBU intramural league.
Other sports are volleyball, basketball and table games such as ping pong, pool and foosball.
The MBU intramural program also gives students a chance to get involved in college and build solid relationships that can last a lifetime.
Branden Van Marel, director of MBU intramurals and MBU room director of Pillsbury Huff dorm, offered advice on how MBU intramurals can benefit a student.
"It gives students a healthy outlet for exercise and a chance for them to gain community. It is also a great way to have fun and just enjoy college," Van Marel said. "Some of my best memories in college were through intramurals."
A team achievement at the end of the day is always a great feeling and friends are usually made.
Courtney Knipp, early childhood education major from Ballwin, Mo., enjoyed the team aspect of the intramural league.
"You got to know people on your team and it was an awesome feeling being encouraged by other people from school," Knipp said.
Flag football season championship game is Oct. 9   and co-ed volleyball gets under way Oct. 23.