By Travis Page and MBU Timeline
Nationally, everyone seems to be talking about the Dodgers' run from worst to first and the Pirates' Cinderella run. But fans here in Cardinal Nation are used to our team being the quiet leader in the National League. And we never get tired of it. Led by staff writer Travis Page, read what our Timeline bloggers have to say about Cardinal Culture.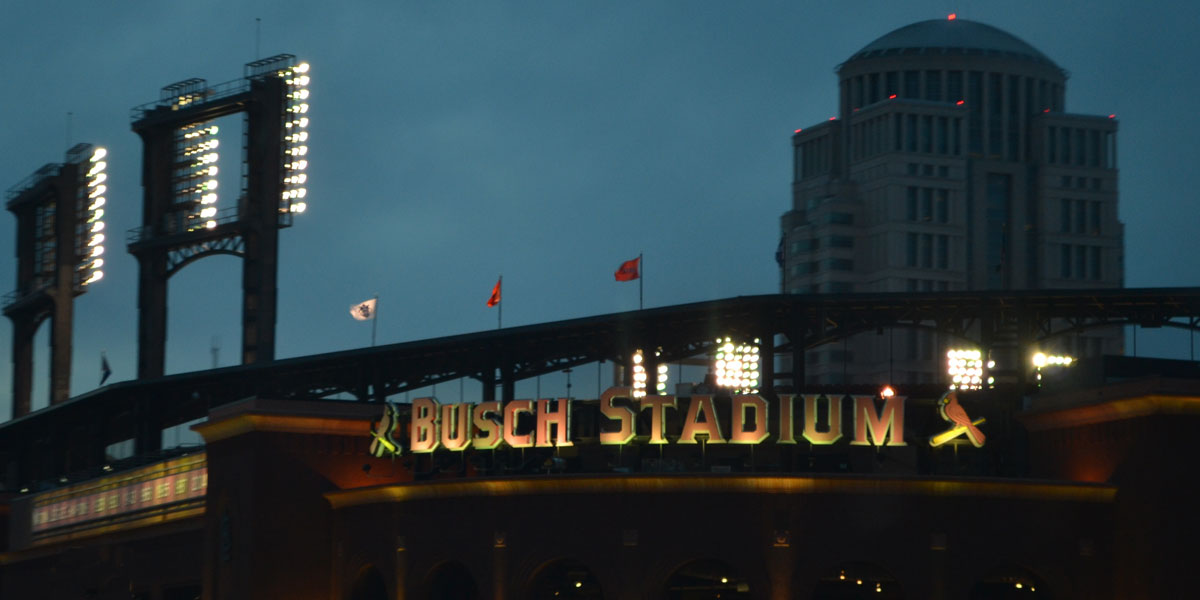 ---
Travis Page
As the city of St. Louis goes on working as usual, something different is in the air. It's the postseason. It's not that we're bored with the postseason, we just expect to be here. As the second winningest team in MLB history, the St. Louis Cardinals have created a fan base unlike any other.
It's not something I can explain well to someone who's never experienced it.
We hear story after story of cities rallying around each other during times of hurt and times of tragedy. I hate to draw a comparison between things of great weight and things of leisure, but this is the closest dynamic one can think of to explain the buzz that is St. Louis Cardinal Baseball.
And that buzz just got louder with the Cardinals' win over Pittsburgh this week, which propelled them to the National League Championship Series against the Dodgers.
Cardinal Culture is what made me love the city. Presidents of universities pausing their meetings to check baseball scores, waiters and bartenders halting service to watch when they hear the crack of the bat; we're all connected.
I remember the first postseason after I moved to St. Louis: Matt Holliday underplayed a fly ball in left field and I can still see him dropping that ball.
The city was crushed. You could feel the disappointment everywhere you went. It would only take a short 50 weeks or so to get us back in the spirit of the Cardinal Nation.
What would take place over the 2011 Major League Baseball postseason is nothing short of a miracle for the city of St. Louis.
We're OK not being the team the media always talks about. We're even OK with all the press that Pittsburgh fans got, and which Dodger fans are now getting.
We just sit back and watch. We don't necessarily like the American League bias that is portrayed in the media but we accept it.
We know that when October comes, it's our time to shine. People say that "October is where the best baseball happens."
I disagree.
St. Louis is where the best baseball happens. October is when it happens.
---
Joe Hartmann
Cardinal Nation is a generational thing to me.
Opening Day 2011 was the first time ever that we were able to gather four generations of Cardinals fans: myself, my father, grandfather and great-grandfather.
I can remember some of my earliest memories gathering around the television set with my father and grandfather feeling the wave of adrenaline as we saw a Cardinals victory.
It was something we grew up with and it became almost like another family member to us. We laughed, we cried and we grew together in Cardinal Nation.
---
Brittany Clayton
I've never been a huge Cardinals fan or baseball fan at all, but I do appreciate the hard work that it takes to be successful in this sport.
Since I love sports as a whole, I will still watch the Cardinals, but it's for entertainment purposes with no concern for who wins or loses.
However, it does bring back good memories that I will always cherish.
For every sport, whether or not we're interested, our home has become the designated home among our friends to watch all final sporting events.
I can remember several playoff games spent with my parents and friends, plenty of food, laughter and late nights that I will never forget.
---
Caitlyn Chase
I am from Chicago, I was a Cubs fan.
The only logic behind that reasoning — being a Cubs fan, that is — was because I look good in blue.
I look fantastic in red.
I suppose I have always been a Cardinals fan, I was just unaware until I moved to Cardinal Nation four years ago.
---
Victoria Wright
Although I do not keep up with the hype on baseball, I do love the game and attending the games while rooting for our Cardinals.
There is something about the atmosphere that makes a visitor love the game of baseball regardless of their knowledge in the sport.
My fondest memory of the games would have to be with my family. We had free tickets through my father's business and sat extremely close to the field.
The smell of ballpark food filled the air and even when I wasn't paying attention at times, the music would bring me back in.
---
Ryan Arnold
I was born in Indiana, but I moved to St. Louis at a very young age. I became very intrigued with St. Louis' passion for baseball and the Cardinals.
Since Indiana did not have a baseball team, I decided to root for the Cardinals and I am glad that I did. I have always been amazed with the fan base of the Cardinals and how supportive they are through each year.
I quickly became involved with my support and have always been excited for "Red October" to come each year.
The greatest moment I had watching the Cardinals was their 2011 World Series run, especially the incredible Game 6. Hopefully that will be topped this year in the next two weeks.