With three different sports requiring a turf field, Missouri Baptist University's athletic department is looking to deliver with the second-phase construction of Spartan Field.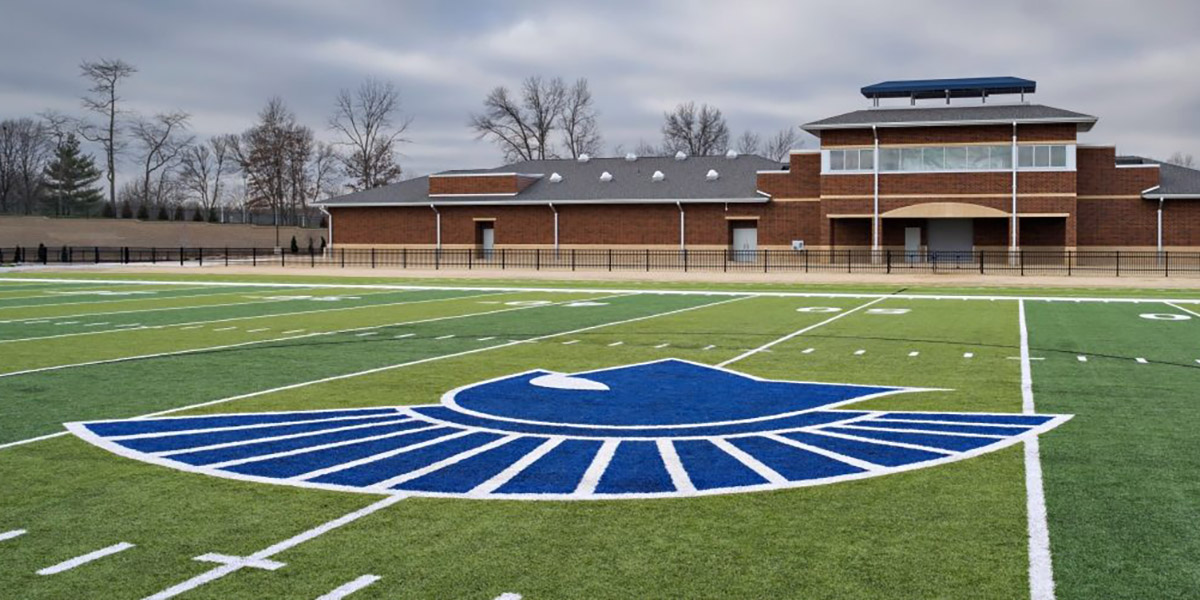 Photo by Stacy Rohan
Construction for Spartan Field started in 2013 and already hosts sporting events such as soccer and lacrosse games, and it plays host to the MBU football team's practices. The next step is looking toward hosting MBU football games.
__________________________________________________
With both soccer and lacrosse teams already competing on Spartan Field and the football team practicing on the artificial turf, the second phase of construction awaits with even more significant additions.
Phase two will feature the addition of a new track, a scoreboard, bleachers, restrooms and concession stands. This phase is currently being developed by school administrators and architects, with construction scheduled to begin in the summer of 2019.
There are no lights planned due to the university needing permission granted from both Creve Coeur and Town and Country city councils, for which MBU officials are currently waiting.
The first phase for Spartan Field, located on the west side of MBU's campus, began in 2014 and was completed by fall 2015 by Holland Construction Services. This phase included an artificial turf field and an 11,750-square-foot building that includes offices for the football team's coaches, a men's locker room and a press box.
Since then, the football team has used the field to practice on while soccer and lacrosse teams have started competing on the turf.
Establishing Spartan Field was always a goal for MBU Athletic Director Dr. Tom Smith since he came to the school in 2002.
"It has been on my mind since the day I took over in athletics," Smith said. "The reason is because when you bring a football program on, it totally skews the gender equity. You're spending a lot more money on male sports. Back in 2002 — when I took over as the AD — we started starting female sports to prepare for it [football]."
Smith's preparation for a football team included the cooperation of former MBU President Dr. R. Alton Lacey. Smith, Lacey and company conducted probability tests to calculate their chances of establishing a football program. 
"We did a feasibility study about what would it take to start football back then," Smith said. "It was all with Dr. Lacey knowing that this could be something in the future that we could start looking at."
Recognizing the equity in numbers the university would need to balance against the addition of nearly 100 football players, the university started teams in women's lacrosse, women's bowling, women's track and field and women's wrestling.
"We just went crazy, to beef up the female sports and opportunities for females, which is where our heart is at anyway. We want to be gender equal," Smith said.
MBU needs to keep participation opportunities for school-sponsored athletics equal for both genders in order to remain within the rules of Title IX, according to Title IX administrators in the National Association of Intercollegiate Athletics.
A football team's roster can be large, with MBU's topping out at 90 players, which can skew gender equity if there aren't enough women's teams.
Twelve years after the vision began, it was finally possible to start a football team.
"We felt like we could go ahead and go for it," Smith said. "We were ready because we had planned it. We would be missing the boat if we just tried to start football without looking to the female side."
The Spartan football team has been playing at Christian Brothers Colleges High School's football field since the team's inaugural season in 2014. Football coach Jason Burianek is enthusiastic about the new field, especially after initially being told it may not happen in the first place.
"It's really exciting because when I was first hired, Dr. Smith and I talked, he was like, 'We're gonna be at CBC, and you're probably never gonna have your own field,'" Burianek said. "For us to invest in not just football but soccer and lacrosse — track and field, for them to have their own track — that's a big deal. It's a really big deal for us to have our own home field."
Smith said he is excited for the team to have its own field and for all the possible opportunities that Spartan Field holds for not only the football team, but other programs as well.
"Our philosophy has always been that any facility that we put up, it would be a multiple access facility," Smith said. "When we put up the sports recreational center here, it wasn't going to be strictly an athletic building, but even though athletics uses it the bulk of the time, it'd be open to the student population."
Smith remains open-minded when mapping out Spartan Field's opportunities.
"When we put the field in, our mindset was this is going to have multiple uses for a lot of different sports," Smith said. "We got soccer now, both genders, lacrosse, both genders. If we decided to go with a field hockey team down the road, that would help. Plus, it's just a place where if we really had to, we could put our baseball and softball teams out there for some drilling if it was too wet on the fields."
There are also plans for an additional weight room by Spartan Field.  
"Phase two looks like we're gonna put in an additional weight facility down there so it'll take off some pressure here, which will open us up a little more for the student body to have a little bit more time slots where they can get in there and use the equipment," Smith said. "Even the facility down there will be used by the soccer guys, the lacrosse guys and all the teams that access in that area."
Smith hasn't forgotten about the track and field team as a track will also be installed at Spartan Field as well.
"We're gonna get a track," Smith said. "It's going to be a collegiate competition track, so it'll be more than just a recreational track. We'll have a pole vault pit, all that stuff that comes with starting a collegiate track and field program. We're going to add an additional female locker room that will be state of art. Other schools or other programs will use that for games and stuff like that."
The track teams currently train at Spartan Field and other various locations on and off campus.
Smith is confident that after it's all said and done, Spartan Field will stand out among the rest.
"It's going to be millions of dollars," Smith said. "It's going to be one of the better facilities in the NAIA."
Fundraising and donor money are fueling Smith's vision with no tuition dollars being spent.
"A lot of faculty and staff members are actually contributing towards the facility," Smith said. "We always shoot for 100 percent participation on that, which is a big deal. When you go out and say a 100 percent of the faculty and staff are participating, then it's easier to get donors outside in the community."
Smith believes it won't take long to complete phase two.
"I don't know when the stadium will be fully complete, but my gut feeling is it will be complete in the summer of next year," Smith said. "We will play all our football games on that field. To do this right, we had to do two phases."