Rachel Rooker balances her own education with the blessings and challenges of helping students on a daily basis as she studies for her master's degree and performs her duties as the new resident director of MBU's North Hall.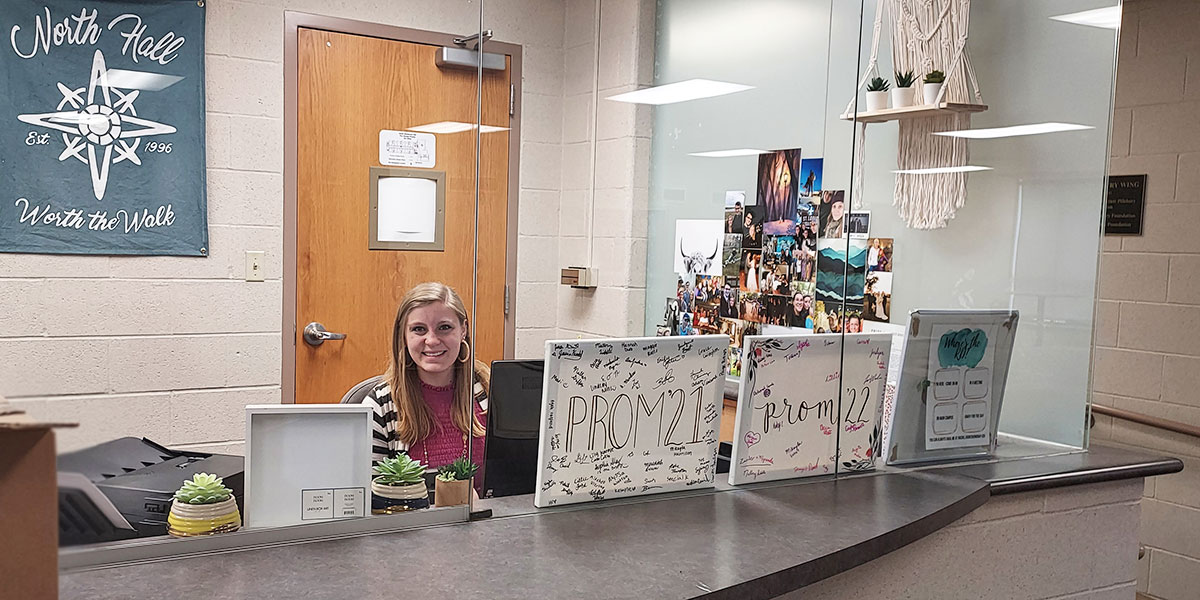 Rachel Rooker smiles at her colorfully decorated desk as she has moved into her office as the new resident director of North Hall.        Photos by Isabel Rinkenberger
__________________________________________________
Although now working toward her master's degree, the new resident director of North Hall had to play the waiting game with God before continuing her education and solidifying her future. 
Rachel Rooker, who started her position at MBU in 2021, began her education journey at LeTourneau University in East Texas, where she completed her undergraduate in Christian ministry with an emphasis in children and family ministries. 
While Rooker liked the idea of having a master's degree, she wasn't keen on going back to school. 
"I had always been wanting to do my master's, but I was like, 'OK, God, if you want me to do my master's, you've got to make it really clear because I don't know if I 100% want to get back into school," said Rooker, a missionary kid born in Canada and raised in Kenya and Texas.  
Marking her education as completed for the present, she started working at Missouri Baptist University in the Office of Student Life during summer 2021, following her move to St. Louis for her husband's job at Boeing. 
"I worked in Student Life while I was in my undergrad, so I'm really familiar with Student Life and really enjoy it," said Rooker.
When the resident director role opened up as a graduate assistant position, Rooker seized the opportunity to begin both a new job and a new degree. 
"The position opened up, and it's a grad assist position, so it worked out really well that I wanted to do my master's but kind of was on the fence," said Rooker. "The position requires you to be an active grad student, so I was like, oh, OK, I guess God wants me to do my master's. So I got enrolled and started this position in October."
Now working toward a master's degree in Christian ministry with an emphasis in apologetics, Rooker loves her job and the people she interacts with on a daily basis. 
"I really enjoy getting to interact with students and plan fun events and kind of give people an opportunity to relax and just be able to take a break from homework," said Rooker.
As a graduate of LeTourneau University, a private Christian college in Longview, Texas, in 2019, Rooker easily relates to the highs and lows of college life and brings empathy into her position at MBU.
"College was one of the best times I've ever had. Just learning who you are and what you want to do with your life, but it's also one of the most stressful times because you're making all these life decisions all at once and everybody expects you to commit to something for the rest of your life right now," said Rooker. "So the pressure and, like, the stress of everything is something that I want to help people with, and I enjoy providing opportunities to relax and providing opportunities to just feel like you're at home amidst all the stress and all the decisions and the homework."
Because she became the RD after the school year started, Rooker was not able to interview and select her own resident assistants. 
However, she loves the RAs that her predecessor chose, complimenting and appreciating their ability and capability. 
"It's a weird place to be, coming into a semester and not hiring your own RAs, but I'm really blessed that they all have different skill sets and are all super helpful in their own ways, really engaging," Rooker said. "They each bring something really special and unique to the team, so it's been a real excitement to get to know them and see how they work together and how I can come alongside them and lead them well."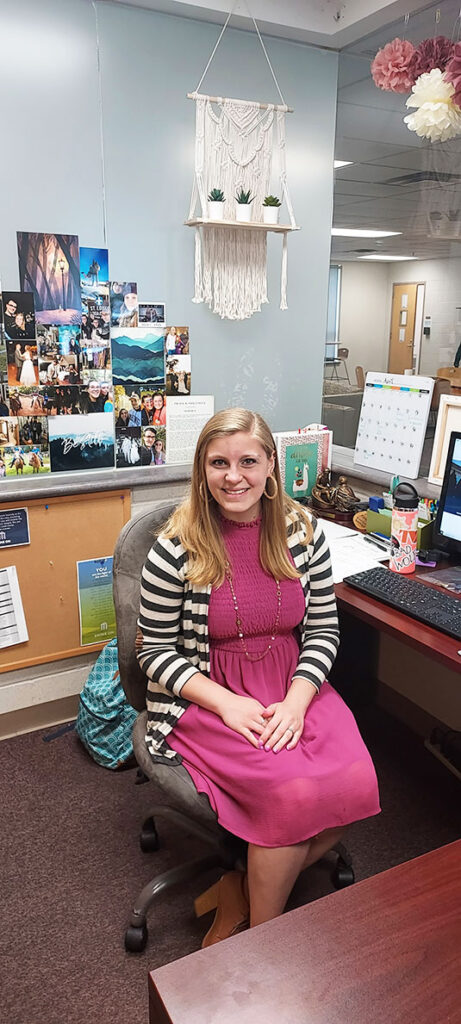 The appreciation goes both ways as RAs who worked under the previous RD, Meredith Linn, who left MBU to pursue a full-time teaching position, have glowing reviews for Rooker.  
"When Rachel started, I was getting to know her along with learning what her expectations would be in our jobs," said Myranda Kenshalo, a first-year RA and senior majoring in ministry and leadership with a minor in worship studies. "It didn't take long to figure out that she was going to be a great fit and she would do a great job." 
Jessalyn Scheltens, a sophomore majoring in psychology in her first year as an RA for North Hall, also commends Rooker's personality and capability as RD.
"I love working with Rachel. She is such a sweet person and really cares about the girls here at North Hall," said Scheltens. "Rachel brings in a lot of different strengths into the North Hall staff and leads calmly in every situation."
Elma Sulthana Mohammed, a second-year RA and biology senior at MBU, added: "I do enjoy working with Rachel as she is very dedicated to her role as a leader and facilitator for our residents' college experiences. I have worked with another RD before, and I think Rachel is unique in the dedication she has to her job. She is able to handle complex situations and provide her RAs with guidance whenever we need it."
North Hall is the women's dorm on MBU's main campus, housing 75 students, including the RAs. The resident director acts as the mediator between the residents, the RAs and the university, in addition to planning events and engaging with students.
While it has been challenging to start a new job and a new school in the middle of the semester, Rooker appreciates the people she has met through this position and looks forward to growing relationships with the residents of North Hall.
"Meeting everyone in the building and getting to know my RAs that I had never met before and then coming in and managing all of that was a challenge, but it was also really fun and really sweet," said Rooker. "We have some really great RAs, and they've been a huge blessing to me, and the girls in this building are really awesome. It's been really a privilege to get to know them and hopefully get to know them better slowly as things get into more of a rhythm for everybody."