A group of MBU students are working to put hats on the heads of kids who have been diagnosed with cancer.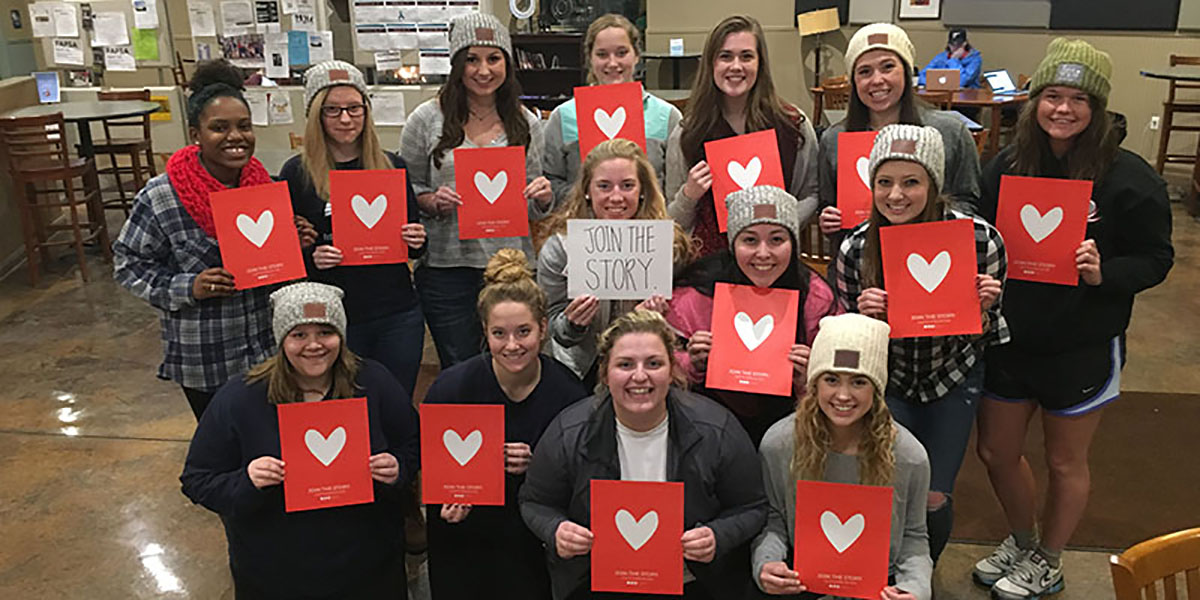 Photo by MBU Love Your Melon
__________________________________________________
Maybe you've seen their beanies on heads all over town, but Love Your Melon, a cause that has run rampant throughout the U.S., has now reached MBU's campus.
The philanthropic organization, fondly known as LYM, was founded in 2012 by two sophomores at the University of St. Thomas in Minnesota, Zach Quinn and Brian Keller. Four years later, MBU's own Haley Kaestner and Lisa Kalkbrenner began a "crew" of LYM ambassadors on campus this spring.
Kaestner, captain of the crew, and 19 students on campus, have signed on to be ambassadors for the organization, next to more than 9,000 college students nationwide.
LYM focuses on childhood cancer, but more specifically, getting hats to children with cancer and funding research for a cancer cure.
Children battling cancer can go to LYM's website and request a hat. To date, the philanthropy has committed to putting hats on more than 45,000 children's heads.
After the 45,000 hats, LYM has committed to donating 50 percent of their proceeds to the Pinky Swear Foundation and CureSearch, while still giving hats to the over 15,000 kids diagnosed with cancer every year.
"LYM is an apparel brand run by college students across the country on a mission to give a hat to every child battling cancer in America," said Kalkbrenner, co-captain of the crew.
For every hat sold, a hat is given to a child with cancer. Although the individual crews sell the hats, they do not make any sort of profit off the hats, instead earning a number of points per hat and once they have received a certain number of points, they get to increase their level of participation in a variety of events hosted by the organization.
"For example, we get to dress up in superhero costumes and deliver LYM hats to kids at a nearby hospital," said Kalkbrenner.
The thick knit beanies are USA made in St. Paul, Minn., by Minnesota Knitting Mills, the LYM caps are made in Denver, Colo., by Competition Headwear, and any leather products used are made by Gotham Textile of Minneapolis.
Each of these textile companies were selected for the softness of their products. When kids have cancer, their bald heads can be sensitive, so the softer the fabric, the more comfortable they are.
Campus crews are limited to 20 members, which was quickly filled by MBU students, each with their own passion for the philanthropy.
Shelby Wannemuehler, a member of the MBU campus crew, has a special heart for Love Your Melon because of the recent passing of her father.
"My father passed away from brain cancer two months ago after battling it for nine months, so the cause of cancer is so very close to my heart. I cannot imagine going through something so terrible with someone so young," Wannemuehler said. "The amount of courage, bravery and strength these children must muster day in and day out is astonishing to me. I desire for students to be aware of the amount of children battling such a ferocious disease."
Kalkbrenner also has close connections to the cancer cause, as well as children, having lost her mother to breast cancer and currently working at a local preschool.
Each member has their own reasons for being a part of the crew, but their passion for the cause is making for a successful start.
Although the crew has reached their maximum number, everyone on campus can get involved.
"Just because we only have 20 students on the 'official crew' does not mean that every student at MBU cannot be involved. We desire for the entire campus to wear and share LYM to as many people as they can," Wannemuehler said. "The goal is for every child battling cancer to receive a beanie and we cannot do that without the involvement of as many people as possible."
Beanies, shirts and a variety of Love Your Melon merchandise is always available through their website LoveYourMelon.com, as well as new beanie releases every few weeks.
For more information on Love Your Melon and the MBU crew, contact Kalkbrenner at 1236263@mobap.edu.