The story of how two students went from strangers, to friends, to college sweethearts, finding more than just an education at MBU. They found love.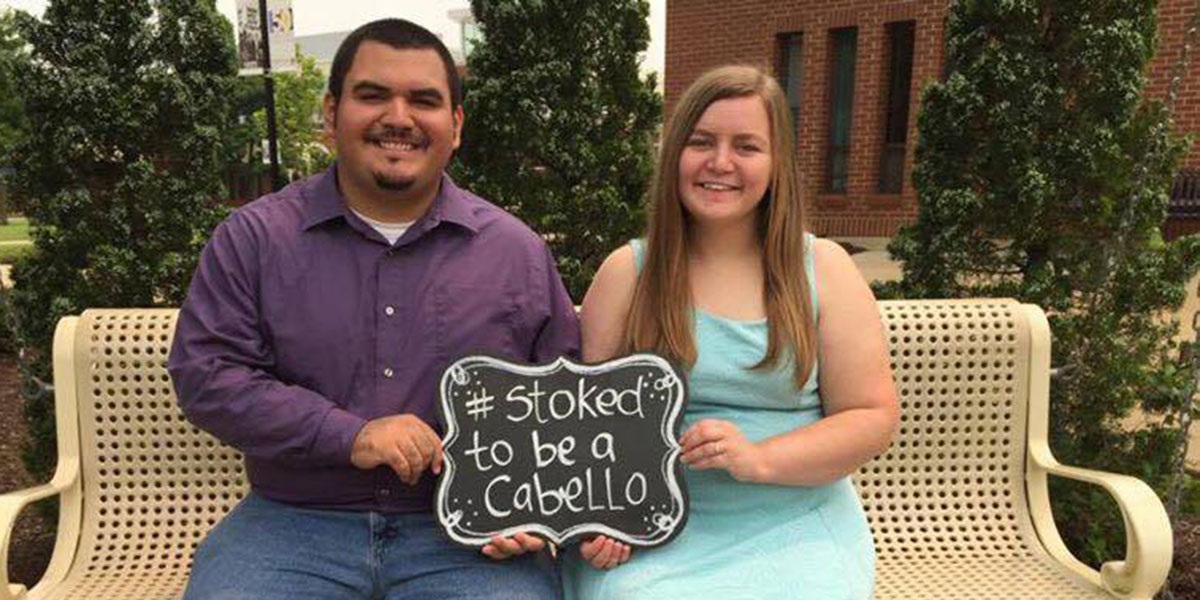 Photo by Antonio Esparza
__________________________________________________
Raymond Cabello and Emma Stokes were incoming freshmen at MBU during Welcome Weekend in 2011 when they first laid eyes on each other as their groups participated in a scavenger hunt together at the St. Louis Arch.
In three years, Cabello, a senior music education major, and Stokes, who recently graduated with a human services degree and a minor in psychology, had formed a friendship that gradually led to romance.

Although they can't recall their first impression of each other, they do remember one thing. "This was so long ago," said Cabello, "but it was definitely not love at first sight."
"We both have grown so much in the past five years and are very different than we were, that is why our friendship blossomed into a relationship," he added.
After being friends for a few years, the two college students planned their first date back in December 2014.
"We were both kind of apprehensive about it because we were friends for so long before this," said Cabello. "We did not want to mess anything up."

The date consisted of dinner at The Cheesecake Factory at St. Louis Galleria and a movie, "Penguins of Madagascar."
"My thoughts were, 'Wow, we are actually going on a date after knowing each other for a long time'," said Stokes. "The stress from finals week and when to go back home was creeping in, yet while on the date all of that subsided."
She added, "The most memorable part was watching a funny movie while laughing at the same parts of the movie."
Since they have been a couple, Stokes has graduated from MBU and Cabello has accepted a position as the associate pastor of worship ministry at Castlewood Baptist Church in Ballwin, Mo.
With their time together they have enjoyed watching movies in Spartan Row, going to Eckert's Farm, and eating out at Cracker Barrel.
They have also road tripped to Long Beach, Calif., where Cabello was born and raised, during Spring Break last year.
"I normally take a trip once a year back home to see friends and family. This year I decided to take Emma along and drive instead of flying," said Cabello.
After making it to their destination in two days, the couple stayed with Cabello's pastor, Bishop Calvin, and his wife.

They attended services at his home church, The Tower of Praise Christian Church, on Sunday and also had a chance to visit his dad at a homeless shelter in Long Beach where he volunteers.
"While we were at the shelter, one of the directors found out that I was a pastor and a musician, so I was asked to lead the shelter's Wednesday night service," said Cabello.
When they weren't spending time at church services, the couple made plans to explore other areas of the state.
"We also had the opportunity to visit the LA Holocaust Museum, as well as go to Hollywood and take a bus tour," he said.
On May 16,  2015, Cabello decided to pop the question during the reception after his ordination service.

"After I thanked everyone for being there and giving thanks to God, I called Emma up and I thanked her for being on this journey along side me," said Cabello. "I got on my knee and asked her to marry me, even with the ring getting stuck in my suit jacket pocket."
And then it was time for the all-important response.
"I was completely surprised," said Stokes. "I didn't know what to do because I was speechless. I teared up and said yes."

The happy couple are in the process of planning a big wedding and have set a date for June 25, 2016, at First Baptist Church of St. Ann in St. Ann, Mo.
"With my large family, Emma's family and large church family, we are definitely going to be maxing out the sanctuary at FBC St. Ann," said Cabello. "The ceremony is going to be conducted by my pastor from back home, Bishop Calvin, and Emma's youth pastor, John Shaw."
With the pair being huge "Doctor Who" fans, the wedding will be a traditional church wedding with a contemporary "Doctor Who" theme.
"Our colors are dark blue and silver and we will have a Doctor Who TARDIS cake topper," said Stokes
The two are looking forward to spending the rest of their lives together serving the Lord.
In the future they plan to adopt children as well as having some of their own and doing mission work here in the U.S. and abroad.