The Association of Black Collegians held one of many events in February to celebrate the historical culture of Black History Month.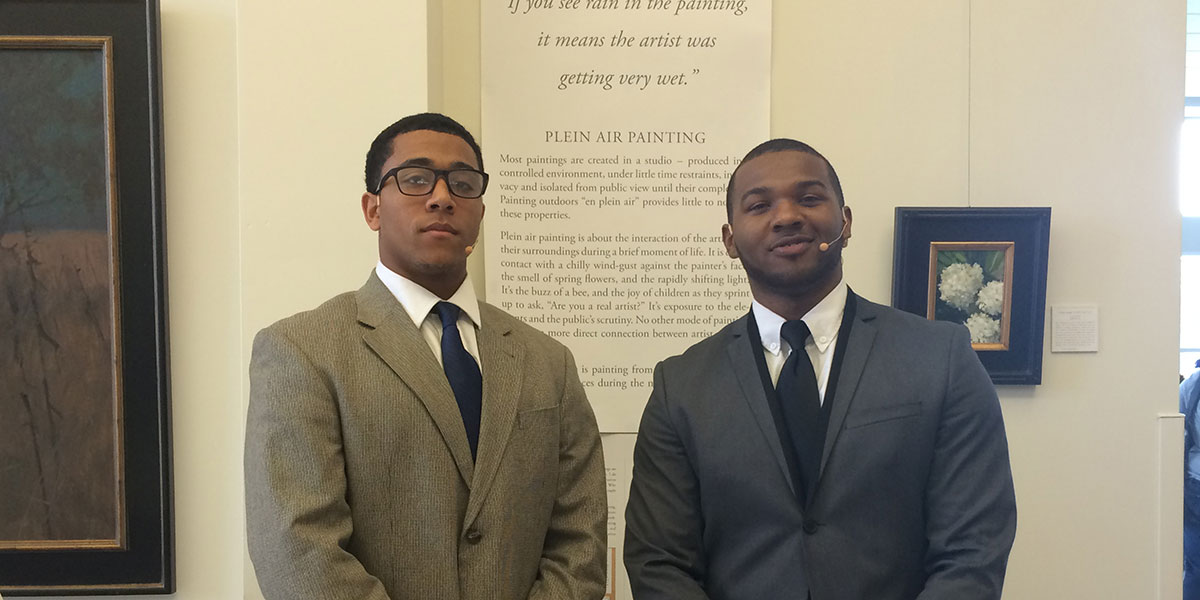 Photo by Esther Gilliam
Eddie Calderon (left) and Keenan Savage (right) played the two main roles in the program. Calderon was the actor for Malcolm X while Savage was the iconic Martin Luther King Jr.
__________________________________________________
Our history is created and learned from the actions and memories of our ancestors, and it brings us to the place we are today. Malcolm X, human rights activist and minister, once said, "History is a people's memory."
The history of African-Americans is rich with hurt, wrongdoing, perseverance and triumph. In honor of those times, Black History Month is celebrated in February each year to remember the tears, tragedies, victories and smiles of their history.
The Association of Black Collegians has made sure to take the time this year at MBU to remember of Black History Month with various events throughout the campus. With spoken words of wisdom, prayer, jazz music and desserts, ABC hosted Jazz & Desserts on Thursday, Feb. 18.
Hosted in the Great Hall, the event opened up a peaceful time of diverse fellowship and community to the campus, and there was plenty of room for all to join the gathering.
It began with junior Grace Adams, senior Giovannica Johnson, and senior Rae Guice, president and founder of ABC, speaking inspirational quotes from historical black figures.
Following was a skit written by Dr. Joy Powell, director of drama productions and associate director of theatre arts, about a conversation that would have possibly taken place between Malcolm X and Martin Luther King Jr. had they met for any length of time.
The two men actually met only one time, March 26, 1964, for just a few minutes during a photo opp prior to a U.S. Senate debate on the Civil Rights bill.
The performance at MBU was put on by two members of ABC, Eddie Calderon, actor for Malcolm X, and Keenan Savage, actor for Martin Luther King.
It made an impact on not only the audience, but the actors as well.
"Playing the part of Malcolm X is powerful and meaningful to me because seeing a figure like him with so much power and determination and motivation it reminds me in my life to try and make it all more meaningful," said Calderon.
There was peach cobbler and sweet potato pie served following the performance, along with a bit of blues, and jazz was played for the remainder of the event.
With Black History Month soon coming to an end MBU supported the event in hopes of teaching its students, faculty, staff and guests the importance of diversity, equality and better understanding of the African-American ethnicity.
"The event yesterday was created to highlight a time when two great African-American leaders met," Guice said. "They both fought for the same goal with neither tactic greater than the other. There are two things we know are true when they left that meeting. One, both of their lives would change forever. And, two, they were all smiles."
Times have changed for the better and lessons have been learned, but the history of African-Americans will continue to have an impact on the world throughout the years.
"We may have all come on different ships, but we're in the same boat now" — Martin Luther King Jr.