With the Center for Disease Control estimating that 20 people per minute are victims of violence, someone will be affected before you finish reading this story.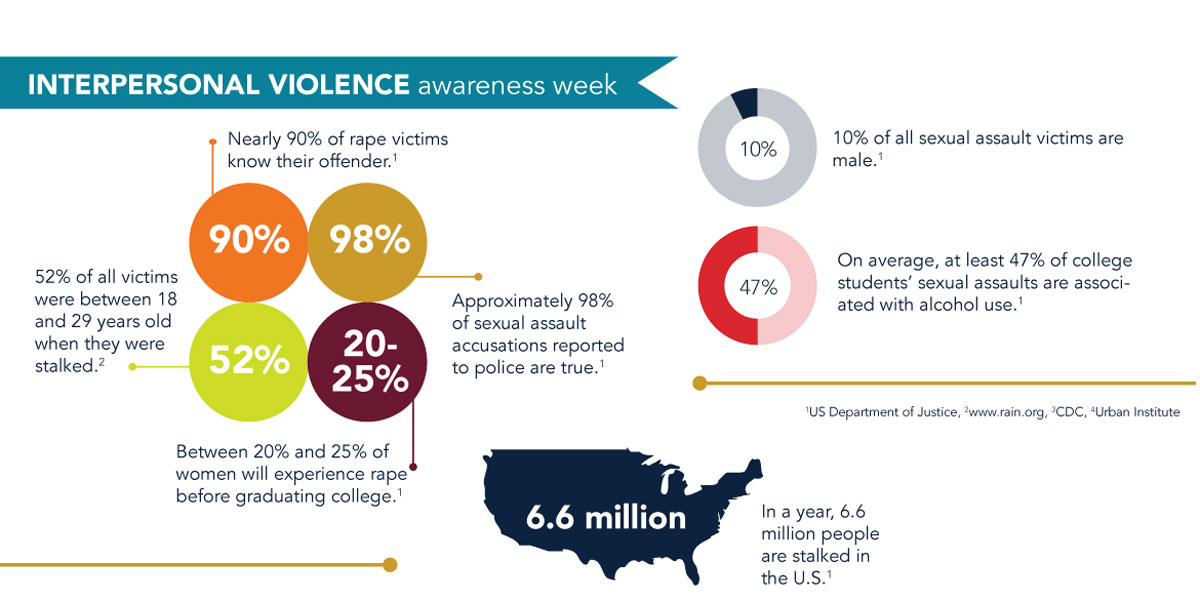 Graphic by Missouri Baptist University
___________________________________________________
Interpersonal Violence Awareness Week at Missouri Baptist University starts today (Wednesday, Feb. 17), with a faculty and staff in-service day presentation to promote awareness around campus.
Interpersonal violence, according to Reachout.com, "occurs when one person uses power and control over another through physical, sexual or emotional threats or actions."  
The week, Feb. 17-24, will be filled with events and activities focused on teaching and promoting awareness and discussion of the subject.
The activities for the week include:
A conversation with Nurse Practitioner Duesterhaus in The Perk, 9 a.m. Thursday, Feb. 18.

Wear your Ribbon Presentation: Signs of Abuse in the Performance Hall, 10 a.m. Friday, Feb. 19.  

"It's Your Birthday" Bake Sale in the Dining Hall, 11 a.m. to 1 p.m. Monday, Feb 22.  

Thrive "Date Safe" in North Hall, 6 p.m. Monday, Feb. 22.

Men of Integrity in Pillsbury Huff, 6:30 p.m. Monday, Feb. 22.

Alive Presentation in the upper level in the SRC, 11 a.m. Tuesday, Feb. 23.  

Rape Aggression Defense class for women only in Muncy Gym, 7 p.m. Tuesday, Feb. 23.
The week also includes a collection of donations for "It's Your Birthday, Inc.," a non-profit organization that assists children who are affected by domestic violence celebrate their birthday. Donations of basic party supplies like plates, napkins, plastic ware, tablecloths and party favors will be collected by Student Development.
Interpersonal Violence Awareness Week aims to promote awareness and offer solutions and protection for those who are affected or have a higher potential to be affected.
Interpersonal violence doesn't look like a creep lurking in the shadow looking to attack in an empty parking lot. In fact, 90 percent of rape victims know their offenders and almost 1 in 5 females in relationships will experience violence from her partner, according to the Department of Justice.  
Though 20-25 percent of women will experience rape before graduating college, according to the Department of Justice, males make up 10 percent of sexual assault victims.
Interpersonal violence can "impact a person's basic functions, such as eating, sleeping and being able to get through a day," Jessica Frazier, victim services coordinator at Pheonix Center of Auraria Campus, Denver, Colo., said in a video interview for The Outsiders Movement.  
"Depression, anxiety and post-traumatic stress disorder … are symptoms of what someone might experience as a result," said Frazier, but with participation and cooperation on everyone's part, many of these instances can be prevented. Frazier's full video interview can be found here.  
For more information about Interpersonal Violence Awareness Week, visit the MBU Awareness Page.