With standing room only, it was clear that students and faculty were very interested in the event speaker, Police Chief Samuel Dotson. This, paired with thoughtful, in-depth questions and openness on Dotson's part, led to the most successful Media Talk in school history.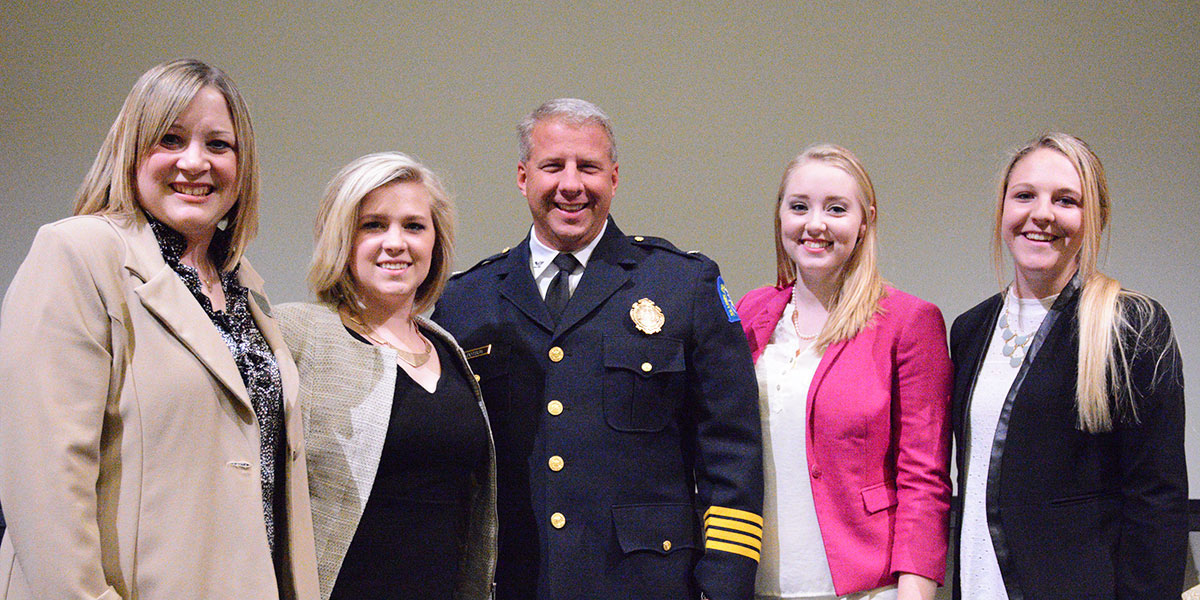 Photo by Ryan Rerich
Media Talk participants include, left to right, Amanda Staggenborg, Jerica Drago, Chief Samuel Dotson, Rebekah Rutledge and Shelby Wannemuehler. 
__________________________________________________
Missouri Baptist University hosted St. Louis Police Chief Samuel Dotson III for the spring 2016 Media Talk on Tuesday, Feb. 23, in the Don and Mary Pillsbury Wainwright Performance Hall.
Amanda Staggenborg, assistant professor of public relations and communication, who coordinates the speaker series, was more than pleased with this year's result.
"I felt very rewarded. …  I felt as if this was our most successful Media Talk," said Staggenborg.
She measures the success of this year's event by a few different factors.
"It was the response that we got, the positive reviews and the turnout was almost overwhelming," Staggenborg said.
In fact, it was the most well attended Media Talk to date, and Staggenborg described the performance hall as a full house.
"It was packed, standing room only," Staggenborg said.
Dotson also enjoyed the opportunity to speak at a more open and contextualized venue.
"I am so used to having to speak in sound bytes because reporters are trying to put their own spin on my words, but here I can really talk and even give the context around what I am saying," Dotson said.
Dotson's description of how to speak in front of reporters was demonstrated when News Channel 4 stopped him a few feet from the building for a quick interview about a crime which happened earlier that morning.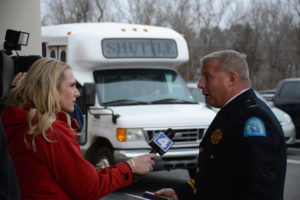 Dotson speaking with News Channel 4 reporter.
"It was an ambush," Dotson said as Staggenborg greeted him.  
Staggenborg noted the unexpected reporters made everyone a little nervous.
"We were a little unnerved when we saw the Channel 4 van pull up because the reporter never got out of the car, so we weren't sure what was going on," said Staggenborg.
However, the incident was quickly forgotten and attention was focused on ensuring everything went well.
"Nothing went wrong, I was so pleasantly surprised that Sam Dotson was so open and almost jolly in answering every single question," said Staggenborg.
MBU student interviewer Shelby Wannemuehler, sophomore public relations major, was also pleased with the conversation with Dotson.
"It was fun getting to ask some good questions and engaging in conversation with such a successful leader in the community," Wannemuehler said.
Rebekah Rutledge, senior journalism major and the other interviewer for the Media Talk, shared Wannemuehler's excitement, but also described her nerves while on stage.
"When I first started, I thought the audience could see my heart beating out of my chest," Rutledge said, "but reviews have said I looked fine."
All thoughts of looks aside, Rutledge and Wannemuehler demonstrated their preparation and research for the event in the questions they asked Dotson.  
"So, in preparation of this, we read your blog," Rutledge said as she began a question.
Dotson expressed how impressed he was by the depth and complexity of the questions Rutledge and Wannemuehler were asking.
"These are really good questions … it's like you guys are working for CNN or something," Dotson said. "We didn't rehearse this at all."
Topics ranged from communication tactics, law enforcement technology, policies and the handling of events surrounding Ferguson.
"I don't measure success by the number of people we arrest. I don't measure success by the number of tickets we write. I ask if we are leaving the city of St. Louis a little bit safer each day," said Dotson.
Dotson also clarified misunderstandings regarding the diversity of the department.
"St. Louis has the most diverse police department of any of the big agencies in the state, so we've made it a priority," Dotson said.
Mixing a personal touch with analytical data, Dotson impressed many of the students who frequent the annual Media Talk series.
"I thought it was well done and informative and the speaker was really interesting to listen to," said Christian Robinson, junior public relations major.
Robinson was not the only one impressed and interested in the speaker; Jesse Kassebaum, junior communication studies major, was stirred, but also proud.
"What I loved about it was how informative and in depth his answers were. He was very open and honest about his goals and intentions as our police chief, and listening to him really made me feel proud that he was our chief," said Kassebaum.
Hannah Ballard, senior communication studies major, wasn't even expecting much, but was completely turned around.
"I was really surprised by how much he actually had to say about communications," Ballard said. "I really enjoyed that he seemed so open to answer any questions."
Building off the rising success of the series, Staggenborg has already started to plan for next semester.
"Next year I was thinking about doing a Media Talk panel, where we invite a number of professionals on the stage where they talk to a student and maybe an alumni," Staggenborg said.
Even with such a change to the structure of this event, it wasn't the only aspect that she is looking to revamp.
"I would also like to increase the frequency from two a year to maybe four," said Staggenborg.
Whatever she decides to change, there is plenty of time for Staggenborg to hash out the details for next year. The success of the MBU Media Talk is rising each semester and media professionals in the area offer the students a myriad of advices with every interview conducted.