The Circle K International lip sync battle is back at MBU. Find out how you can either watch and laugh, or be the entertainment, or find out what the event is supporting through generous donations and the purchases of delicious chicken and cool items from Africa. Also, find out other fun Spring Fling activities and where they will be.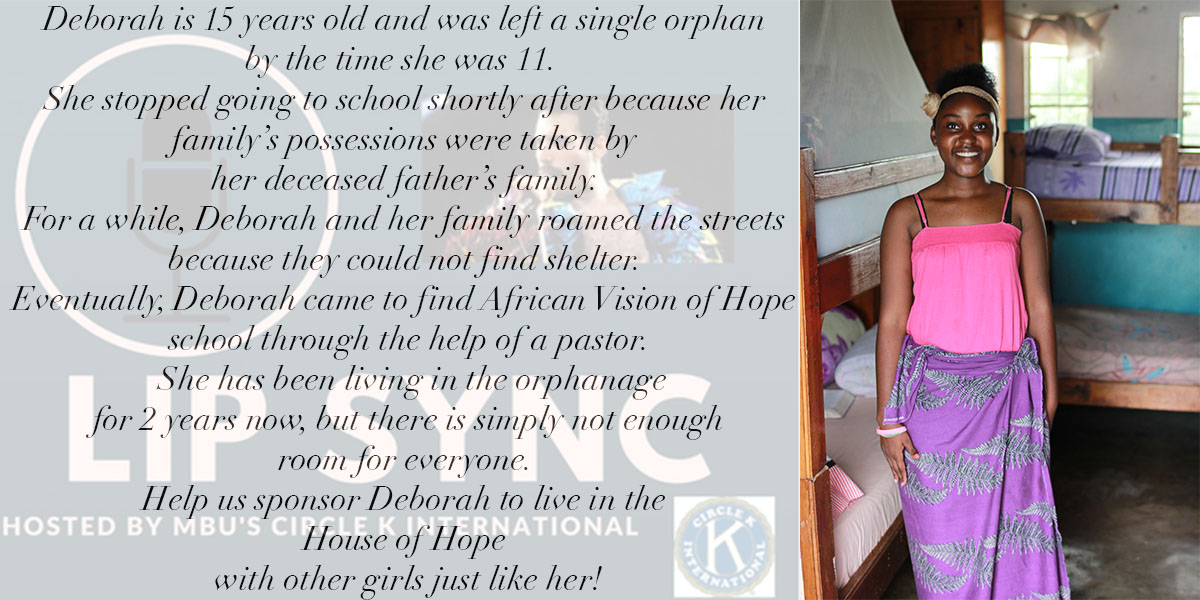 Graphic by Kara Sasiela
__________________________________________________
Come out for the third annual lip sync battle at 7 p.m. Thursday, March 30, in the Perk, hosted by Circle K International.
Proceeds from the annual event support African Vision of Hope's House of Hope, an organization that helps build dormitories and funds young women for school in Zambia, Africa.
"It is designed to give vulnerable girls a safe place to live with transportation to school, loving Christian house-parents, access to  medical care, food, bedding and clothing," said Anna Bertels, 20, a senior at MBU working toward a degree in business management.
The cost for a year of living in the dormitory is $1,800 per girl.
During the event Circle K members will be selling Raising Cane's Chicken and unique African items in order to collect money to support the girls.
Admission is free, but audience members may want to purchase a raffle ticket for a chance to win a gift card or other great prizes.
If you would like to sign up to participate in the lip sync battle, stop by the Student Activities office and sign up for an individual or group performance.
It will be a night full of fun performances, good food and supporting a good cause, so you won't want to miss out on this vision.
If you can't make it out to the event, maybe you can join in some of the other Spring Fling events.
♦ While today's Dogs in the Quad has been canceled due to the rain, it has been rescheduled for Wednesday, March 29, if the weather allows it.
♦ Starting on Tuesday, March 28, there will be Tacos in the Quad at 11 a.m.
♦ On Wednesday students can enjoy those salty Wetzel's Pretzels in the Quad at 11 a.m.
♦ Thursday, March 30, will be a day of memories with throwback board and card games, outdoor games (weather permitting) and snacks in the Quad at 2 p.m.
♦ Friday, March 31, ends with funnel cakes in the Quad at 12 p.m.