Missouri Baptist University has finally established plans to pave the upper gravel portion of C Lot summer of 2018. It's been a long time coming, but not for lack of trying on the part of MBU planners. The process is extensive and full of bumps in the road.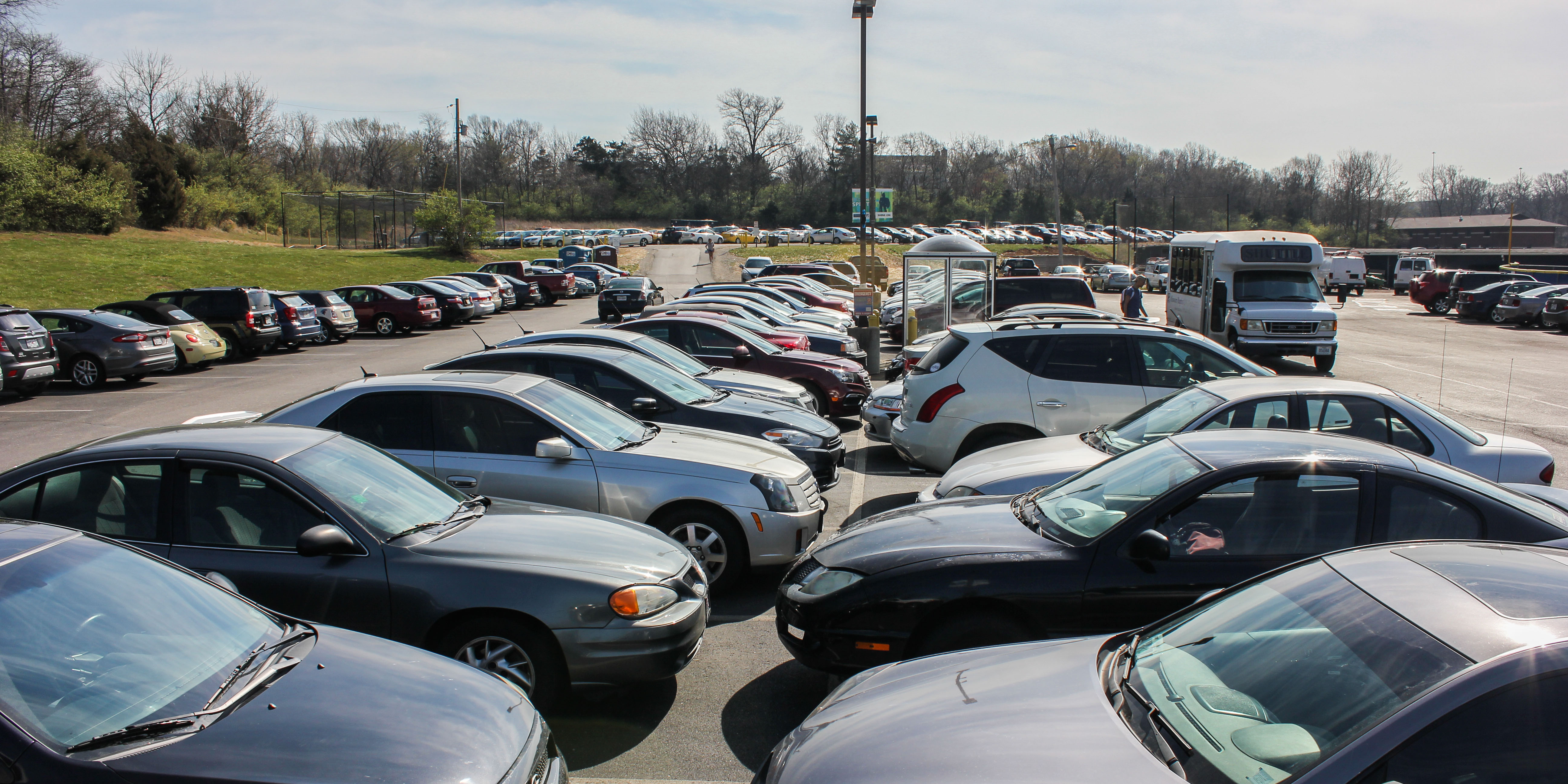 Photo by Elizabeth Harris
__________________________________________________
Expansion is a blessing and a bump in the road for Missouri Baptist University, as a $1.3 million renovation for the gravel section of C Lot is projected to be completed fall 2018, and for students recently surveyed, the finished lot won't come a minute too soon.
The last decade has brought tremendous growth to MBU's main campus with the building of new apartments, dorms, the Perk and the Sports and Recreation Complex, and as more students began filling the halls of the new buildings, a place for them to park on campus became a problem.
The temporary solution for the parking challenge is the gravel lot above C Lot, behind the baseball fields. The upper lot is dusty, unlit and riddled with puddles after a rain.
A survey was conducted among 20 randomly selected MBU students, both commuters and MBU residents, and while the sample size is small, every surveyed student agreed that C Lot is a safety hazard that needs to be dealt with.
"Honestly I feel like it's overdue. I've parked up in C Lot for years, and I've even had to use the gravel lot for as long as we've had it and it can be irritating at times parking up there, especially at night," said MBU commuter Andrew Kyle, 23, senior sport management major.
"It's poorly lit, and while I'm a decently sized man that can defend himself, I know some females don't feel comfortable walking all the way up to that lot after a night class. I think it's a safety hazard, and I'm glad they're finally going to fix it up," said Kyle.
The student body and faculty are ready for a change and MBU is excited to make it happen.
One staff member eagerly awaiting the new paved lots is Ron Howdeshell, long-time MBU bus driver.
"In addition to paving the lot they're going to connect the road to the parking lots already, so next year we can just make a circle, instead of turning around in C and at the dorms," Howdeshell said. "So we can have a stop on the upper lot, this lot, at the boys dorm and girls dorm."
The new lots will help the shuttles arrive at their bus stops at a faster rate, improving efficiency and the overall mood some students have toward the shuttle.
If the paving of C Lot would fix so much by doing one seemingly simple thing, then why haven't MBU planners done anything about it to this point? In fact, they have.
"Paving a gravel parking lot seems like such a simple, affordable project, but … not really," Ken Revenaugh, vice president of business affairs at MBU, said in an email. "When we first started looking into this project we thought we would be able to pave the lot and expand it to pick up some additional parking, but we ran into property setback lines."
The campus falls on the dividing line between Town and Country and Creve Coeur, which has proved in the past to be more than a problem when dealing with expansion.
"If we were to significantly expand our parking, it was going to require putting in a lot behind North Hall and adding on-street parking to the North Hall Drive," Revenaugh said. "Gravel lots are permeable, meaning rain can soak through the gravel so no storm water control is required."
But MBU wanted to pave the lot and add the additional parking around North Hall, so construction crews had to build bioretention and detention basins to filter and detain stormwater that runs off the paved parking lot, Revenaugh explained, according to St. Louis County's rules which govern MBU projects.
What early on seemed to be a $400,000 easy fix for C Lot quickly grew into the $1.3 million three-year project it is today, and only 30 percent of the total cost of the project is actually going toward the asphalt needed to pave the lot, according to Revenaugh.
"Last summer we built the storm sewers, bioretention, detention and the new parking," Revenaugh said.
The gravel lot paving, extension of North Hall Drive, lighting, retaining wall, landscaping and engineering are all scheduled for completion in summer 2018 at an estimated cost of $575,000, creating 241 parking spaces. That breaks down to $2,386 per space.
If the $1.3 million price tag wasn't enough already, Town and Country could throw on an "opportunity cost" associated with the land being used for the bioretention and detention basins, costing upwards of $250,000 per acre, since the lot expands over two acres, according to Revenaugh.
An opportunity cost is "a benefit, profit, or value of something that must be given up to acquire or achieve something else. Since every resource (land, money, time, etc.) can be put to alternative uses, every action, choice, or decision has an associated opportunity cost," according to businessdictionary.com
If the project avoids any further bumps in the road, the lot should be finished by the start of the 2018 fall semester.