Jonathan White is coming to the end of his career at MBU. Follow his journey to MBU, why he is leaving and what he'll be up to next.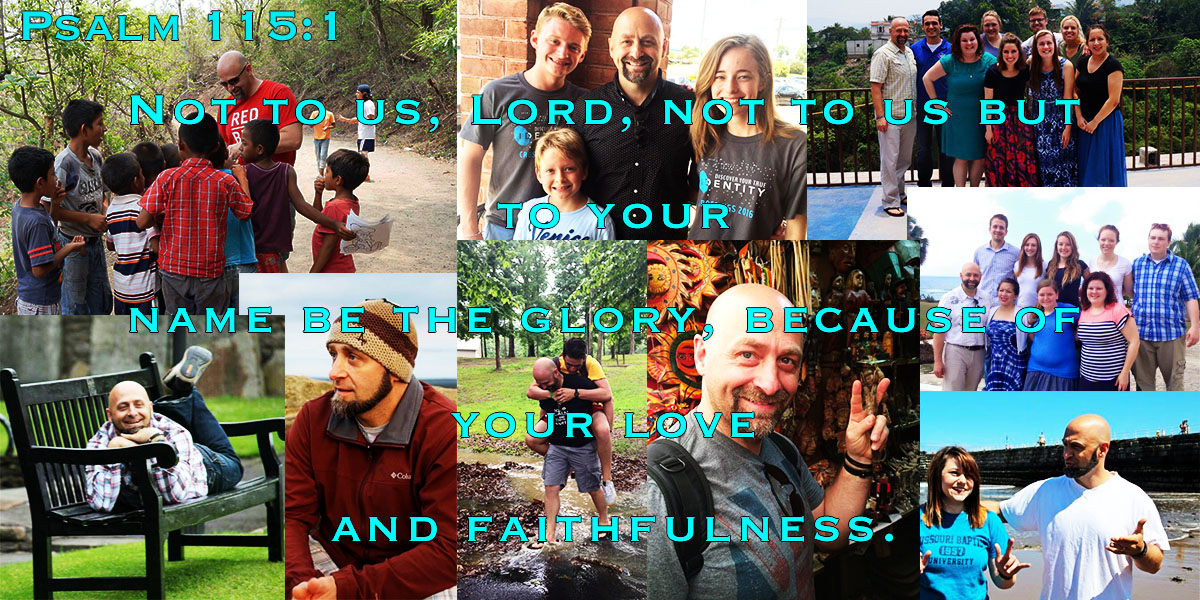 Graphic by Kara Sasiela
__________________________________________________
Jonathan White, campus minister at Missouri Baptist University for the past 11 years, will be missed next year as he is returning to Nashville, Tennessee, this summer to follow God's calling into mission work.
"I think being here at MoBap and going on so many mission trips, the Lord has opened up my eyes, my heart for the Gospel to be preached to the nations," said White, 44, who will be leaving MBU this summer.
This decision was not made lightly, White and his family have prayed about it for several years now.
"So, it was about 2012 that the Lord really impressed upon my as well as my wife's heart about living overseas in the mission field. So, we've been praying about that for several years," said White.
White and his family will be partnering with a mission agency in Nashville called Mobilizing Students, for which they are already making preparations.
"The missions agency that we'll be partnering with is all fundraising stuff, so we have a lot of fundraising to do before the next two years," said White.
White hopes they will be doing mission work overseas once the fundraising is completed.
"We hope to be in northern Italy near the Florence area. That part of Italy is not even 1 percent evangelical. There are tons of universities. We hope to still minister to college students and plant churches," said White
In preparation for the move, White's wife, Melissa, and son, Austin, are already getting settled in Nashville.
"My family has started school there already because we wanted to get them in school instead of switching at some point before the school was out," said White.
Though White currently does not have a job waiting for him when he arrives in Nashville, he is confident the Lord will take care of it.
"We're just praying that the Lord will open up a door there. God's word calls his people to take risk, faithful risk for him, so that's what we're doing," White said. "We're trusting him in this and trusting that he will provide in his time."
White, who has come to be known as "J-White" around campus for more than a decade, doesn't know who will be replacing him, but he jokes that whoever it is will probably have hair.
Though White doesn't know who started his nickname, he has embraced it over the years.
"I don't even know who started it. I guess it was a student my first year here who just said, 'Hey J-White' and it just kinda stuck," said White.
White began his journey to MBU when he became a Christian at the age of 9.
"My dad's a pastor of a church and it was a friend of his who was preaching that Sunday and you know, I grew up in the church and I heard sermon after sermon, but that particular Sunday it was as if that preacher was speaking directly to me. So, my mom led me to the Lord," said White.
Once White was older, he attended Belmont University in Nashville, working to be a minister of youth.
"As I did my internships, through that, I realized, you know what, I don't think I would like youth ministry," said White.
White took some time off after graduating to determine where the Lord was leading him, then enrolled in seminary at Southern Seminary in Louisville, Kentucky, to study American family counseling.
"And then I realized, you know what, I can't do that for 40 hours a week," said White.
White then got involved at his church with the college Bible study group called SACRED, where the Lord pointed him toward ministering to college-age people.
This led White back to seminary from 2000-06 where he received a degree in Christian education.
"Then I found out about the job here to be able to lead college ministry as well as to teach on the side," said White.
White's favorite part of being at MBU has been leading Chapel and mission trips, responsibilities he will certainly miss.
"I love seeing students encounter the Lord and seeing their lives changed for Jesus," said White, who hopes to leave his students with this encouragement. "My heartbeat is for this generation because I know you are more than what this culture says … consumers and not willing. I believe you are the generation that can be the 'feet' of the body of Christ and take the Gospel to every part of the world; even the darkest parts. You are fearless and courageous. You have a part to play in God's grand story of the Great Commission."