Karen Leija, who has been a food service consultant at MBU for 11 years, from the old cafeteria to renovations of the current "caf" today, said her favorite part of the job is witnessing MBU students grow into young adults year after year.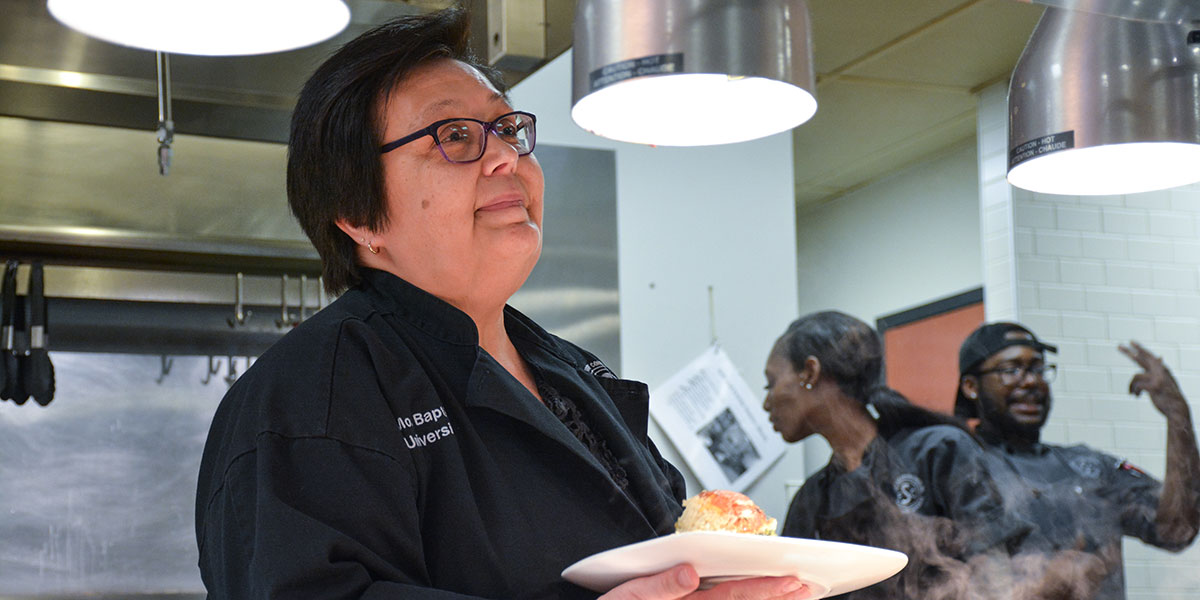 Photo by Elizabeth Harris
__________________________________________________
11:45 on the dot, every Thursday afternoon at the conclusion of Chapel, students pour out of the Mabee Great Hall and into the Field Building toward the cafeteria for lunch. It is the busiest time to be in the cafeteria as students rush to grab food to-go before class and scatter to find seats available next to their friends.
The cafeteria, aka the "caf," is an integral part of students' daily routines, whether it be for a coffee and pastry at breakfast time, a snack in between classes throughout the day, or an evening meal after a workout or study session. Many students at Missouri Baptist University eat at the cafeteria every single day, and if not every day, at least several times a week.
If you are a student at MBU who follows this routine on a regular basis, you are probably familiar with the faces of the cafeteria workers, specifically Ms. Karen.
Karen Leija, MBU food service consultant, is someone you see every day if you are a regular visitor to the caf.
She can usually be spotted swiping students' cards for their meals or assisting other workers in the caf. Whatever she is doing, she does it with a warm smile on her face, always open to conversing with whoever she encounters.
In July, Leija will have been working at MBU for 11 years, but she also works at surrounding Catholic grade schools, including St.Paul's and Assumption.
If you already know Leija personally, something you may not know about her is that some of her work days tend to start as early as 7 a.m. and continue until 9:30 p.m.
These are the days she is asked to work at the grade schools and then make her way toward MBU for her afternoon/evening shifts.
Because she occasionally works at Catholic schools, she has taken a class called "God is Our Teaching," where it is instructed how to interact properly with younger children.
Compared to the students at MBU who may forget their meal cards once in awhile, the younger grade school students require a more gentle approach to forgetfulness.
She is able to hand out IOUs for grade-schoolers who forget their meal money, while also teaching college students that they are young adults who, if they were at Wal-Mart, would be told they still need to pay.
"Here, I'll do an IOU and tell you, 'OK, I'll give you 'til the end of the week.' If you don't do it then I put a hold on your account and then you can't get grades or anything, you'll have to come and pay me before, like if you want a transcript, you can't get it if you owe me money," Leija said with a laugh, knowing that her "tough love" is only preparing students for the real world.
In terms of the kitchen, Leija says that Rich Kraus, the kitchen chef, can more or less create any dishes. At one point, there was a suggestion box to give students a chance to recommend dishes of their choice.
"As for the menu planning, we just try different things, and then we see if it's a hit or not a big hit," said Leija.
She said the kitchen tries to incorporate healthy choices into the menu as often as possible, including a system that began four years ago when the new cafeteria was expanded that gave students their choice between three proteins and two sides, which adds up to about 700 calories, the recommended calorie intake for one meal.
"If you go down to the Brio, that's always got fresh vegetables and you can tell him if you want oil or if you want whatever to where he can make those vegetables at more to your liking or your calorie needs," said Leija.
Leija said she enjoys all the changes that have been made to the school over the years, including the cafeteria Brio, which used to be a part of the old bookstore.
"The school has really grown since I started here. We used to do cafeteria-style. Our cafeteria was only half the size that it is. You used to come in the same door, go around in a circle and go out the same door," said Leija.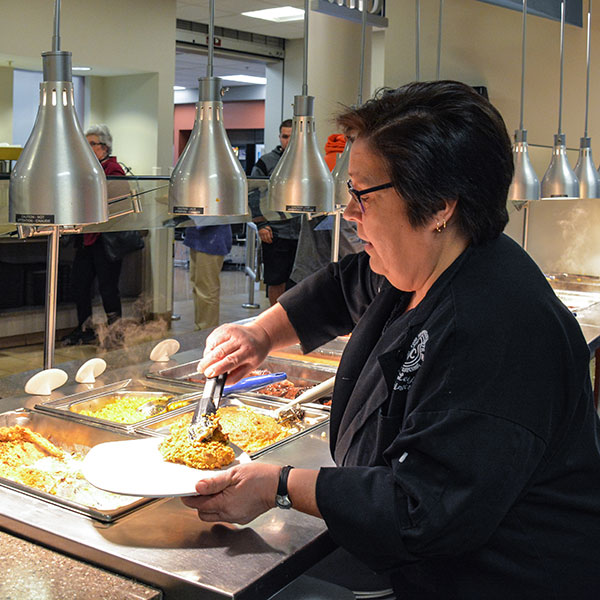 Photo by Elizabeth Harris
For Leija, there is so much more behind her job than food service. She said her favorite part of the job is getting to know the students.
"I like the kids. They've always been my passion. I mean, getting to know them," said Leija as she began to list off names of former students.
Even at 11 years at MBU, Leija has been in food services long enough to have seen students in the past turn into professors at the university. She said she has also made quite a few friends through MBU, including graduates who have invited her to their weddings and some she has even babysat for.
Leija said she has enjoyed watching students who were once timid and shy grow into wise and mature young adults.
She has three children of her own who are all married and, in her free time, she enjoys reading, dog sitting and staying an active member of her church.