Homecoming 2013 Combines Old Traditions and New Favorites
Homecoming is approaching and will roll through Missouri Baptist University Nov. 1-10.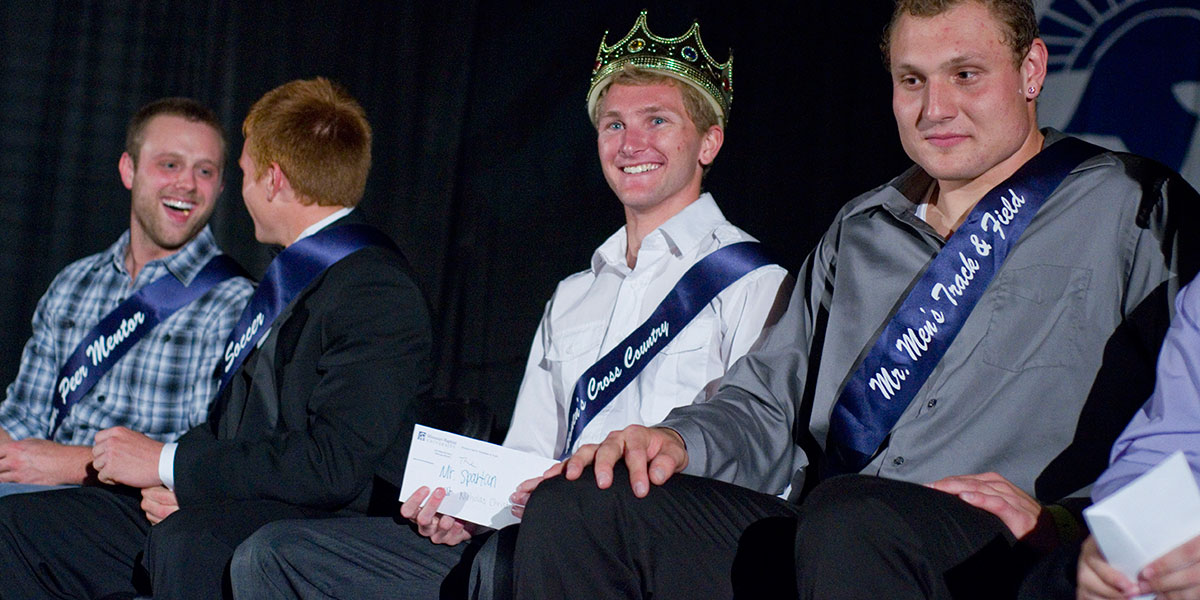 Mr. Spartan Contest in 2012
__________________________________________________
The week has events for everyone and will allow the university to come together through theatrics, athletics, student activities and community involvement.
Julie Beehler, student activities Homecoming chair, said Homecoming 2013 is going to be better than ever this year.
"We are changing up some of the events and really trying to cater more towards college students with a 9 p.m. start time for Mr. Spartan and also making the Perk more edgy with a glow-in-the-dark theme," said Beehler.
Homecoming at MBU is about traditions both new and old.
"It is also about tradition as we have had The Perk for years and continue to make new traditions like Mr. Spartan," Beehler said. "Homecoming is a great chance for alumni to come back and see how the university has changed from when they were here."
Check out some of the highlights from this year's Homecoming schedule:
thePerk: After Dark — Nov. 1 in Muncy Gym, 8 p.m.
Mr. Spartan Contest — Nov. 4 in Muncy Gym, 9 p.m.
SAC Sponsored Blood Drive with Mercy — Nov. 5 in Mabee Great Hall, 10 a.m.
Women's Wrestling — Nov. 6 in Sports and Recreation Complex, 6 p.m.
Dinner Theatre — Nov. 6 in Mabee Great Hall, 7 p.m.
The Drowsy Chaperone — Nov. 7-10 in Pillsbury Chapel
Spartan Hall of Fame Awards Banquet — Nov. 8 in Sports and Recreation Complex, 6 p.m.
MBU Freedom Run for Ronald 5k — Nov. 9, 7 a.m.
Women's Basketball vs. University Great Falls — Nov. 9 in Sports and Recreation Complex, 2 p.m.
Men's Basketball vs. Lindenwood University-Belleville — Nov. 9 in Sports and Recreation Complex, 4 p.m.
Chili Supper – Nov. 9 in Mabee Courtyard, 6 p.m.
Click here for a complete list of events for Homecoming 2013.
MBU Timeline staff will be covering selected events throughout the week.
Joseph Hartmann
Joseph Hartmann is a senior broadcast media major. He is also the producer of Timeline Broadcast and a studio tech for the Communications Department studio. Outside of Missouri Baptist University, he is a multi-media specialist for The Muny and a videographer and producer for the Prepcasts Broadcasting Network.