Sarah Dickey maintains two of the most important roles in the Fine Arts Division at Missouri Baptist University, administrative assistant and assistant theatre director.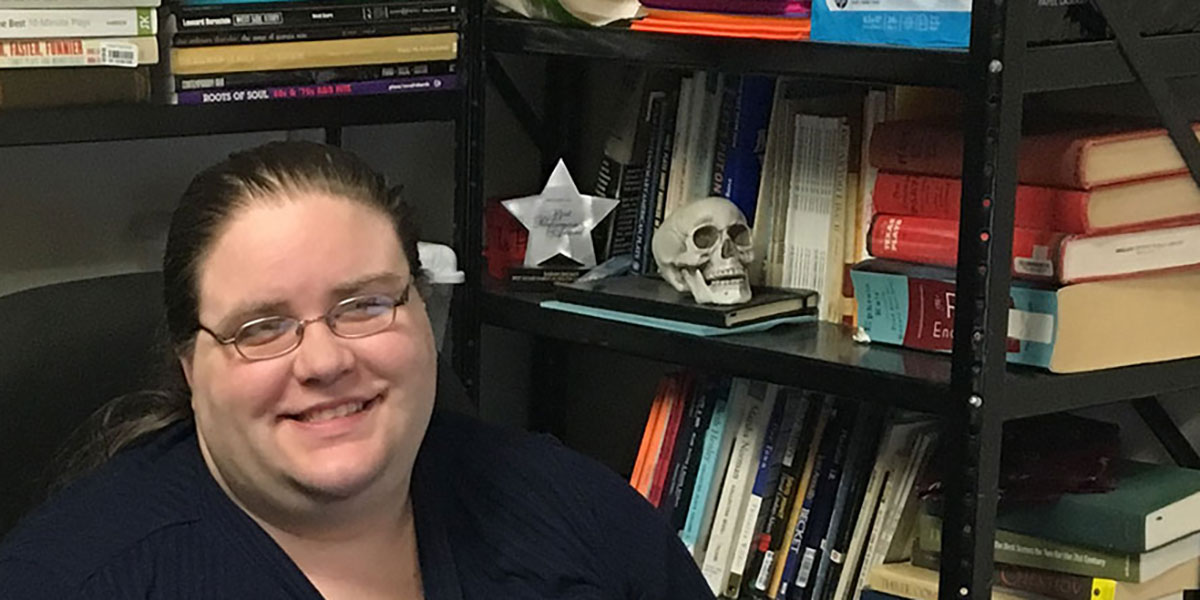 Photo by Chris Hodges
Sarah Dickey has anchored her corner of the main office in the Fine Arts Division for more than a decade, so any question about, well, just about anything, she is more than capable of answering.
__________________________________________________
When it comes to theatre, most people may only consider positions such as director, producer, actors and perhaps the tech group.
What people may not consider, especially when it comes to school-oriented plays, is how much a position like fine arts administrative assistant, doubling as assistant theatre director, comes into play when dealing with theatre.
This would be the case for Sarah Dickey, a woman who's bound to help create a powerful play due to her experience in theatre.
"I did and still continue to do a lot of theatre. I really started to get into it in high school, and in college I was doing everything in the theatre here," said Dickey, who graduated from Missouri Baptist University with degrees in business administration and management in 2006. "I was stage managing almost every show and painting sets. I started designing lights and I still do that to this day."
Dickey was raised in Arrow Rock, Missouri, attending Marshall High School her freshman and sophomore years before being home-schooled her junior and senior years.
To be successful in any job involving theatre, one important skill would be an ability to connect with people.
How can this skill be sharpened? For Dickey, who has worked at MBU for 12 years, the answer was working with children.
"When I was in college I did before and after school child care through the YMCA. I would get up at 6:30 a.m. and go to watch kids before they go to school," said Dickey, who worked at the YMCA for three years.
With her experience in theatre, one could only imagine the numerous career choices Dickey had after graduating from MBU, so what made her want to work at her alma mater?
"I just love this school. I love the people here," Dickey said.
Just before Dickey graduated from MBU, Dr. Joy Powell, current director of theatre who held Dickey's position at the time and was ready to move into a faculty role, asked Dickey to apply for the job.
"So I knew the sort of things that I would be doing," Dickey said. "So, I applied for it and got it and I really love it."
Powell, who has a bachelor's degree in musical theatre performance from Ball State, a master's degree in theatrical directing from Lindenwood University and a doctorate from the University of Missouri, said Dickey showed great integrity and creativity.
"Sarah Dickey was a stand-out student that I'm now so very glad to call a colleague. In my collaborations with her she has always displayed a high degree of integrity and creativity. Her work ethic is one of her best qualities. Over the years we have worked together on many projects and shows. I am so grateful for her investment in the fine arts at MBU," said Powell.
Surely being the fine arts administrative assistant can prove to be a loaded job. Nevertheless, Dickey still finds time to relax.
"Staying home is very fun for me. Occasionally, just hanging out with a small group of friends is fun. When you get to be a middle-aged adult, just doing small things like going to dinner with your friends is fun," Dickey said. "I still have fun doing theatre and going to the theater. That's always going to be something that I really enjoy."
Dickey enjoys staying home and watching Netflix, particularly enjoying movies directed by Edgar Wright and Wes Anderson, including, "The Royal Tenenbaums," "The Grand Budapest Hotel," "Scott Pilgrim vs. the World" and "Shaun of the Dead."
One of the biggest aspects that separates MBU from other universities is religion. So how much has Christianity affected Dickey's career?
"I think it's not only my life, but knowing everyone who works here is a believer. It's great because I can talk very honestly to everyone about that and if you have problems you can go to them and hope they'll give you some biblical advice," Dickey said. "When dealing with students I feel like there's a level of care that you can give them and comfort if they're having trouble that maybe you couldn't if you were in a secular institution."
There have been more than a few changes at MBU since Dickey first attended.
"It has grown so much. I started coming to school here before we had the Chapel building built really. They built this building my freshman year. Every department was so much smaller back then. You really knew everybody," Dickey recalled. "We had an inservice today and you realize, oh my gosh, there's so many people here that I've never talked to before. I have no idea what their job is. It's grown so much that it's hard to keep up with everybody on campus anymore."
For someone who who has such a passion for working at MBU, just how much has Dickey touched the lives of the people around her?
According to Kasey Cox, an assistant professor at MBU, who works closely with Dickey on theatre productions: "Being her friend and colleague has made me a better worker, has made me more attentive to details that I might not otherwise have thought of. She's a fantastic artist. She has a great eye for technical theater. That's not something that has always been my strength. So I've enjoyed learning from her as well."
Dr. Larry Smith, chair of the Fine Arts Division and a professor at MBU, added: "I think one of the things that she's really shown me is that she's going to overcome whatever challenges are thrown her way because we all face challenges when new policies come down, new students come in to have different kinds of expectations. New faculty members come in that she has to deal with, and it's really inspiring to me to see the way that she works with everybody, that she helps them regardless of whether their problems are real or imaginary and she can help them find solutions."
As Dickey is so inspiring to the people around her, one must wonder where she has learned to be so caring.
The answer would be her father, Michael Dickey.
"My dad is a role model. He's such a hard worker. He's so humble. He's so good to his employees. He's very smart, funny, sarcastic, silly kind of guy. I get so much of my personality from him," said Dickey.