With a common goal of serving the community, MBU students stand together as they serve those in need with a smile through the nationally known organization Circle K International.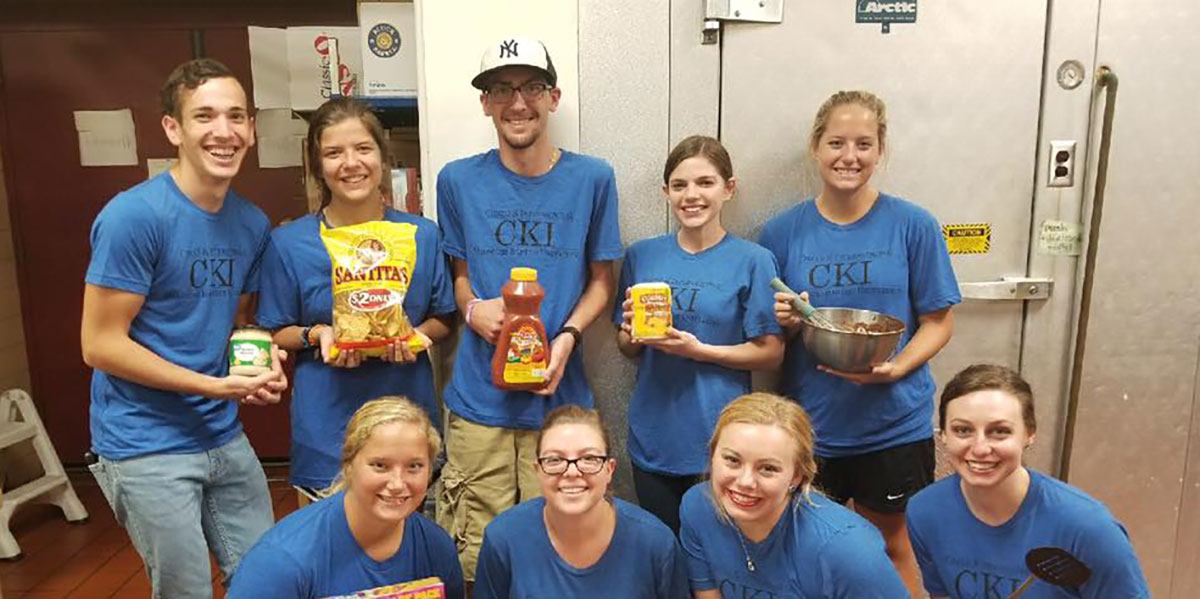 Photo by Abby Kassebaum
Members of Missouri Baptist University's Circle K service organization volunteer at the Haven House this semester. Pictured, top row, left to right are: Joey Link, Kristi Francisco, Braden Pender, Katie Spradling and Emily Schnefke. Front row, left to right, are: Amy Schnefke, Sierra Pettey, Madison Click and Bailey Ruess.
__________________________________________________
If you take a walk through campus and come across one of the several students in a royal blue T-shirt with the text, "Live to Serve, Love to Serve," in bold print on the back, take a moment to ask them about their most recent service project or latest social event.
Students dressed in these blue tees are a part of MBU's Circle K International, a service group on campus that serves the surrounding community.
CKI was brought to MBU in 2014 by alum Rebe Rutledge, who graduated with a communications degree in 2016.
"I think that as humans we are naturally drawn to help each other, but we don't always have an outlet to do so. CKI was a great way to provide this outlet to the MBU campus," Rutledge said in an email.
The group is a part of a larger organization known as Kiwanis, which has a total of nearly 600,000 members in 80 different countries.
Kiwanis created smaller organizations known as Key Club for high school students, and Circle K International for college students, with a mission to serve whatever community they are a part of.
According the the Kiwanis website, Circle K International is "the world's largest collegiate service leadership organization and performs half a million hours of service each year."
At MBU, students can join CKI by contacting MBU's CKI president, Madison Click, a junior studying elementary education.
Click has served as president since summer of 2017 and coordinated service projects to places such as Haven House, Ronald McDonald House, St. Louis Arc and OASIS food pantry.
Haven House is located in St. Louis and serves as a place to stay for families and patients who are in need of medical care in the St. Louis area. CKI took the time to serve the Haven House by cooking a meal for the residents there.
"It is such a blessing to see how thankful the family members are after a long day in the hospital to see a plate of hot food sitting in front of them. After serving like that you begin to be more appreciative of the small things within your own life that you take for granted," said Click.
The CKI board is made up of four MBU students who have a heart to reach the MBU campus and the community it's a part of.
In addition to Click, the board consists of Vice President Sierra Pettey, Secretary Emily Schnefke and Treasurer Rebecca Morrow.
Together, they create ways to promote stronger outreach by recruiting students to become a part of CKI and researching different organizations to partner with.
In addition to service projects, CKI plans social events as a club to promote on campus.
The group's most recent and favored event was the Lip Sync Battle, which was hosted in order to enhance student engagement with CKI and bring awareness to the group's work.
Students had the opportunity to bring their best lip syncing skills to the stage and battle for the chance to win a cash prize.
MBU students, Colton Albers and Kathryn Hinrichs took home the crown with their lip sync renditions of Taylor Swift hits.
In addition to the Lip Sync battle, CKI hosts events throughout the academic school year such as Friendsgiving and on-campus movie nights.
But ultimately, the group has a passion to serve.
"We are called to do good works for those around us and CKI allows us that opportunity. We build friendships with one another as we serve alongside each other as well," said Click.
If you are interested in joining CKI, contact Madison Click at madison.click@mobap.edu.