Have you ever heard the phrase, "Exercise is medicine" in referring to the benefits of staying in shape? Well, there is research to back up that statement, and there is also a club at Missouri Baptist University that was built on this basic understanding.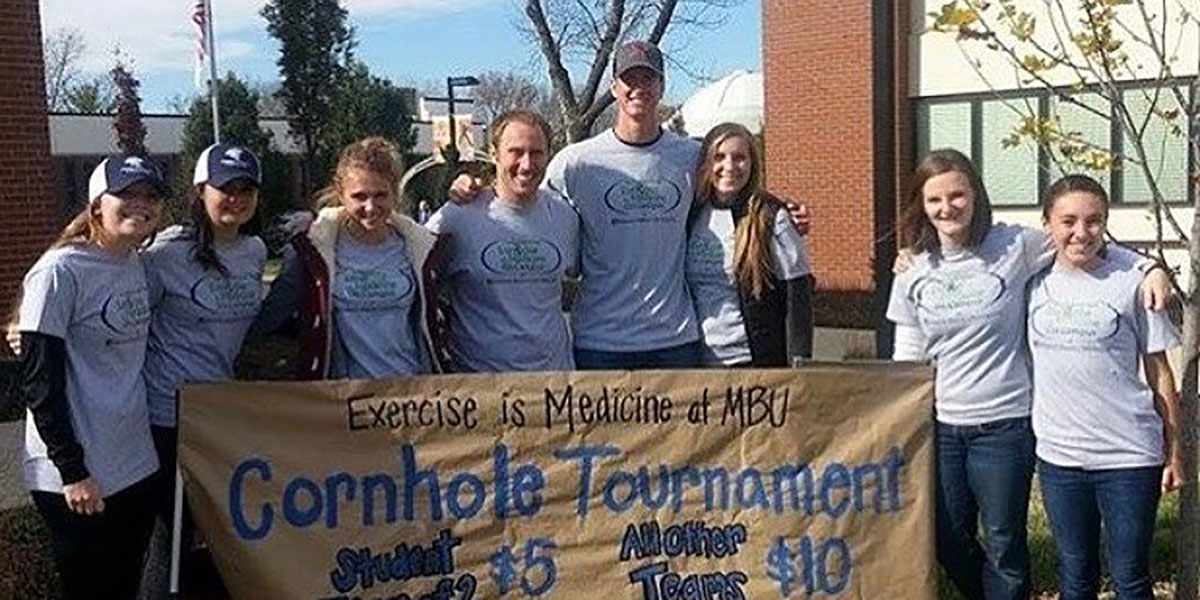 Photo by Dani Stevenson
EIM members at Missouri Baptist University pose before a corn hole tournament, one of their many activities throughout the academic year.
__________________________________________________
How often do you exercise? If you are like students among the
national average
, it's fewer than four hours per week, even though
studies show
that students who exercise regularly maintain healthier lifestyles and higher GPAs.
Students across the Missouri Baptist University campus are taking strides to ensure that people are aware of the importance of exercise in everyday life.
Exercise is Medicine is a campus organization that promotes physical exercise as a natural medicine for the body.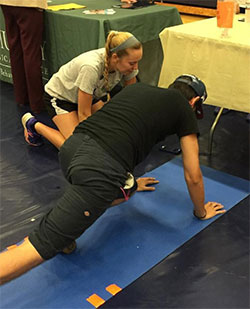 EIM began in 2014 when Haley Grueber, a junior exercise science major at the time, became inspired to share the importance of exercise with her fellow students.
"I was inspired to start EIM at MBU after I heard a lecture from someone who had started a chapter of EIM in Queens, Canada. I just thought it was really cool how they were utilizing what they learned about the importance of exercise and its correlation with people's health," said Grueber.
Grueber understands the important role that physical exercise plays in maintaining a healthy body and the truth that medicine does not always have to be the answer.
"So many people that are sick and feeling ill or have diseases and that most of the time just exercising can be a cure for that and can help individuals overcome that rather than just using medication all the time," Grueber said. "And I thought it would just be a cool opportunity to utilize everything I had been learning in my classes and share it with the rest of the students and staff at MoBap."
According to the EIM Global Research and Collaboration Center, physical inactivity is the leading cause of poor health.
The Department of Health and Human Services released their Physical Activity Guidelines for Americans in 2009 saying the harder and more frequently an individual exercised the healthier they would be.
The HHS concluded that exercise led to reduced risk of cancer and diabetes, stronger bones and less risk of a heart attack.    
Grueber has since graduated from MBU with a degree in exercise science and handed the program over to new president, Jonathan Boyer.
Boyer, a senior exercise science major from Wasilla, Alaska, has been president of EIM for the past two years.
"Transferring to MBU in the fall 2015, I was looking to get involved at school. In my Intro to Exercise Science course, a couple of seniors came in and presented the organization they had just created, Exercise is Medicine at MBU. They gave us the opportunity to join as members, and for me it was a no-brainer," said Boyer. "I attended the meetings and helped run the events the first year, and then after those seniors graduated, I was offered the president position and have been in that position the past two years."
Whether it is hosting a corn hole tournament, or having a blow-up obstacle course in the Quad, EIM makes sure there is something for everybody to enjoy while promoting physical exercise.
"I hope our events help people find the activity that best suits them. Everyone has different preferences, but the most important thing is that they find something they can enjoy for life," said Boyer.
With activities such as dodgeball tournaments, Sky Zone nights, fitness classes and basketball games, EIM takes advantage of all aspects of physical fitness to get everyone involved.
Being a college student himself, Boyer understands how important incorporating physical exercise into everyday life can be for students.
"As college students, we are developing habits of our daily lives. Regular exercise has been proven to have positive long-term effects on our health. EIM helps students develop healthy lifestyles by educating them on these benefits, as well as showing them there is an activity out there for everyone to enjoy," said Boyer. "There is no better time than now for people to start taking steps towards forming healthy habits, and exercise has been shown to have great benefits for a person's long-term physical and psychological health."
Boyer graduates next week but has high hopes for the future of EIM.
"I envision EIM will really push for making partnerships with local doctors, and the organization will take bigger steps to educating the MBU community on the benefits of exercise," said Boyer.
Krista Tyson, a senior English major at MBU, has also adopted the EIM mission and has been secretary for the organization since 2016.
Tyson, who is a member of the MBU women's tennis team, incorporates physical exercise into her everyday life and firmly believes in sharing that passion and standard with others.
"Having exercise as a part of my daily routine, I can attest that I am a healthier person for it. After tearing my ACL, exercise was truly the only thing that was able to get me back on the court and remedy the injury completely," said Tyson, who has returned to competitive action even sooner than some doctors' predictions. "It doesn't always have to be something as strenuous as a difficult workout, but even something as simple as weeding your garden has major health benefits. So get out there and get active y'all."