"But even if you should suffer for what is right, you are blessed. Do not fear their threats; do not be frightened." 1 Peter 3:14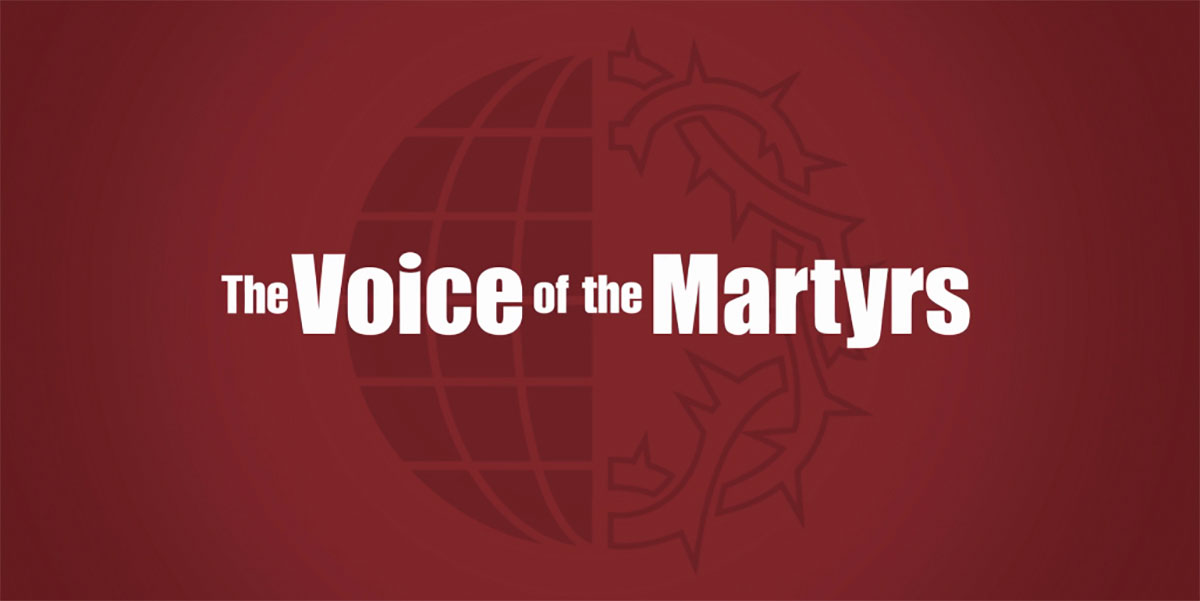 Photo courtesy of The Voice of the Martyrs
__________________________________________________
In a day and age that has abandoned the act of writing letters, there are those around the world who have nothing to cling onto but their faith in God and a letter from a complete stranger.
Sitting in a dark, wet room, on a cold cement floor with their life hanging in the balance of every minute, the simple thought that people around the world are praying for them can be enough to propel these religious  prisoners into each dismal day with renewed strength in Christ.
The word "martyr" is one that is often left in biblical times, but for many pastors and Christians in Third World countries, this is a word that describes their current fate.
According to Webster's dictionary, a martyr is a person who "voluntarily suffers death as the penalty of witnessing to and refusing to renounce a religion."
While freedom of religion is a right to which Americans are entitled, citizens in many other countries are not granted such a luxury and are persecuted for their own personal beliefs.
While we may not know what it is like to be forbidden to carry a Bible or teach our children about Jesus, for many this is just another part of life.
The Voice of the Martyrs is a non-profit organization that focuses on serving persecuted Christians around the world.
VOM was founded in 1967 after President Richard Wurmbrand was released after spending 14 years in prison in Communist Russia for his faith; his wife also spent three years in prison.  
Christians in more than 40 nations around the world are persecuted for their faith, according to statistics shown by VOM.
Countries such as Egypt, Afghanistan, India, China and many more are hostile environments for Christians who choose to boldly proclaim their beliefs.
Pastor Han Chung-Ryeol, a missionary to North Korea, is one of many examples of pastors who have paid the ultimate price for their faith — his life.
According to an article in the VOM newsletter, Han was a pastor in China who risked his life daily to help a North Korean who had crossed the border into China.
Han witnessed to numerous people and helped countless individuals find Christ before ultimately being martyred by North Korean assassins while on his way to help those in need, according to the website. His body was found along the North Korean border.
While not all Christians suffer the same fate as Han, life is not made easy for those who are willing to stand up against all odds and proclaim their faith.
For many in other nations, being willing to share your faith means being willing to risk spending your life in prison separated from those you love.
Writing to Prisoners is a part of the VOM ministry that encourages people to write letters to Christians who have been imprisoned for no reason other than their faith.  
For these persecuted Christians, receiving letters from people around the world serves as a great encouragement to help them endure the cross that has been set before them.
Often times, families are unaware of which prison their loved ones are in or are simply not allowed access to see them, so letters from complete strangers encouraging them in their struggles is a simple, yet life-changing gift.
Many prisoners like pastor Kim Kuk-gi, who was arrested in 2014 for what the North Korean government deemed as spreading "religious propaganda," will remain in prison indefinitely.
Prisoners like Kim cling to the knowledge that Christians around the world have heard his cries to the Lord and are crying with him, pleading that his suffering will not go unnoticed in the kingdom of God.
Prison guards often will never deliver letters to the Christians out of spite, but when an overabundance of letters continues to flow into the prison, they will often grow weary of the heckling and allow prisoners to read some, according to testimony from freed prisoners published in the VOM newsletter.  
Even though prisoners are forbidden to share their faith with other inmates, most prisoners ignore the strict rules and begin ministry of their own from within their cells, risking their safety for the hope of bringing others to Christ, according to the VOM.

The more letters that can be sent to the prisoners overseas, the more the family of Christ encourages its members and grows the body of Christ.
Writing to Prisoners is a part of VOM that is vitally important, so when Ruthie Brown from First Baptist Church of Fenton heard about this organization she knew she had to get involved.
"It is vital that we, as believers, support our brothers and sisters who are in prison simply because they are Christian. We can do this by writing letters to the prisoners, praying for them, praying for governments to allow more religious freedoms," said Brown. "Often the prisoners' families need financial help also. We are so used to religious freedom in America, most of us are unaware of the horrible lack of religious freedom in many countries and the unbelievable price Christian believers pay."
FBCF now hosts meetings twice a year for the church to write letters to as many suffering Christians and their families as possible.
Dmitry Shestakov, a pastor and former prisoner from Uzbekistan, was able to finally say thank you to those who wrote and donated on his behalf.
Because of the letters and donations, Shestakov's wife was finally allowed to make the long journey to see him and bring him food and necessities, as these are often things they have to go without.
"Without your sacrificial giving, I would not have had a chance to share my food with others and in this way to share the gospel with them," Shestakov said in a recent thank you letter written to VOM.
While at first the sacks of letters angered the security of the prison, the outcome they had was one that changed the course of Shestakov's life.
"Since that time, when another sack of letters for me would come, they would call me in and yell at me," said Shestakov. "But after that they did not beat me as much as they used to before the letters began arriving. They began speaking with me more politely."
Shestakov was released from prison and he and his family continue to witness in whatever facet they can.
Even though Shestakov is just one example, VOM and Writing to Prisoners have had an impact on people in every corner of the world, and you can join the movement.
According to the VOM prisoner alert website, 112,403 government officials have been emailed, and 381,401 encouraging letters have been written to prisoners, and the hope is that this number will continue to grow.
Starting an organization at FBCF has had a powerful impact on The Voice of the Martyrs and their ministry, but you do not have to be a part of an organization or church to get involved with VOM.
If you would like to get involved with VOM or send a letter to a prisoner you may visit their website, or contact Brown with First Baptist Church of Fenton to attend their next meeting.