A group of volunteers work together to hand out food, clothing and personal hygiene items to those less fortunate, while sharing the Gospel of Jesus with them.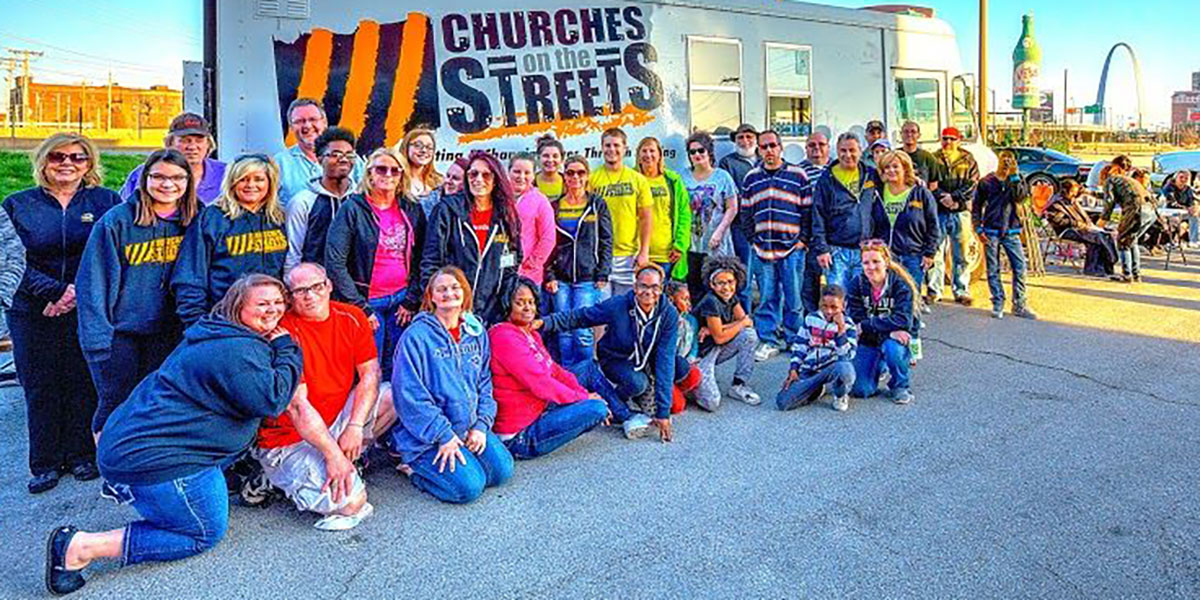 All photos courtesy of Churches on the Streets
A group of volunteers with Churches on the Streets gather in front of the food truck at a Monday night "Family Dinner Night" outreach in downtown St. Louis.
__________________________________________________
A crowd of children, some chattering happily and dashing around playing tag, gather around a few volunteers. Others kick around a soccer ball or throw a football back and forth, while some of the smaller children reach to be picked up and held by the students.
"Those are people and God's precious children. I just developed such a love for them. You build relationships with them so I want to go back to be a constant in their lives. … Most aren't used to that. It's an amazing ministry," said Kathy Billings, a two-year veteran volunteer at Churches on the Streets, a non-profit organization which distributes food, clothing and personal hygiene items to the homeless and lower-income communities while witnessing to them and praying for them.
Angela Valdes, co-founder and executive director of COTS, said she and her husband, Ralph, started COTS in 2012 because the organization they had previously worked with eliminated their homeless outreach and they felt called to continue it.
"That was part of who we were and what we did, so we decided to continue it," said Valdes.
She resigned from her ministry job at another non-profit where she had worked 14 years and turned all her effort to Churches on the Streets.
"We actually would just take what we had, what we could gather from friends and stuff, and we would just go out in our cars," said Valdes. "It was just a few cars, but now you see we have literally hundreds of volunteers. Some come every week, some come once a month and some come just every now and then. It's just been a beautiful collaboration of a lot of different people, organizations, churches, businesses and civic groups."
The organization, which became a non-profit in 2013, has grown in its outreach and ministries in the nine years since Valdes helped found it.
"We went from one night a week on Mondays, to Thursday nights, to a children's ministry in Illinois, and we're getting ready to start one here in St. Louis, to disaster relief and human trafficking education," said Valdes. "It's a success because you're giving other people an opportunity to do what they're called to do and use their gifts and abilities."
Billings added: "I started going there because I read the Bible for myself and we are called to help the poor. I found Churches on the Streets through a friend who told me to follow them on Instagram. It was exactly what I was looking for. I thought I was going downtown to help the poor and be obedient, but they actually helped me. Changed my life."
Sophomore Zach Ogg, former MBU track and field runner who is no longer able to volunteer due to his military commitment, loved having that opportunity to pitch in and help wherever he was needed, bouncing around from one job to another.
"I felt like a kangaroo, but I loved it. It gave me purpose, but also, I was able to use my personality to benefit them," said Ogg. "I want to be that person that says, 'How are you?' and I'm not doing it because I'm asked to be cordial while handing out the meals."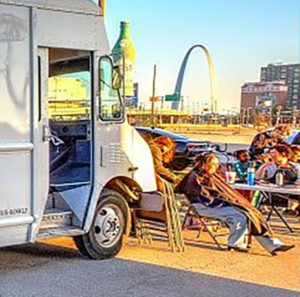 For Ogg, it wasn't just getting to help people who might be without hope and perhaps not knowing what would happen next, it was also a personal story.
"It's just so neat to get to be on this side of it, because I was one of them before. Growing up, my family didn't always know where our next meal was coming from, so getting to be on this side and help them for a change feels so awesome," Ogg said. "Like, I've been there before, where they are, and now look, I get to be the one helping them now and giving them food and clothes."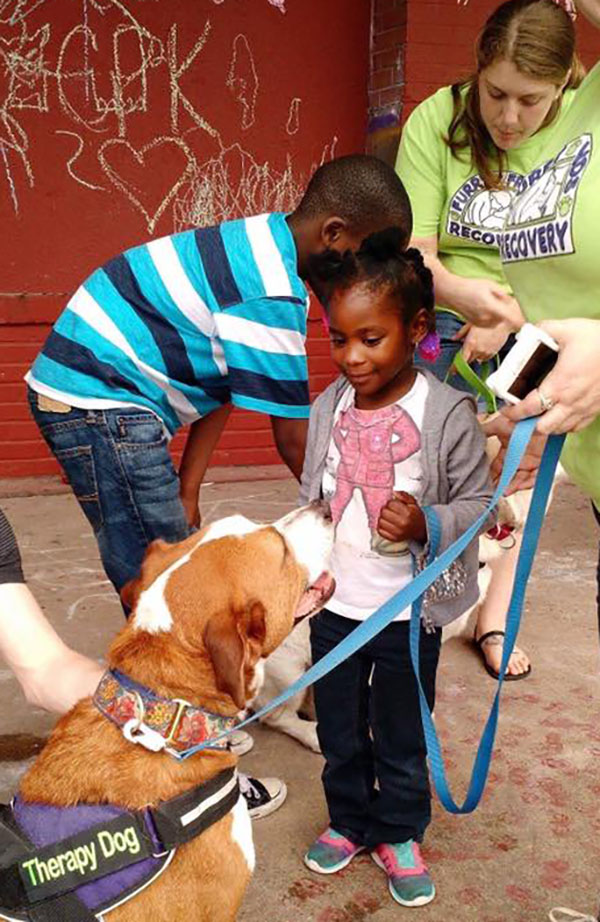 A therapy dog befriends a young girl at a Monday night outreach in downtown St. Louis.
___________________________________________________________________________

For formerly homeless Carl, an eight-year veteran at Churches on the Streets, coming back is like coming home to family. He loves seeing old friends and visiting with new ones, but what he loves most is the atmosphere.
"The thing that keeps me coming back each week is the presence of God here," said Carl. "You can feel it."
For Joshua Lawson, a newer homeless participant, it was more about the free food and clothes than the presence of God, but he was thankful for Churches on the Streets and the work they did.
"Three weeks ago, I was kicked out of the apartment I was staying in because my name wasn't on the lease," said Lawson, accepting a second plate of food. "Thank you so much for this."
Valdes said if people are interested in helping by volunteering or donating, all the information needed to do so is contained on their website, click here.
"We would love to get more young adults and college-aged students to come help and volunteer," said Valdes.
Volunteers check sizes and sort clothes to be handed out that night.