Sophomore Meredith Linn plans a summer abroad in Oxford to study C.S. Lewis, Christian History and the English culture.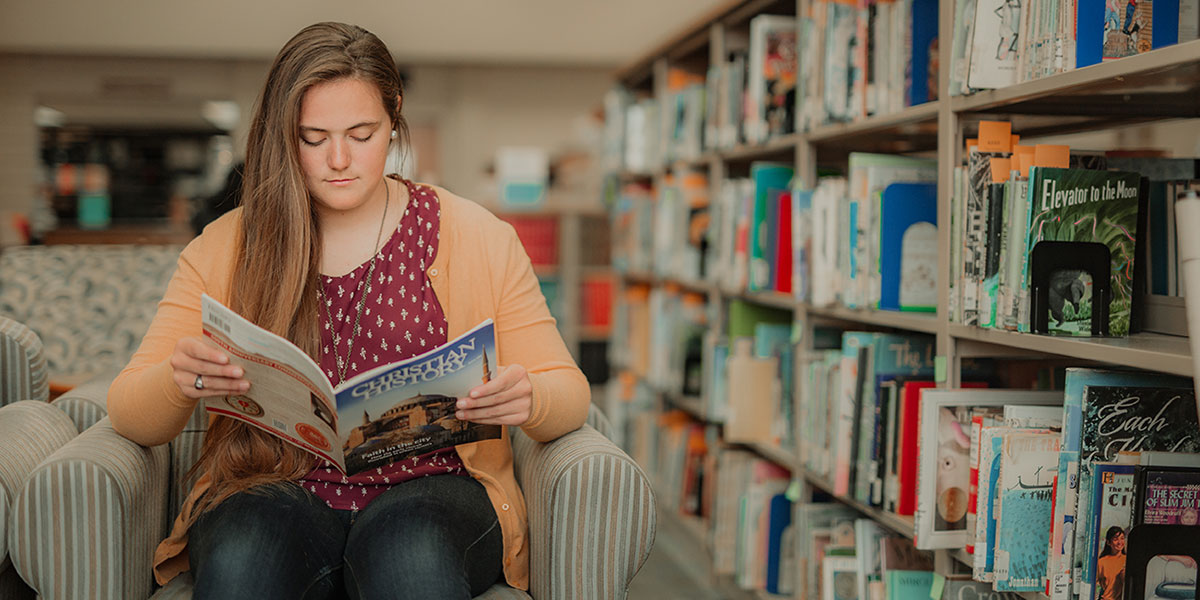 Photo by Matt Williams
________________________________________________
"Phineas and Ferb" was an animated musical comedy television series that featured two brothers making the most of their summer vacation.
Their antics included building rockets, roller coasters and finding mythical creatures.
The summer vacations in the show are not real, but the Oxford Summer Program will have Missouri Baptist University sophomore Meredith Linn very busy with a new country.  
"I found out through an email that I was accepted into the program and my first thoughts were, how excited I was and that I officially had my summer plans," said Linn, a history major from St. Louis.
Linn first heard of Oxford College Summer Program, offered by Scholarship and Christianity in Oxford, through a friend.
"I heard about it from a friend and I had always wanted to study abroad," said Linn. Dr. Larry Smith, Fine Arts Division chair and director of the Honors Program, encouraged Linn to apply. "After attending the national honors conference I knew I had to go for it," said Linn.
The National Collegiate Honors Council annual convention was Nov. 8-12, 2017, in Atlanta, and Smith took Linn and several other students.
While it is now in her summer plans, being selected was no small feat.
"The application was all online, required several letters of recommendations and a research proposal for an essay that I will be completing over the summer," said Linn.
On its website, SCIO is described as "a research and educational institute in Oxford, producing and supporting scholarship in a recognized centre of international educational and scholarly excellence."
The experience to study abroad is one thing, but as a history major and the first MBU Honors student to participate in SCIO,  this opportunity takes on a whole new meaning for Linn.
"I am most excited to be learning about C.S. Lewis and J.R.R. Tolkien at an institution they both taught at. To learn in the classrooms they taught in is a huge opportunity," said Linn.
Not only is Oxford renowned for its quality, it is very old.
"I'm also excited to study abroad and in a school that is over 900 years old," said Linn. "I have always loved history and I couldn't see myself doing anything else. My dad, who is also a history buff, told me to be more than just a high school teacher, be collegiate."
Linn came to MBU in the fall of 2016 as a history major and a member of the inaugural Honors class.
Between the Honors Program and history professor Dr. Keith Beutler, Linn was encouraged to broaden her thoughts on research and her role as a Christian who is passionate about history.
"Last semester Dr. Beutler had us read a book that challenged me to love people who we were learning about in history. I had never really considered loving or hating those in the past, but it is our obligation to love everyone as Christ would love them," said Linn.
While she will be researching and writing papers in Oxford, the MBU Honors Program has already begun preparing Linn.
"The Honors Program has made me research better and made me more prepared for grad school," said Linn.
Honors has been more than just an opportunity for life-changing trips and cornerstones for success, it has been community.
"It was great to have a friend group outside of sport that had a similar level of care for academia," said Linn, who plays lacrosse.
Linn's Honors class consists of seven students, one of those being Krista Krekeler, a junior public relations major from O'Fallon, Missouri.
"I have known Meredith for almost two years and I don't think that there is a person more deserving of this opportunity. She is very smart, hard-working and has a huge heart for Christ and for others," said Krekeler.
As for the future, Linn sees little signs of stopping.
"I hope to one day earn my Ph.D. in American history and eventually be a professor, perhaps at a Baptist university here in St. Louis," said Linn.
Smith, head of the Honor Program, sees no problem in Linn pursuing a career in academia.  
"She is an enthusiastic student, always well-prepared and eager to learn more. She is a leader in the MBU Honors program and MBU lacrosse and always encouraging," Smith said. "She is also a history major with a particular love of England and France, so this opportunity to study in Oxford is perfect for her and we are very proud that she is our first SCIO scholar."
Linn is already dreaming of walking the Oxford halls and hearing slight echoes from professors, but she wants others to begin dreaming as well. The first MBU student to study abroad in Oxford was Victoria Schiebe in the fall of 2013.
"Go for it, don't let the prestige of Oxford keep you from applying, if you feel called to do it, then do it," said Linn.