Rebecca and Jay Fox have a love for children that reaches far beyond their own family as they are now designated as a "safe family," which is part of a national  movement called, "Safe Families for Children," where families volunteer to temporarily host children in critical circumstances.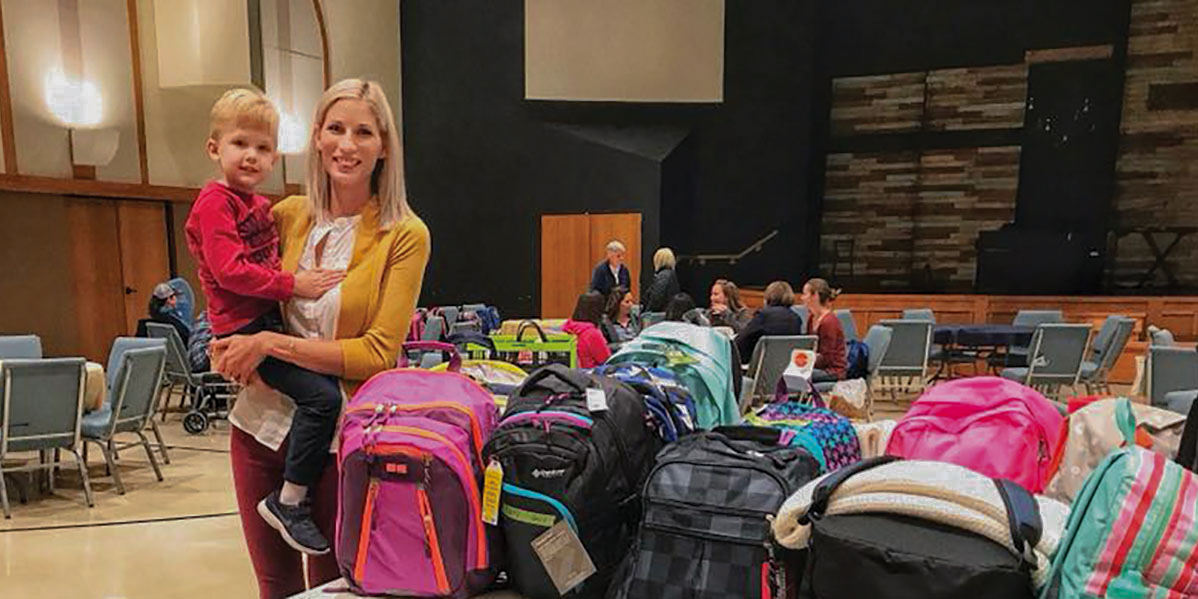 Photo by Rebecca Fox, Facebook
Rebecca Fox, founder of SafePacks, stands with her youngest son, Clayton, and several backpacks donated during a recent event. The organization is becoming so successful that storage for the backpacks has become a challenge.
__________________________________________________
For Rebecca Fox, founder of the St. Louis non-profit organization
SafePacks
, it is more than simply filling a child's backpack. She aims to provide a sense of belonging and security to every foster child.
And that would certainly be a tall order as there are currently more than 11,000 children in foster care in Missouri.
"That number right there is just staggering to me. There's not enough foster families to take care of these kids," Fox said. "It's just a very broken system, so we want to get in there as much as we can and try to help fix the problem."
Fox's heart for foster children stemmed from an early age through her family's experience with the foster care system.
"I have a lot of siblings, and eight of those siblings have come to our family through foster care. They're now adopted, so they're officially part of our family," Fox said. "My parents did fostering for years when I was in high school and in my early teens."
After marrying her husband Jay in 2008, the Foxes began their own family with children, Parker, age 9, Penny, age 6, and Clayton, age 4.  
"Jay and I came to a place where we were done having our own kids biologically. We had always talked about adoption or possibly fostering. We really felt that God was speaking to us about a year ago and just kind of working in our hearts and finding where He wanted us to be," Rebecca Fox said.
The Foxes are now designated as a "safe family," which is part of a national movement called, "Safe Families for Children," where families volunteer to temporarily host children in critical circumstances.  
However, Fox did not want to stop there.
"I wanted to do more. I felt fostering was great and God was calling me, but that was only helping one child out at a time," Fox said.
After a conversation with her mother expressing her desires to help children immediately instead of waiting for more approvals as she experienced as a foster parent, Fox said she found her inspiration through her mom.
"She kind of just threw some ideas out for me," Fox said. "She said she gets her [foster] kids backpacks at the beginning of the school year that have school supplies and that kind of stuff and I said, 'Well, that's such a great idea.' She's like, 'You know, maybe some sort of a backpack for kids because they usually don't have anything when they come into foster care.' That kind of gave me the idea."
Fox continued: "I was just thinking of making backpacks myself and then delivering them just personally. Then my husband, of course, stepped in and was like, 'We gotta think bigger. Well, why don't we start a non-profit?' And, that's kinda where it started."
Since officially starting SafePacks in May 2017, Fox speaks positively about bright outcomes.
"It just seems God is making every last little detail fall into place for us and it really hasn't been hard. Everything has been easy, just a blessing and such an outpouring so far. It really hasn't been that long, but God's really working."
SafePacks board member, Rachel DeGroot, said, "Rebecca and Jay have such a love for others. I knew as soon as she asked me that this was something I wanted to be a part of."
Fox's young children are hands-on with the organization, helping to deliver backpacks to the drop-off locations and carry and organize supplies as well as asking important questions about the foster children and why they are in foster care.
"I think it's hard for kids to understand when they're in a healthy home," Fox said. "It's hard for them to imagine what it's like for a lot of kids out there where it's not the situation or if they just have a mom, they just have a dad or kids who have been through trauma. It's hard to explain that to kids.
"But, I feel that with us being a Safe Family, my kids have been able to see how to just be a servant and have a servant's heart — just be the hands and feet of Christ and give things to them that we take for granted each and every day."
Fox explained how in many foster situations, the children arrive to their Safe Families with very little, if anything, and at times nothing at all, as five of her adopted siblings experienced.
"When they came into care, it was an emergency placement which means it was immediate and it was in the middle of the night given the nature of the episode that happened," Fox said. "They had to be picked up and they had to leave. They were not allowed to bring anything. Not one thing of theirs. Then after their situation with their mom incarcerated, they weren't even allowed to go back and get anything.
"They were basically starting over in a stranger's home. That can be, number one, super scary, to even leave your home and then, two, to be told you can't bring anything with you. You know, what if you had a blankie or a stuffed animal or something you're attached to and you couldn't bring it? When I heard that, that just broke my heart."
Not only does SafePacks allow foster children to have their own stuffed animal, blanket, book and other comforting personal items, but it provides support for the foster family with immediate needs as well.
"My mom said one time they got a little girl who literally came to her with just a diaper on her, and it was a dirty diaper," Fox said. "They had church the next day, so they had to go out that night, find something for her to wear, you know, and … those kinds of situations are hard in themselves. But, to be able to have the case worker bring a backpack at the same time the child's dropped off helps out the foster family, and it helps out the child."
Fox shared a rewarding moment for her and her family.
"We just hosted a little boy not too long ago and he came to us with a few belongings, but a lot of the clothes were too small," Fox recalled.  "It was really nice to be able to go to my backpacks and get one that was his age. We kind of brought it up and we let him open the backpack. He smiled as soon as he saw the Teddy bear and he pulled out the Legos and was playing with them.
"Being able to see that first hand, just kind of validated Jay's and our feelings that this really does help, that these kids kind of feel that they have something to call theirs when they're in a scary place."
Fox hopes for other people to know SafePacks' main objective outside of the backpacks and packing parties.
"Really, our goal is just to share the love of Christ in serving these kids," Fox said. "Our goal at Safepacks is what it is — to pack the backpacks and give them to help foster kids."
SafePacks' first goal for 2017 was to raise enough money to distribute 200 backpacks, and they have hit that goal months before finishing their first official year in May, Fox said.
For 2018, she is continuing to pack and deliver backpacks for more children while focusing more on fundraising, keeping in mind her goal to have a designated SafePacks location.
"Right now I'm working out of my basement," Fox said. "The amount of donations we get I just don't have the space to hold and house it all. So, we'd really love to have a space that we can not only store all of our supplies, but also invite people in that want to volunteer their time to packing backpacks, to organizing, to hosting packing parties and delivering backpacks. We really think that will open us up to the community more."
Currently, Fox is working with the organization Children's Permanency Partnership to deliver and distribute the backpacks.
"I'm still working on other places," Fox said. "A lot of the difficulty I've found is people being able to store them. They just don't have the space."
She has found that many of her connections can only keep about 10 backpacks on hand.
"The way that foster care runs can be kind of confusing. Most people think that it's run through the state and there's one place all the kids go to, but it's not that simple.
Fox sighed.
"I wish there was an easier way where I could just go to one place and I could just give them hundreds of backpacks, but it's just kind of spread out."
Fox hopes that SafePacks can continue growing over the next few years, providing more avenues to be a positive impact.
"But, we thought this was good start," Fox said.
Click here to learn more about SafePacks and how to help.