Perhaps you have seen her walking around campus leading a prospective-student tour or heard her lively, one-of-a-kind laugh from down the hall. Today, Melanie Laurence opens her heart to what drives her passions for MBU.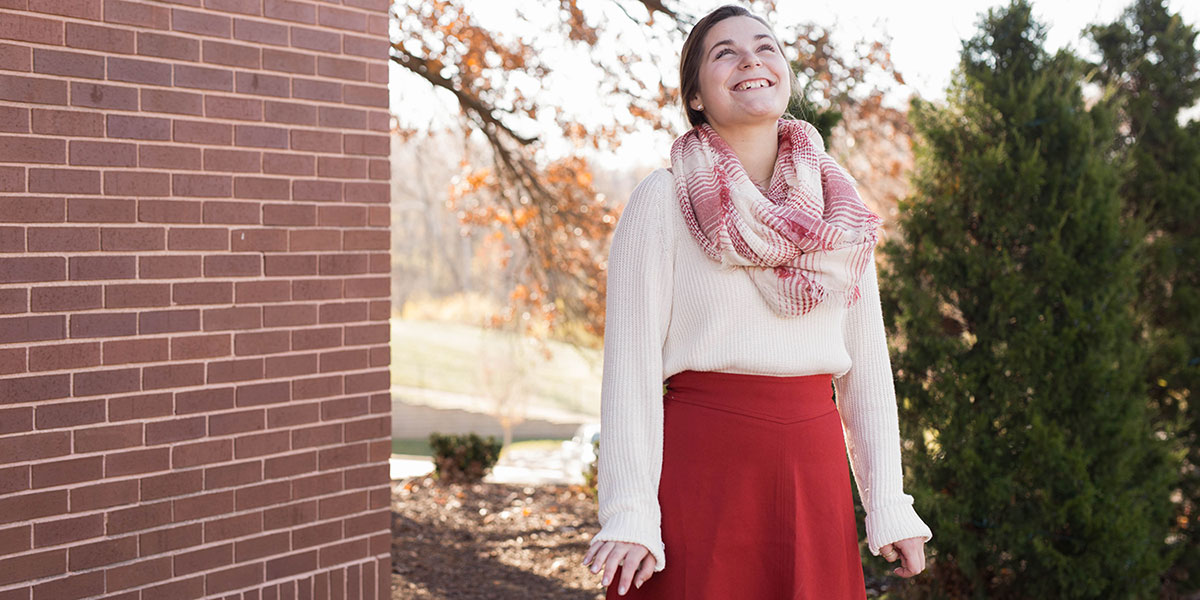 Photo by Abigail Scanio
__________________________________________________
It would be the challenge of a lifetime to find a young woman who is brighter or more full of smiles, laughter and hugs, giving those she meets an iconic experience.
However, do not think that she lacks anything less than an ocean's depth of thoughts, experiences and passion.
This girl will graciously and honestly share any part of her story if you take a moment to ask.
Originally from St. Louis, Melanie Laurence, a senior Christian ministry major at Missouri Baptist University with an emphasis in Biblical counseling, was born and raised in a Jewish household.  
It was only after her mother's passing in 2008 that then-12-year-old Laurence grasped the ravishing degree of her heart in a world so completely rocked.
From an invitation to a local youth group to two years later attending Hannibal La-Grange University's faith-based program Super Summer, the full gospel of Christ made itself clear to Laurence in 2010.
"God revealed to me that He was using the death of my mother to reveal to me the greater love He has for us [through] His son Jesus," said Laurence.
Her first experience on MBU's campus heightened her desire to not only be a part of the real community she saw, but to be a similar influence for other incoming students, which led her to filling the position as student ambassador in MBU's Admission Department.
"I will never forget my first time on the MoBap's campus as I was being given a tour, my tour guide waved and greeted those she passed in the Quad. And her greeting was genuine, not just because she was on the clock selling the school to a potential student," said Laurence.
Something that encourages her work as student ambassador is her empathy for those struggling to adjust.
"I am very much so a homebody and at the beginning of my college experience I had traveled away from home very few times. I knew moving out would be an adjustment, but also a growing experience that God would use to shape my whole family," Laurence said. "The transition was a matter of growing independence, not just emotionally, but spiritually and physically."
Working in the MBU Admissions Department since 2014, Laurence's freshman year of college, she excitedly describes one of her favorite aspects about her job.
"I love getting to be the welcoming face of comfort, excitement and ease — at least I hope — when a prospective student comes to tour campus," Laurence said. "I really hope students feel loved, valued, appreciated, welcomed and truly cared for."
Laurence is also passionate when understanding the larger-scale perspective on the short time she has with incoming students.
"There is also a matter of being intentional and urgent about sharing the love of Christ with that student through the spoken word of the Gospel, how we present the university, and the kindness and hospitality we show. We bring students to MBU to receive excellence in education and equip them for a world of beautiful diversity, but we also bring students to MBU with the greater goal of bringing them to eternal life and redemption in Jesus," said Laurence.
Although nearing the end of her undergraduate degree in Christian ministries, she keeps an open mind to what her future career may look like.
"I recognize that ministry is beyond the church walls. Ministry could be building a relationship with a customer as a barista at Kaldi's. I just hope to be working with people, however God may have that look," said Laurence.
Long term, Laurence hopes to attend seminary, receive her master's degree in counseling, and go on to a private practice as a licensed professional counselor.